For the longest time, people could only access their favorite casino games by making their way to brick-and-mortar casino establishments. That's no longer the case, thanks to the advent of online casino games which offer just as much excitement and potential to win. Despite the growing popularity of online gambling establishments, no digital alternative can quite compare to the charm and design of traditional casinos.
While there might be much conversation about the future of land-based casinos, it's important to highlight that their appeal extends beyond the gambling aspect. The design of land-based casinos has been a drawcard for years as they continue to evolve and become some form of art and creative expression in their own right. Below are some of the world's most notable establishments that have gained traction for their casino layout design and architecture.
Borgata Hotel Casino & Spa (Atlantic City)
Atlantic City is known to have a vibrant nightlife that draws visitors from near and far, making it the perfect location for Borgata's Tuscan-inspired casino establishment. Launched in 2003, it has more modern elements compared to its counterparts on this list.
The design of this casino is welcoming and captivating, particularly with the inclusion of an outdoor pool and beer gardens. From the minute you approach the Borgata Casino to when you eventually step into the extravagant establishment, you'll be captivated by the largest hotel in New Jersey and the third-largest building in Atlantic City.
The Baden-Baden Casino (Germany)
Many would agree with you if you were to name The Baden-Baden Casino the most beautiful casino in the world! That's no small feat. Upon entering The Baden-Baden, you're immediately reminded of classic French buildings. The large glass doors, warm lights, chandeliers and eye-grabbing statues seal the deal and make this casino design one worth remembering.
Sun City Casino (South Africa)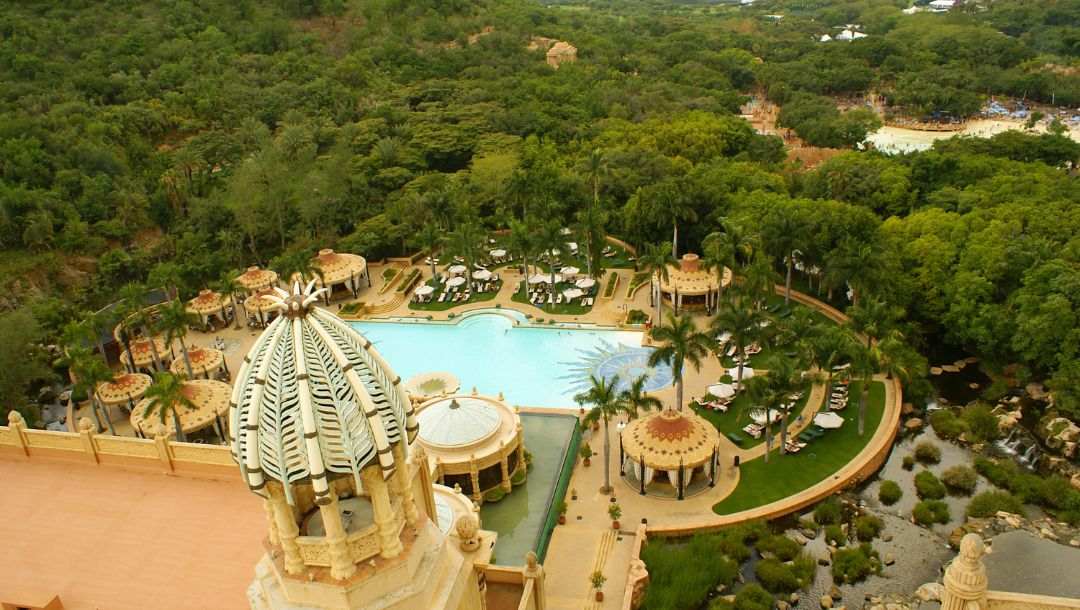 Arguably one of the most prominent casino establishments in South Africa, Sun City Casino also serves as an entertainment hub for locals. Located in the much-loved Sun City Resort, the building is often likened to a castle from a Disney movie. The casino design and décor also build on that narrative, with a rather unorthodox jungle-themed ceiling. Upon stepping in, you're immediately introduced to a world of lights, adrenaline, high walls and endless gaming.  
Morpheus Casino (Macau)
While most casino establishments carry a rich history and were built decades, if not centuries ago, Macau's Morpheus Casino breaks this convention. Its design was inspired by Chinese jade carvings and grabs your attention from the onset. Standing at an impressive 524 feet, Morpheus Casino is a modern interpretation of its Chinese inspirations as it only opened its doors in 2018. According to "TIME," it's "the world's first free-form exoskeleton-bound high-rise."
Palms Casino Resort (Las Vegas)
With Las Vegas being dubbed the gambling capital of the world, it comes as no surprise that one of the most interestingly-designed casinos is located there. While it may be quite a challenge to stand out in a city full of lights and excitement, this Barbie-themed casino does a fairly good job of overshadowing the neighboring buildings.
Palms Casino Resort has become more than just a gambling establishment, it's now a place of entertainment often used for bachelorette parties. The design elements of this casino and resort ensure that it lives up to its name, offering lush greenery, pools and a lotus-themed stage!
Monte Carlo Casino (Monaco)
Widely known as one of the most breathtaking and oldest casinos in the world, Monte Carlo Casino (formerly Casino de Monte Carlo) first opened its doors in 1863. It was designed by a French architect, Charles Garnier, who used the influences from his travels to create what would become a masterpiece and tourist attraction with time. True to Garnier's roots, Monte Carlo Casino is an elaborate showcase of the Beaux-Arts style.
The casino is more than just a gambling establishment. It features in movies and entertainment works because of its unique and classic nature. The sculptures and paintings that adorn it also make it a sight for sore eyes.
The Venetian Resort (Las Vegas)
Marking yet another casino from "Sin City," this list wouldn't be complete without a Venice-inspired establishment to seal the deal. The classic design of this building will take you back in time and transport you all the way to Venice. Not only does it boast additional features and extras, but its architectural design is also a culmination of several Venice-inspired landmarks.
Step Into the Captivating World of Our Online Casino
There's merit to both online and land-based casinos and they appeal to the masses on different levels. While the online experience may fall short of the architectural showcase, it makes up for this in several ways! From the convenience of accessing online slots and other games from wherever you are to welcoming you into a virtual realm of endless excitement and a variety of games, the fun doesn't stop. Register at BetMGM to discover what our online casino has in store for you.