Blackjack is a game of chance, like several other casino games, such as online roulette and online slots. Unlike jackpot slots, however, the casino game is played with decks of 52 cards and is quite easily one of the world's most popular casino games. 
The reason for this is most likely due to its simplicity. The objective of blackjack is to get a hand value closer to 21 than the dealer's without going over. There are some basic strategies that give you a better chance of winning, which include choosing the optimal time for hitting (taking another card,) doubling down (doubling the initial bet and taking another card,) splitting pairs (separating initial cards into two separate hands) and surrendering. 
It's important to note that, in blackjack, the other player's hands have nothing to do with winning. The game is simply between you and the dealer, which some players prefer, rather than facing an entire table of opponents.
Blackjack in the Movies
Due to its popularity, it's not surprising that blackjack has been featured extensively in famous casino movies. The card game is ideal for the big screen because it's so easy to understand that most viewers can keep up with it. 
Here is a list of some of the best blackjack movies you need to check out as you play at a casino online.
21
This movie must be one of the first mentions when listing the most prominent blackjack films. Released in 2008, "21" is based on a true story of activities carried out by the famous MIT blackjack team, which operated from 1979 till the start of the 21st century.
The entire movie is centered on the ethics and morals of card counting and associated aspects of live dealer casinos. It follows Ben Campbell, a brilliant but impoverished college student played by Jim Sturgess, who is recruited to the MIT blackjack team by Professor Mickie Rosa (Kevin Spacey.)
With the professor in the lead, the team wins several hundred thousand dollars in multiple Vegas casinos while working with counters and spotters on various tables. While there is some element of romance between Campbell and Jill, a fellow team member, "21" purely revolves around blackjack.
The movie was a box office success and ranked number one in the United States and Canada for the first and second weekends of its release. The movie was also nominated for the People's Choice and Teen Choice Awards.
Rain Man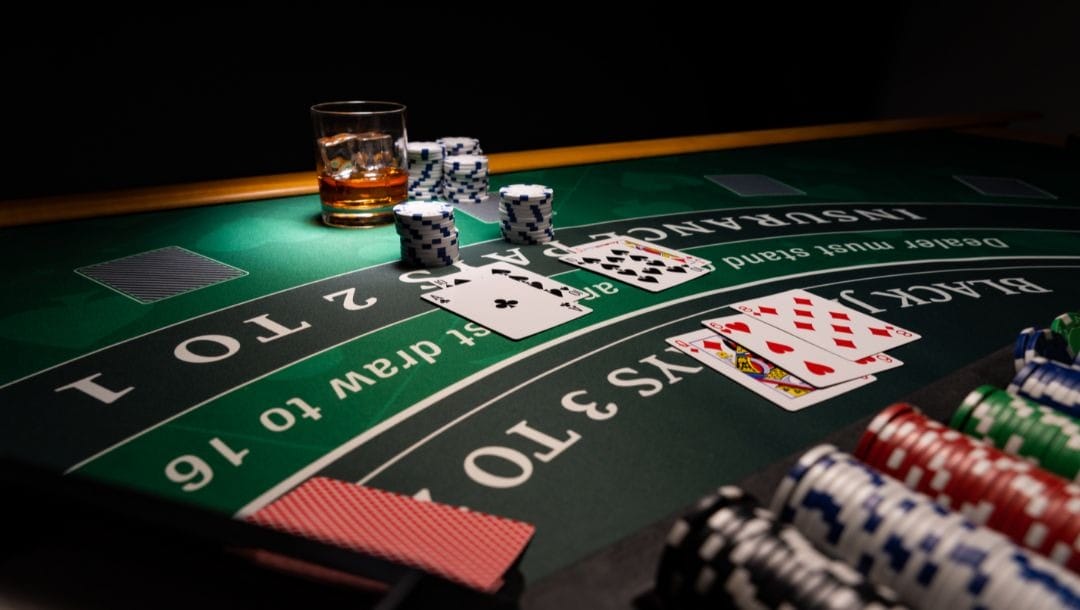 "Rain Man" remains one of the most iconic gambling films in the history of this genre. The movie was shot in 1988, a time before online casino games. It featured a memorable blackjack scene (with other casino games also featuring.)
The movie revolves around a business person in debt named Charlie Babbitt (Tom Cruise) and his brother Raymond Babbitt (Dustin Hoffman.) Following their father's death, the two brothers reunite and make their way from Cincinnati to Los Angeles casinos.
Raymond is extremely good at counting cards, an ability Charlie takes advantage of to win big in casinos. Although this movie is not specifically about blackjack, the game played a major role in their journey to Vegas.
"Rain Man" was the highest-grossing film of 1988 and received eight nominations at the 61st Academy Awards. The film won four of the nominations, which were Best Director, Best Actor, Best Film and Best Original Screenplay.
The Last Casino
In terms of popularity, this is a close contender with "Rain Man" and "21" and, like the latter, is centered on the MIT blackjack team. In this 2004 movie, the team is led by Professor Doug Barnes, played by Charles Martin Smith. The character is a notorious card counter and, after being blocklisted by the casino, resorts to pulling together a team to pay off his debt to a loan shark named Orr, played by Julian Richings.
Barnes' new team comprises three students, George (Albert Chung), Scott (Kris Lemche) and Elyse (Katherine Isabelle.) Barnes recruited George to his team because he successfully memorized Pi up to 70 digits after the decimal, while Scott won a complicated memorization test. Elyse, a waitress, memorized Barnes' complicated pizza order in record time.
The rest of "The Last Casino" follows the team, under Barnes' tutelage, visiting casinos and winning thousands of dollars by card counting.
The film boasts an impressive script, amazing direction and outstanding performances from the cast. It's no wonder that "The Last Casino" is a favorite of fans of online and live dealer blackjack.
The Gambler
Not only does this movie have some A-list actors in its cast, but it is also mainly focused on one of the all-time favorite casino table games, blackjack. "The Gambler" was released in 2014 and is based on a 1974 film of the same name.
Mark Wahlberg plays Jim Bennett, a literature professor who owes $200,000 to Mister Lee (Alvin Ing,) a dangerous underground gambling operator. He also owes $50,000 to a local loan shark and even more amounts to several others, including his mother (played by Jessica Lange.)
After being given a week to pay the $200,000 under the threat of death, the professor scrambles to secure funds and participates in several risky games. Other stars in the movie include John Goodman and George Kennedy.
The Croupier
Unlike the other movies on this list, "The Croupier" is centered on a blackjack dealer rather than players. The movie was released in 1998 and follows the life of Clive Owen, who plays an aspiring but unsuccessful writer named Jack Manfred.
After taking a job as a croupier, Manfred enters the complex and dangerous world of gambling, where he meets and has an affair with Bella, his colleague, against casino policy. Marion, his girlfriend, eventually finds out about the one-night stand and leaves Manfred.
The movie takes an entirely new turn when Jani, a gambler at his casino, propositions him to be an inside man for a planned robbery in the venue. "The Croupier" features several gripping plot twists — those are for you to discover while watching.
While the film did not have scenes of live dealer casino games, it features an important scene where Manfred is being interviewed for his croupier job. "The Croupier" received widespread praise upon its US release, amassing $7,075,068 at the box office.
More Entertainment at BetMGM
These are just some of the best blackjack wins in the many movie titles released over the past decades. There are still several more; with the introduction of digital gaming, new titles featuring a live dealer online are probably soon to be on their way. Of course, these wins may be fictional, but the true excitement happens in real life, with history recording some wins that defy even Hollywood expectations.
By now, you might want to try your hand at some online blackjack live dealer games and perhaps find out for yourself why there's a difference between poker and blackjack players. For this, there's no better option for you than BetMGM. Register today to gain access to an impressive spread of the best online casino games, in addition to poker and blackjack.