Technology has made playing online casino games fun and easy. Live dealer games such as online poker have meant you can experience the dealer interaction from the comfort of your home. Yet, before modern casino games, there were many interesting games that originated in Canada. These games were a far cry from the online slots and other casino games that so many enjoy these days. But which are the best homegrown Canadian games and how have they shaped the world? 
Here are a few of the best games to come out of Canada.
1. Five-pin bowling
Made in Canada, the first 10-pin bowling alley was opened in 1905 in Toronto by Thomas F. "Tommy" Ryan. Unlike today's bowling alleys, Ryan's private bowling club was very high-end, with a piano, a string orchestra and tropical plants – it was seen as a game for the upper class. However, many customers were unhappy with the size and the weight of the 10-pin balls, finding them overly strenuous. To rectify this issue, Ryan cut five of the ten pins down to about 75% of their original size. He also used hand-sized hard rubber balls in place of the original ones.
Whether it's five-pin or 10-pin bowling – many bowling alleys in Canada offer both – the sport is great for toning shoulders, arms, chest and leg muscles. It's all that flexing, bending, twisting and stretching. Bowling also helps with strength, balance and flexibility and is great fun for a spot of casual competitive play between friends.
Although it's seen as a social game played among friends and families, it has a highly respected league played by the world's best. Founded by Eddie Elias in 1958, the Professional Bowlers Association remains the most popular competitive bowling league.
2. Lacrosse
Lacrosse, a fast-paced team sport that requires lightning reflexes and adept ball-handling skills, originated in the 12th or 13th century among First Nations people in North America. But it wasn't until 1859 that Canada made lacrosse an official sport. Early lacrosse games served several important functions, from military training to inter-tribal negotiation. In fact, many First Nations peoples' names reflect the personalities they displayed while playing lacrosse such as baggataway ("they bump hips," Algonquian) or tewaarathon ("little brother of war," Iroquois) to name a few.
In those days, similar to the origins of soccer, teams could have hundreds of players and goals might well have been half a mile apart. Moreover, these early lacrosse games had virtually no time limits. Sometimes they lasted for days. After the games came feasting.
It's interesting to think that these face-to-face sports and games paved the way for their online equivalents, from online virtual sports to casino slots. From lacrosse to slot machine games, who could have imagined the immense technological advances in game-playing that have occurred over the centuries? 
3. Ice hockey
Nobody knows the true origins of ice hockey. Perhaps the game dates back to stick-and-ball games played during the Middle Ages. But we do know that the modern version of this sport originated in Canada – specifically Montreal, where the first indoor game was played in 1875. Some features of that game are still around today, such as the use of a puck and the length of the ice rink.
Regarded as Canada's favorite sport, they have produced some of the greatest players to grace the rink, including none other than Wayne Gretzky, who was given the nickname "The Great One."
There are many good reasons to play ice hockey. Because the sport is so fast-paced, it's one of the best forms of cardiovascular exercise. In fact, playing ice hockey is supposed to burn more calories than running continuously. Ice hockey is also great for improving balance and coordination and developing the skills of working well in a team.
4. Balderdash
It's not only sports that Canada has contributed to the world; there are board games, too. Played globally, a hugely popular Canadian board game is Balderdash. This game has sold more than 15 million copies to date. It was developed in 1984 by two Toronto residents, Laura Robinson and Paul Toyne. To win this exciting game, you need an excellent vocabulary and an even better ability to bluff. Like many other popular games, you can also play Balderdash online. It's a great one to try if you enjoy playing strategic online casino games like poker – because you'll be able to put your bluffing skills to good use!
5. Table hockey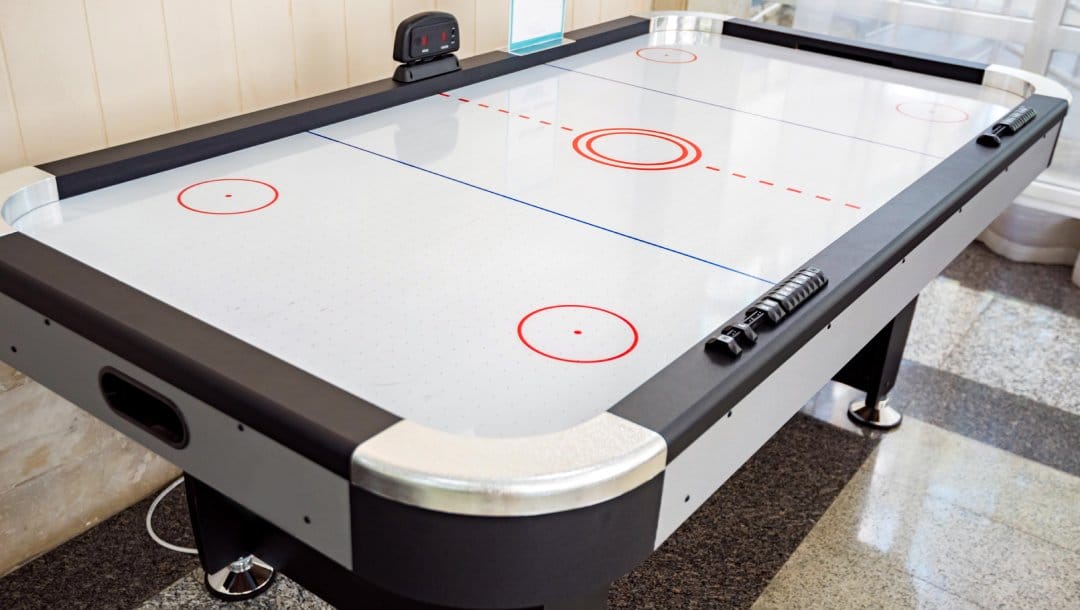 Donald Munro, another innovator from Toronto, invented the mechanical game of table hockey. The Great Depression ensured that Christmas of 1932 found Munro unable to buy Christmas presents for his wife and three young children. The whole family put their heads together and created what was the first table hockey game. They used whatever they could lay their hands on: the wire from a coat hanger, clock springs and even wood from the coal bin! What humble beginnings for a table game that has endured 90 years and counting!
The game's popularity peaked in the 1960s, with hundreds of thousands of table hockey games being purchased. Although fans still have a nostalgic fondness for the game, its popularity has lessened with the availability of video and online games. Pretty much any game you could want to play these days, from the best online casino games to sports games, are available online (indeed, you can even bet on virtual sports at many online sportsbooks).
6. Basketball
Contrary to popular belief, basketball was made in Canada, not America. Invented in 1891 by Canadian native Dr. James Naismith, it was created to boost morale during cold winter months among school students. 
At first, the game involved thirteen rules, with the winner being decided by the team who converted the most goals by throwing or battling the ball into the baskets. As the game became finely tuned, it was added to the school curriculum in Canada and would eventually spill over the borders and develop into a multi-billion-dollar sport played by millions.
Canada's sporting prowess
Ironically, although some of the world's biggest games have been invented by Canadians, the nation's contribution to sport is often overshadowed by its southern neighbor, America. Sports such as basketball are seen – by large parts of the world – to originate in the USA, even though they're Canadian-made. This is largely due to America hosting the NHL and NBA – hockey and basketball's biggest and most-watched leagues in the world. Canada's contribution to sport should not be overlooked; Canadian games such as lacrosse and five-pin bowling (to name a couple) are enjoyed worldwide. Head over here for more interesting facts about Canada or read up on the history and future of gambling in Canada.
Enjoy all kinds of casino games at BetMGM
There are so many fascinating and popular games that have come from Canada and taken the world by storm. But thanks to technology, a whole new gaming era has arrived that everyone can enjoy. At BetMGM, our exciting online casino games are designed to entertain and amuse fans of games of chance and strategy. 
So, whether you like casino table games like roulette, blackjack and poker, or you prefer jackpot slots and variety games, our online casino has the game for you. You can even play at a live casino online if you prefer an interactive element to your gaming!
To enjoy these thrilling games, all you need to do is register with BetMGM.