We don't need to convince you that Pennsylvania is a wonderful state – the 100 miles of gorgeous coastline and 120 state parks will do that for us. Add to that a rich history, immersive cultural scene and views so picturesque that they seem unreal, and you have a winner. As if that weren't enough, with legalized online gambling, residents can now enjoy online casino games from the comfort of their homes.
While Pennsylvania is a haven for outdoor adventurers and history buffs, it can still be hard to choose between the many beautiful cities if you're looking for a place to live. We're here to help. Keep reading to see our selection of the best cities to call home in the State of Independence. 
A Brief History of Gambling in Pennsylvania
Pennsylvania looks good in pictures – and it looks just as great on paper! The state has the sixth-largest state economy in the US. This vibrant economy features good healthcare, impressive school districts, low homelessness rates and an enviable quality of life. But did you know the casino industry is thriving in Pennsylvania, too? In fact, online gambling has already become a billion-dollar industry.
This wasn't always the case, though. The state took much longer than neighbouring states to legalize gambling. The first push towards legalization came in 1959 with the Race Horse Industry Reform Act. The Pennsylvania Lottery Act, which allowed the state's first lottery, followed 13 years later in 1971. Bingo was finally legalized in 1981.
Despite the popularity of bingo, horse racing betting and the lottery, the state was still reluctant to legalize table games and slot machines – that was until the Pennsylvania Race Horse Development and Gaming Act stepped in and permitted slots at racetracks. This was a giant step toward legalizing land-based casinos. In 2010, a bill was signed that allowed table games in casinos. With slots and table games now legal, PA bettors could settle the debate and see if skill-based games were more fun. 
In 2017, the Truck Stop and Satellite Casino Bill was passed so that residents could finally enjoy online slots and table games. Players who enjoyed an authentic casino experience could finally join live dealer casino games with real dealers. So, now that you know you can play at a casino online from anywhere in PA, let's dive into our list of the best cities to live in Coal State. 
The Best Places To Live in Pennsylvania
Every Pennsylvanian city has its own character and personality. Whether you want to get lost in the great outdoors or find yourself in a metropolitan location, there is a city waiting to be discovered by you in Keystone State. Here are the best cities to call home.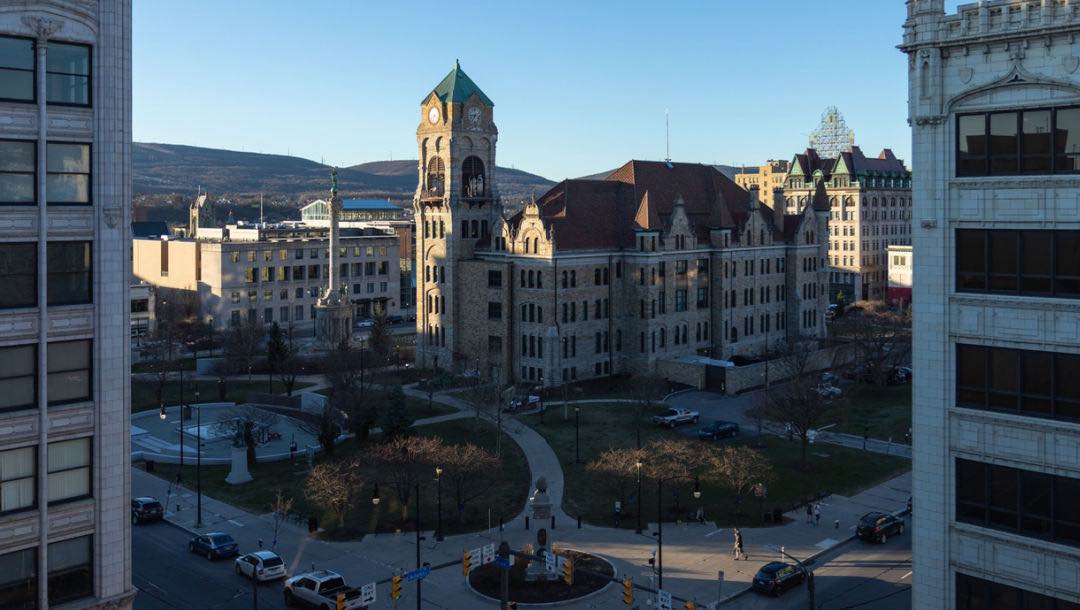 Harrisburg
Harrisburg is the perfect place to feel like a tourist while living as a resident. It's ideally located between Pittsburgh and Philadelphia, giving residents access to the famous Appalachian Trail, as well as the popular Hershey Park and Hershey Chocolate World. 
You'll never have another boring weekend again, with outdoor activities such as hiking, climbing and camping in the national parks and forests at your disposal. The city has a population of almost 50,000 and hosts regular community events and festivals which cultivate a sense of unity. For music lovers, there are almost countless concerts and live performances at local arenas and venues. Harrisburg also features many high-quality galleries and art centers, such as the Susquehanna Art Museum and the Art Association of Harrisburg. Theatre Harrisburg and Open Stage of Harrisburg present regular performances. 
Harrisburg feels like a curated blend of city experiences, outdoor adventures and cultural exposure. For a taste of the city, head downtown to enjoy the lively jazz clubs, intimate cocktail bars and all the ever-changing Harrisburg nightlife scene has to offer. 
Pittsburgh
Steel and coal mines might have been Pittsburgh's original claim to fame, but the city has become a unique cultural hub. Following the closure of steel mills in the 80s, Pittsburgh became cleaner, with a technology hub that creates jobs and boosts the local economy. But more than the improved job market, the sprawling county parks or the affordable cost of housing, it's a deep sense of community that draws people to Pittsburgh. 
The modern side of Pittsburgh is evident in its lively nightlife scene, impressive skyscrapers and thriving businesses. But the town's past is also celebrated in various monuments and buildings, such as the iconic Steel Curtain. Pittsburgh neighborhoods are truly unique, with different subcultures coexisting side by side. The city hosts many cultural festivals such as the St Patrick's Day Parade and the Three Rivers Arts Festival. There are many food and music options, with live music on offer almost every evening at the popular Cultural District. The long list of local galleries and museums includes The Carnegie Museum of Pittsburgh, the Children's Museum of Pittsburgh and The Andy Warhol Museum. 
Lancaster
Lancaster is considered one of the best places to retire in Pennsylvania. The city is three in one, a happy combination of expansive farmlands, family-friendly suburbs and bustling city life. As a resident, you can enjoy the town's First Friday, a monthly arts and music festival where the best local music, art and food are displayed. For an outdoor experience, the city offers hiking trails, corn mazes, tractor pulls and sports activities at Buchanan Park. 
Lancaster boasts very affordable housing. With thrift shops, multiple music venues, eclectic boutiques and a collection of galleries along Gallery Row, Lancaster is so much more than an Amish farm town. With the lower cost of living and higher quality of life, a move to Lancaster will be one you won't regret. 
Philadelphia
There are many reasons to love Philadelphia. It's a walking and bike-friendly city; it has an excellent public transportation system and enough galleries and museums to keep you occupied for weeks. With all of the big city features, Philly still manages to keep its endearing small-town charm. 
Philadelphia's proximity to New York City makes it an excellent city to call home. Residents can also explore different cultural attractions, parks, bars, restaurants and shops without leaving town. History fans won't need to step inside a museum to appreciate Philadelphia's past. As the oldest city in the country, its history is written all around you – in the architecture of buildings and in historic monuments and parks.
Scranton
Don't let the traditional small-town vibe of Scranton fool you. The city's downtown is thriving and bustling with trendy eateries, boutiques and unique art galleries spread out around historic buildings. The town caters to its population of young professionals and families with cultural festivals, art walks and many more special activities. Plus, the cost of living in Scranton is below the national average. 
For an outing, you can take scenic walks at the Lackawanna River Heritage Trail, visit the Pennsylvania Anthracite Heritage Museum or bring a train enthusiast to see the Electric City Trolley Museum or the Steamtown National Historic Site.
Let's take a break from the great outdoors and head inside. Pennsylvania has excellent entertainment options in the form of live dealer online casino games and slots. Once you've chosen your favorite city, explore BetMGM's catalogue for casino games with the lowest house edge. 
Play the Best Online Slots for Real Money With Betmgm
No matter where you decide to stay in PA, the BetMGM online casino has many lucrative casino promotions and slots game bonuses to take advantage of. Our platform has thousands of online slot machines and table games for casual or serious players to try. Register with us to begin your online gaming adventure.