During the cold and dark winter months, playing online casino games is a great way to while away the hours, but when the summer sunshine hits it's time to get out and about to explore. British Columbia is known as the ultimate Canadian destination for nature lovers, but if you are more into the culture than camping, don't let this put you off. This province is actually hugely varied and you'll find trendy cities and small towns alongside some of the most beautiful landscapes in the country.
Let's take a look at some of the top spots in British Columbia to check out this summer. 
The Sunshine Coast
There are some truly wonderful coastal communities along British Columbia's Sunshine Coast, which stretches from Langdale to Lund. Catch a ferry out to this area, which is one of the best places to visit during spring and summer. The Lund Shellfish Festival takes place in May, the Pender Harbor Blues and the Gibsons Landing Jazz festivals happen in June and then the Powell River Blackberry festival takes place in August. This is the perfect place for foodies that want to try out local cuisine and specialties. 
Of course, the area is perfect for the outdoorsy folks too. You can kayak, climb, hike, bike, swim, sail and fish to your heart's content here.
The Vancouver Metro Area
Vancouver is a large city and there is so much to see and do that it can be a little overwhelming. Stanley Park is probably the first place to check out though, as this is a unique green area with lots of space to relax, bike, jog or walk. There are also tons of attractions here to check out such as the Vancouver Aquarium, gardens and beaches. 
If you are keen to see the other popular sites in Vancouver then be sure to check out the Capilano Suspension Bridge, the Museum of Anthropology, and the food, drink and other produce at the Grandville Public Market. Of course, there are also world-class restaurants and a vibrant nightlife to sample while you're in the city.
Vancouver Island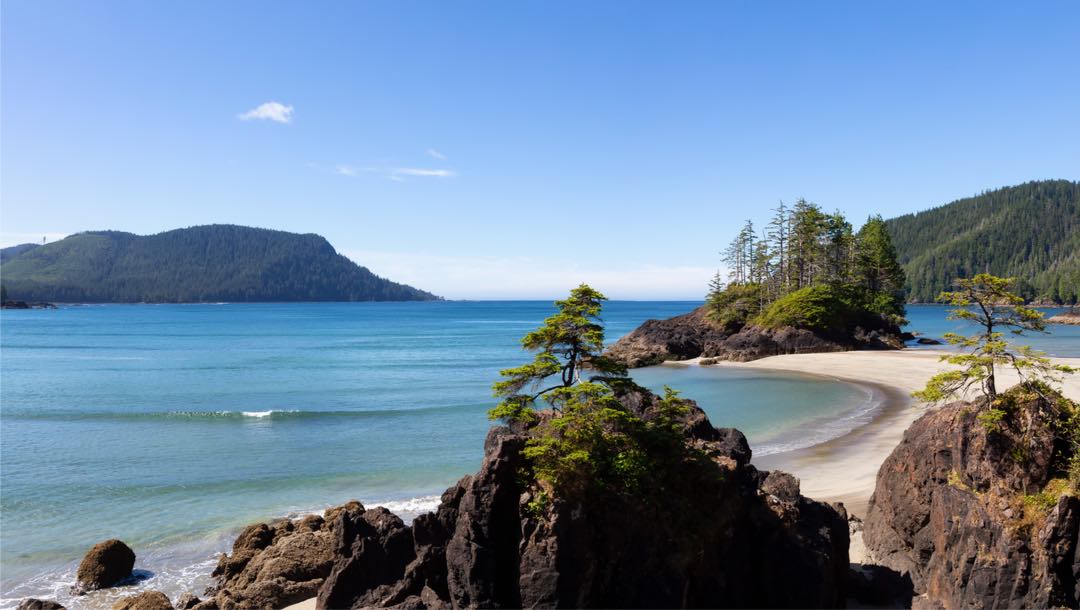 Hop on a ferry from the city of Vancouver for just 1.5 hours and you'll find yourself on the largest island on North America's Pacific coast. It's the island where BC's capital city of Victoria is located, but it's the other stunning towns, picturesque scenery and outdoor adventures that are the true attractions here.
Surfers should head on out to the coastal beaches near the town of Tofino, where they'll find great waves and a laid-back surfer lifestyle. This island is paradise for those looking for outdoor activities and there's kayaking, sailing, fishing, boating, climbing, swimming, hiking and so much more on offer here.
Penticton
Situated between two lakes in Okanagan Valley, Penticton is a wonderfully scenic destination for summer. It's hugely popular for boaters and people who love to get involved in water sports.
Another excellent reason to check out this town is that it's located right in the heart of wine country. You'll be able to visit tons of local vineyards and taste some of the best homegrown wine in the region.
Kelowna
Another town worth visiting in the Okanagan Valley is Kelowna. This town is surrounded by beaches, lakes, mountains, orchards and vineyards. The town is found on the eastern shore of the Okanagan Lake and offers hugely enjoyable activities like spending time at the beach, playing golf, staying on houseboats, kayaking and a variety of water sports.
Many of the wineries in Okanagan Valley have won local and international awards and you'll be treated to a lake view at many of them if you decide to try out their exceptional wines alongside their renowned cuisine. Other places worth visiting in the valley include the O'Keefe Ranch and the Mission Hill Family Estate.
Play summer-themed slot machine games
Of course, another way to get into the summer swing of things is simply to try out some of BetMGM's summer-themed online slots. Be sure to check out the following summer casino slots:
Tiki Fruits: Totem Frenzy

Ocean Belles MegaJackpots

Wheel of Fortune Hawaiian Getaway

Wild Water

Fruit Shop
Play the best online casino games with BetMGM
Whether you're looking for online slots, table games or live casino online games, we've got you covered at BetMGM. 
Take a look at our variety of games and register to play with BetMGM.