Looking to elevate your Texas Hold'em poker game from beginner's luck to pro level? Then you're going to need some of the best mentors in the industry to get you ready to crush your next online poker opponent. Although getting a mentor might seem unattainable, some of the best poker players have written fantastic books to guide you to greatness. We've selected our favorite picks of the best books for beginner, intermediate and advanced players. We made sure to include a few revered poker "bibles," as well as some newer, equally impressive reads you might not have heard of. Before you start playing poker games online, make sure you're fully equipped by taking a look at what these books have to offer. 
For Beginners
Essential Poker Math, Expanded Edition – by Alton Hardin
Does it seem a bit intense to kick the beginner books off with a book that's all about math? Well, if you're jumping into the world of Hold'em poker, you need to understand that math is essential to the game. Hardin's book lays the right foundation and helps you understand the fundamentals of the game. Expect to learn Hold'em strategies like pot odds, implied odds, hand reading, expected value and how to calculate your outs on the go. The book offers loads of advice and strategies and is an easy-to-read, straightforward guide. It does what the full title suggests and delivers all the no-limit Hold'em mathematics you need to know to begin your journey of becoming a successful player. 
Winning Low-Limit Hold'em – by Lee Jones
You wouldn't necessarily expect a book that was originally published in 1994 to be the go-to guide for online poker, and yet that's exactly what this title is. Don't be discouraged by the publish date; Lee Jones' popular insightful guide has been expanded and updated to cover online poker tournaments and even no-limit Hold'em single-table tournaments. The book teaches Hold'em fundamentals, but also offers advice from industry pros. 2004 World Series of Poker Champion, Greg Raymer, said of the book "if you want to put yourself on the path of becoming a top Hold'em player, Lee's book is the place to start." If you won't take our word for it, take it from the champ. 
Getting Started in Hold'em – Edward Miller
If you're just starting to play poker online, you'll find Ed Miller's story inspiring. Miller progressed from a beginner player to a pro in less than 18 months. Getting Started in Hold'em gets players ready to play limit, no-limit, tournament and cash game Texas Hold'em. It promises to teach you poker building blocks like preflop hand evaluation, domination, betting for value, semi-bluffing, free card plays, protecting your hand, pot equity and odds and more. If you don't even know what some of these terms mean, then this book is the one for you. It's a natural starting point for any novice player. 
Phil Gordon's Little Green Book – Phil Gordon
The Little Green Book is a cash game Hold'em guide that covers math, strategy and the psychology of the game. Phil Gordon took everything he learned during his 15 years as a professional poker player and as a highly sought-after Texas Hold'em teacher and poured it into this book. The Little Green Book will help you develop a singular style of play and improve your in-game thought processes and decision-making skills. 
For Intermediate Players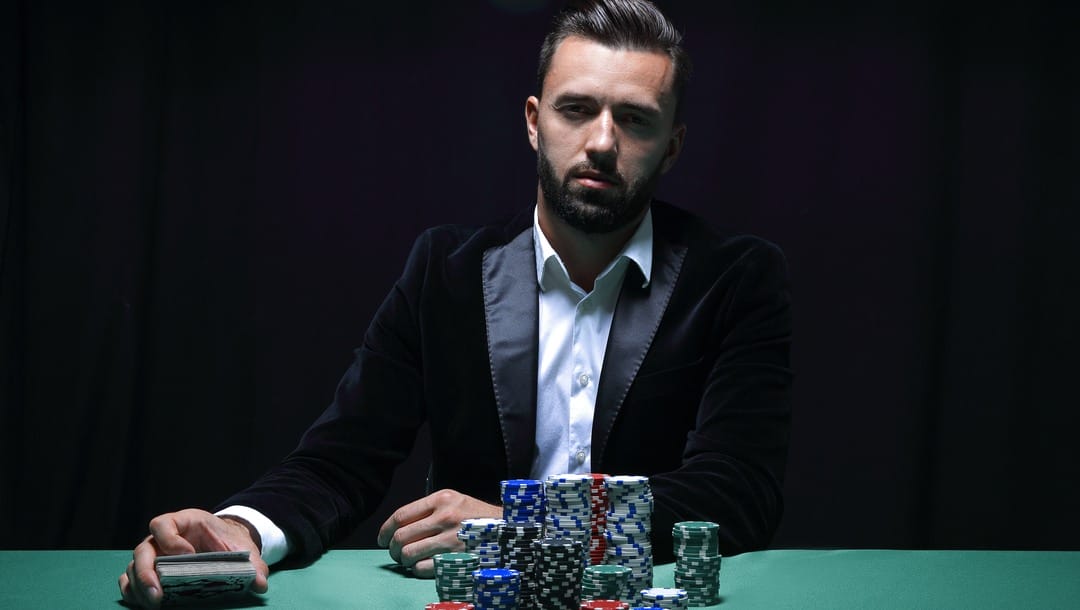 Harrington on Hold 'em Volume 1 & 2 – by Dan Harrington & Bill Robertie
Ready to improve your poker skills with Poker Hall of Famer Action Dan? Dan Harrington is a professional poker player who's won two WSOP bracelets, a World Poker Tour title and the World Series of Poker in 1995. His two books are considered to be the two best books ever written about poker. In this book, Dan takes time to go into detail about game strategies, how to analyze your starting hand, and poker positions. The second volume goes deeper, teaching you how to play well in later stages when the blinds and antes are at their highest. Here the duo cover handling inflexion point players, heads-up play and the final moves at the end of a tournament.
Excelling At No-Limit Hold'em – Jonathan Little
Jonathan Little's book is one of the most engaging reads on our list. It's more than just wisdom and strategy from one talented player, but collaboration and discussion between some of the best poker players. The book gives you the rare opportunity to view various Texas Hold'em situations from the point of view of different players with different styles. Excelling At No-Limit Hold'em features insights from players you might already be in awe of, like Phil Helmuth, Chris Moneymaker and Olivier Busquet to name a few. These experts will weigh in on everything from the basics of the game to advanced concepts like analyzing ranges, short stack strategies, GTO approach, final table play and more. If you're interested in improving your online poker tournament strategy, their personal experiences and tricks will turn you into a formidable opponent. 
Applications of No-Limit Hold em – by Matthew Janda
Applications of No-Limit Hold em is a must-read for any player who wants to improve their Texas Hold'em playing strategies with practical tools and tricks. Though the book introduces and explains theoretical concepts like ranges and bet sizing, it's not made to be overly complex or confusing. Janda's theory is written to be immediately applied and to help you be a better and more successful player. 
For Advanced Players
No Limit Hold'em: Theory and Practice – David Sklansky & Ed Miller
David Sklansky featuring on a list of the best poker books is a given, but this time we're trading his popular Theory of Poker for this advanced read. In this book, Sklansky partners with expert Ed Miller to cover crucial concepts like adjusting to stack sizes, manipulating pot size and reading hands. This book also teaches players how to win the mental game of poker and manipulate opponents into playing badly. When you've read this, you'll be a mentally equipped player who knows how to size their bets and raises well. Make space on that bookshelf because No Limit Hold'em features practical poker tournament tips you need to know to give you an edge in your next game.  
Ryan Fee's 6max NL Strategy Guide – Ryan Fee
If you're looking for something budget-friendly to read right away, read this. Fee's book is popular with cash game players and is completely free. The ebook teaches small and mid-stakes, and covers the progression of a hand through pre-flop, flop, turn and river. You'll also learn about continuation betting, donk betting, floating, double, triple-barreling and check-raising. 
Done Reading and Ready To Play?
Do you have what it takes to play online poker in the USA? It's time to try out all those impressive skills and strategies you acquired and play poker online at BetMGM. Download our app and register to discover our exciting range of poker games suitable for players of all skill levels. We've got Limit and No-Limit Hold'em as well as PLO, 7 Card Stud and Stud 8. Play like a pro on the best online poker site with BetMGM.