Nothing brings a celebration to life like a themed party. They're fun, can fit any budget, and your unique event will be a talking point, long after the party's over. You never know – it might even kickstart a themed party craze! 
Begin with our top five list of ideas – from casino games nights to virtual parties. Find your inspiration here!
1. Virtual parties with va-va-voom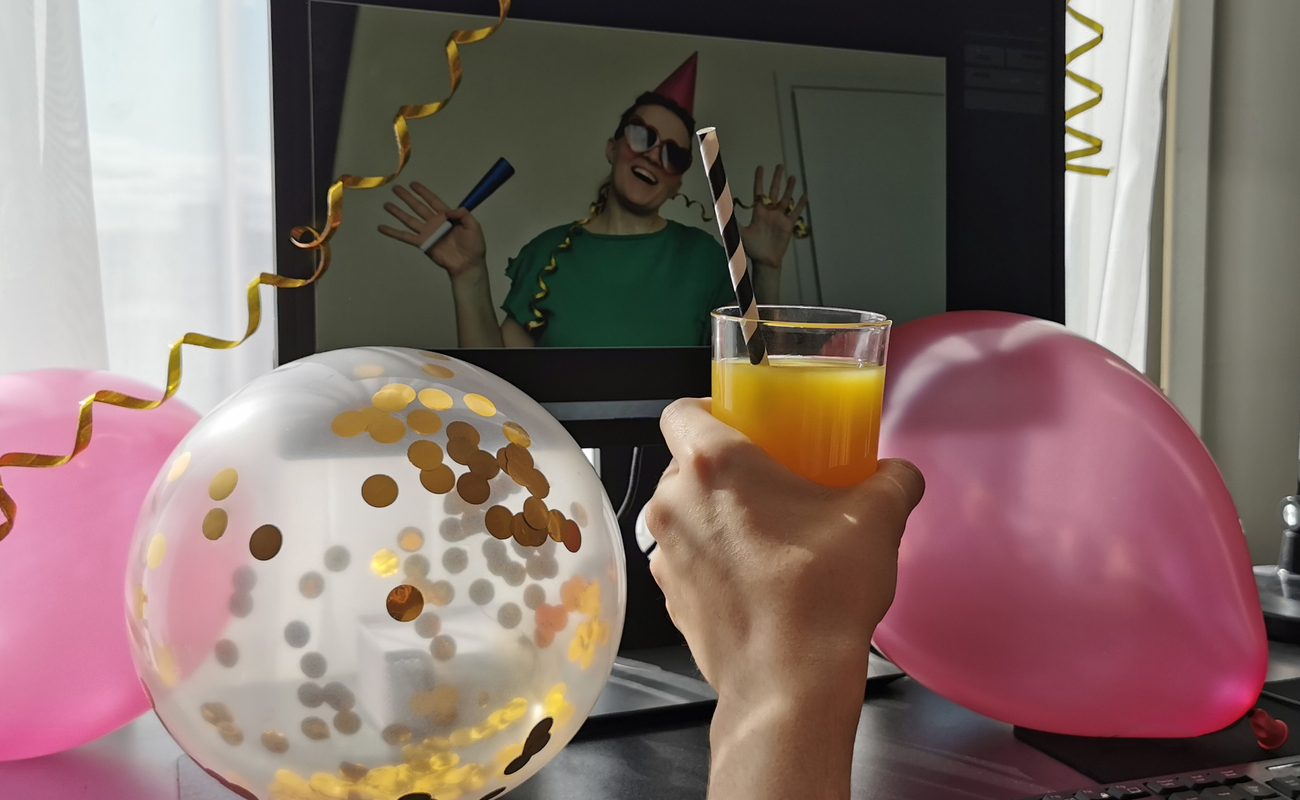 There's no need for friends and family to be apart with all the opportunities to establish a virtual connection. Virtual parties needn't be boring, and the technical setup really isn't that complicated, particularly since online meeting platforms such as Zoom and Google Hangouts are part of everyday life!
The trick to hosting a virtual party with va-va-voom is to go all out on a theme, and make sure your transitions from one part of the event to the next are as smooth as possible. Those awkward pauses are what you're looking to avoid… but don't worry, because if your theme's strong enough and people are having a good time, they won't even notice a hiccup here or there.
When choosing your theme, think about your virtual guests – their age, personalities, and any hobbies that stand out – or introduce your friends to what interests you. Ideas can start with the demure (games and quizzes, or perhaps group online casino games for a fresh twist,) get more energetic (for example, mixology masterclasses or cookery workshops,) or cater for the rowdy (with virtual escape-the-room challenges or lip-sync battles.) 
With a little forward planning you can make the theme really work, and remember you'll only have to cater for your own food and drink, because everyone else will be doing the same behind their screens, wherever they are!
2. Outdoor garden parties
Outdoor events have always been a blast. They now have the added benefits of unlimited fresh air and lots of elbow room! When planning an outdoor event, allow yourself to be guided by the size of your outdoor space, time of year, and your budget. But remember you don't have to wait for summer to break out the party vibe. One great idea for a house party in the fall (or even spring) is a camping theme. If your friends or family haven't managed to get away on a camping trip lately, bring it to your own backyard. Set up a campsite and fire pits. Pitch tents, tell ghost stories, sing camping songs, eat hotdogs, and make ooey gooey s'mores! Of course, you can always tag on a full-on barbecue if you've got someone happy to tend the grill all night!
In warmer weather, you could consider throwing a chic, English-style garden party with lawn games like croquet, bocce, and cornhole. Set out tables with linen tablecloths and fresh-cut flowers, your best cutlery, flower-themed crockery, and sparkling fairy lights to create a magical effect when the sun goes down. Classic items for the menu include cheddar scones and savoury crepes, scones with jam and clotted cream, Victoria sponge, and maybe a refreshing cucumber, elderflower, apple, and mint spritzer – just marvellous! Oh and don't forget the cucumber sandwiches – no crusts and lots of black pepper – for a true taste of English garden-party culinary chic.
3. Dial-back-the-decades party
Whether you're still hankering for the 1980s or you've always admired the 1970s vibe, everybody loves a decade-themed party! Still not sure what decade to shoot for? Pick an aspect that appeals to you. For example, go with a music theme – so 1960s rock 'n' roll, 1970s disco, or 1980s pop. A fashion theme would go something like this – 1960s miniskirts and Nehru jackets, 1970s tie-dye shirts and bell-bottoms, or 1980s big hair, shoulder pads, and leg warmers. There's really quite a broad choice when you think about it!
Once you have your decade, pick the décor. So, for example, to decorate your 1970s party, hire, borrow or make tie-dye curtains or drapes, mirror disco balls, lava lamps, and instead of table flower arrangements, provide pin-on corsages for your guests. With the décor sorted out, it's time to think about your menu. Ideas for an 1980s party could include quiches, pot pie, jelly-and-custard finger donuts, and ice cream cake. You don't have to spend a lot if you are clever with how you plan it. And you can always ask your guests to bring a themed prop or dish with them, if you wish to spread the cost.
4. Travel the world without leaving home
With most people's travel plans restricted or on hold, an international-themed party is a great idea! Pick a location you'd love to visit, then bring aspects of an exotic culture to your backyard or living room with music, décor, a themed dress code, and food.
Themes include Arabian Nights – turn a tent into a Bedouin palace with rich jewel colors and luxurious draped fabrics, potted palms, oversized cushions, baskets, and lanterns. Serve spicy wraps and delicious shawarmas. For a Japanese theme, opt for glittering colors of red, black, and silver. Decorate your party zone with voile screens, paper lanterns, parasols, dragon heads, and blossoms. Serve a variety of sushi, accompanied by sake (or a non-alcoholic alternative such as bubble tea,) and amazake. 
A Mexican fiesta party would be filled with lots of color, spice, piñatas, and sombreros, while an "Out of Africa" theme could allow guests to dress up as Zulu warriors or put on safari bush gear and dance to drum beats. You could even stay more local with a New York theme and include American flags, cutouts of skylines and the Statue of Liberty, plus replicas of iconic New York street signs!
Whether you choose to stay local, import the Caribbean or take your culture cues from further afield, the more detail you include in your themed house party, the more memorable your event will be. Don't forget to plan carefully beforehand so when it actually happens you can really enjoy the party with everyone else – a happy host is an excellent host!
5. Host a casino games night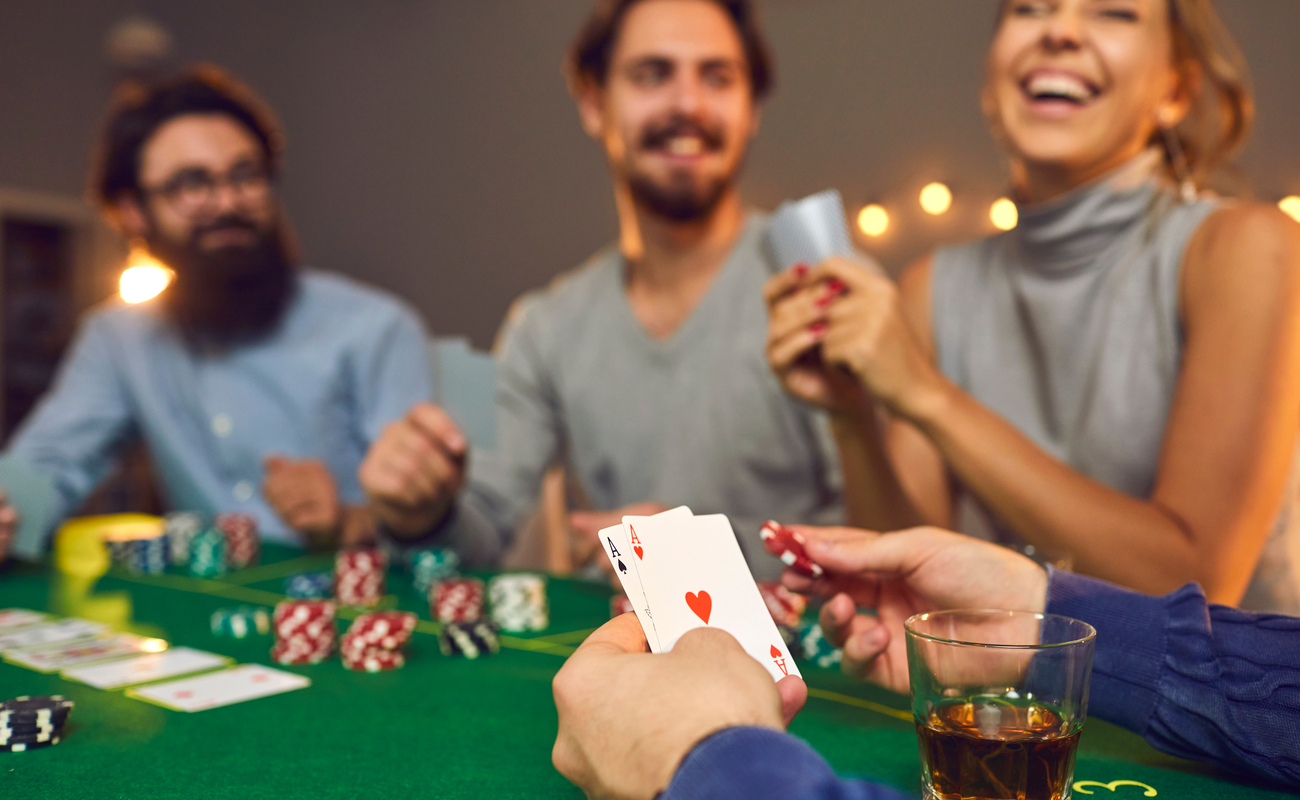 Depending on the age of your guests and your budget, you can treat this theme in two ways. For an older, more sophisticated crowd, recreate the glamor of a casino with a red and gold theme. This can include fake Roman pillars, potted palm trees, and maybe a "casino" sign. Set out classic casino table games at felt-covered tables (you can improvise with similar fabrics,) so your guests can play casino games like blackjack, poker, and roulette. (Don't forget you'll need at least one complete deck of playing cards for this!) Serve lots of bubbly and canapés, and play James Bond theme tunes (for example, "The Girl With The Sun In Her Hair" from You Only Live Twice) as your music for the night.
For a younger crowd, hire a few slot machines or set up computer stations (or other internet-enabled devices such as tablets) so your guests can gamble online, in groups or as individuals. Each guest will need to register with a real online casino for a night of fun, games, and friendship. Go with Vegas-themed décor and ask guests to dress for the occasion as a character from their favorite casino-themed movie! You could have so much fun with this party idea!
While your guests play their hearts out in live dealer rooms or spinning the reels of a few online slots, serve traditional BBQ, hamburgers, hotdogs, pizza, set up a sandwich station, or make sure there are plenty of tacos, and soda. However you host it, everyone's bound to have a great time!
Enjoy an unforgettable experience at BetMGM
If you're looking for inspiration for a casino-themed house party, or you'd simply like to enjoy the great experience on offer at BetMGM, register with us to get access to some of the best online casino games – including slots and live dealer blackjack, poker, and roulette – for plenty of choice and hours of casino fun.