The world is buzzing with conversations about cryptocurrency. Even though some crypto coins were met with skepticism when they first launched, today, cryptocurrency is respected for being decentralized, fast, and private. Since cryptocurrency has become a central part of internet transactions, it only makes sense that it would be welcomed into the world of online casino games.
Is crypto just a hype? Or is it a clear signal of where online gambling is headed to in the future? Join us to discover how cryptocurrency benefits gamers and casinos and what casino gamers can learn from crypto investors. 
What is cryptocurrency?
Are you still not sure what cryptocurrency is, and perhaps you're too afraid to ask? Let's clear things up first. Cryptocurrency is a completely digital currency. Unlike traditional currencies, such as the dollar or pound, crypto isn't controlled by any government or authority and is therefore decentralized. Consequently, the value of cryptocurrency is dictated by an open market that decides what each currency is worth and what people are prepared to pay for them.
But that doesn't mean crypto isn't safe. Cryptocurrencies use cryptography as a form of digital encryption. Combined with blockchain technology, crypto transactions are verified, recorded, and secured. Some examples of popular cryptocurrencies are Bitcoin, Dogecoin, Ethereum, Steem, and Ripple.
Benefits of cryptocurrencies in online gambling
Since some online casinos are stepping into the future and allowing cryptocurrency transactions, let's look at the advantages of using crypto when playing online casino slots and betting. 
Cryptocurrency is cost-effective
Having heard so much about the explosive growth of cryptocurrencies like Bitcoin, you might be under the impression that using cryptocurrency must be expensive. But in reality, cryptocurrency could be the most cost-effective way to gamble online. It all boils down to that big word we mentioned before: decentralized. Because cryptocurrencies have no central authority, transactions don't come with the fluctuating fees and expenses charged by banks. It doesn't even matter if you're transacting across borders.  
Faster transactions
One of the trickier parts of playing online casino games for money is figuring out how to get your funds into your online casino wallet. Sometimes taking your winnings home can take up to five working days. Using cryptocurrencies like Bitcoin or Ethereum means you don't have to wait long before receiving your winnings. With the crypto-processing capabilities available today, your deposits into and from your account are almost instantaneous.
No privacy concerns
No personal information is attached to your cryptocurrency account; your transactions are private. This is particularly advantageous for online gamblers. If you've used your personal banking account to play online casino games, this could negatively affect your credit score. Some financial institutions avoid loaning money to people with gambling activity on their records. With cryptocurrency, your identity is protected, so your credit score or any future credit applications won't be affected if you choose to play slots online.
Security
If you don't play at reputable online casinos, your sensitive financial information is potentially at risk when transacting and playing online. The blockchain technology used in cryptocurrency makes it easy to track all transactions and very difficult to modify them. Each transaction has a unique code, and it's easy to follow the movement of currency. Blockchain currency is even more secure than traditional currencies. You can rest assured you have full control of transactions, and your payment information can't be stolen or misused.
Bye-bye inflation
Have COVID-19 price hikes and inflation destroyed your budget? You'll be happy to know that Bitcoin and other cryptocurrencies are not subject to inflation. Governments can decide to print more of a currency and therefore decrease its value. However, the number of bitcoins to be issued is limited to 21 million. Cryptocurrency is also resistant to political influence and exploitation. 
What online gamblers can learn from crypto investors
1. Have a good strategy
Crypto investment scams shot up by 30% in 2020 alone. With scammers waiting at every corner to take your money, crypto investors must be careful not to fall for any promises of instant rewards and riches. Successful investors and gamblers follow sound research and strategy, and do not fall for hypes or get-rich-quick schemes.
2. Manage your risk
Cryptocurrency trading is a high-risk investment, so investors should set limits on how much they want to invest in a currency. Similarly, BetMGM advises players to gamble responsibly and limit how much they want to bet.
3. Diversify your portfolio
Maybe you're attached to playing particular live dealer casino games. But remember, casinos like BetMGM offer a wide variety of slots, casino table games, and sports betting. So, why not spread your betting across different games? Likewise, crypto traders benefit from dividing their investments across different digital currencies. This way, if one drops, the rest of their capital is safe. 
4. Don't just go "all-in"
Some questionable trading platforms might advise maximizing your winnings by betting as much as possible. Don't let the excitement get the better of you when you're investing or playing live dealer games online. A wise investor, as well as a shrewd gambler, only invests a certain portion of their funds and investment capital at a time. Instead of going "all-in" with your capital, set aside an emergency cash reserve. 
5. Take the time
Cryptocurrency is not easy money. Even though prices can change dramatically from day to day, taking your time means you won't be swayed by panic. Do not panic buy or sell when prices are low but give your investments time to reap the best rewards.
Similarly, online casino games are not all based on luck. They don't offer easy wins without a strategy. Building a game strategy and learning about your game of choice gives you an edge as a gambler. Take the time and don't expect to get rich overnight.
The future of cryptocurrency and online gambling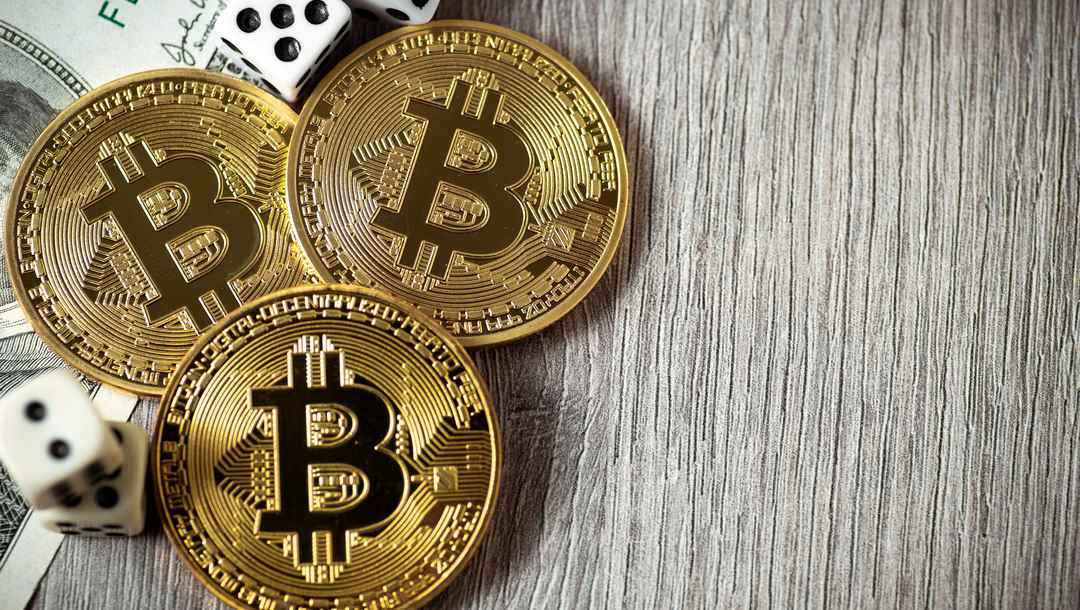 Blockchain technology is undoubtedly a game-changer for the world and for online gambling. It's more than a currency; it's regarded as one of the most impressive innovations of the century. 
The capabilities of cryptocurrency benefit both online casinos and gamblers as well. Several sources even predict that cryptocurrency will one day become the primary source of funding for online casinos. Blockchain tech has made online casinos even safer and simultaneously contributed to the rapid growth of online casino games. In the future, these digital transactions will allow any player to bet freely from anywhere in the world.
We might not be in the future yet, but more than 75% of gamers already prefer using cryptocurrency for their transactions. 
Step into the future of gambling with BetMGM
If you're after security and an easy gambling interface, BetMGM's secure online casino will keep your funds secure while giving you access to the best online casino slots, games, and more than 20 sports to bet on. Add to that 24/7 live chat customer support, a convenient app, and multiple cost-effective methods to top up funds and withdraw winnings. Play in our casino online today with the right tech and security to back you up.
Register with BetMGM to experience the future of online gambling.