Have enough space for a home entertainment room? Consider a casino theme to bring the authentic experience of gambling to a comfortable space you can truly call your own. A home casino room provides a great way to relax and take time off from a busy schedule, with the added benefits of wagers and lucky wins to up the excitement factor.
Entertainment rooms should be extensions of your personality, style and interests. Whether you play online casino games, prefer sports betting or stick to the classics, a custom casino room offers the freedom to play whatever you want, whenever and with whomever you like.
But where are your favorite games going to go? Do you have every detail planned out? Will there be chairs and sofas or bar stools and beanbags? Posters and art collections or trophies and sports memorabilia?
The best advice is to start off small and work your way up to more ambitious interior decorating ideas. Then again, you could go all out from the get-go and transform an area from floor to ceiling, knocking down walls to create your dream expansion.
Size Matters
Before exploring costly renovation options, keep in mind that casino games come in all shapes and sizes. Table games like roulette, craps and poker can easily fill a large room, but arcade games like slots and pinball machines take up much less space in comparison.
There's a lot to think about when it comes to space for your games. Take poker, for example, played with anywhere from two to 10 players (or alone at online casinos.) So, the perfect home poker room depends on what you play poker for, how often you host guests and the type of atmosphere you're going for. 
To find the ideal balance, set up your preferred games with enough space for furniture, desired amenities and the space to move around freely. The last thing you want is a layout that's too cramped to be cozy, or too spread out with a sparse and unfinished look. 
If you're struggling to visualize ideas with accurate dimensions, draw up a layout plan or hire a professional to do the work for you. With a clear theme to take inspiration from, you'll have all the essentials needed for an optimal design.
Mood and Mindset
Which decor themes suit your personality most? Are you a fan of futuristic, minimalistic or rustic styles? Maybe the luxury of red carpets and caviar tickles your fancy or perhaps it's trends from specific decades that interest you, from the Roaring Twenties and Swinging Sixties to the high-tech world of modern gaming.
Themes might not be on your agenda at all, but it's impossible to ignore the benefits of a strong and unified theme. Lighting, color choices and other thematic elements please the senses and set the exact mood you want for an entertainment room, influencing both your physical and mental states.
Finishing touches such as subtle and softer lighting enhance the ambiance of elegant casino rooms. Chandeliers and artisan lamps can be used to upgrade the opulence of the space, while downlights and LED string lights will promote a more laid-back and casual atmosphere. 
Jackpot slots and other games with vibrant visuals make use of flashy colors for increased immersion and engagement. Similarly, the colors chosen for walls, decor and lighting must work together in harmony for an alluring atmosphere. Green walls might conflict with baroque-style furniture, for instance, whereas nature-inspired designs can look fantastic with bold shades of green.
Can't settle on a theme? Try using elements from casino games to inform your design choices. If roulette is one of your favorites, consider adding black and red to your room decor or keep the wheel-and-deal theme going with a dartboard and spin-to-win games. Speaking of black and red, why not add the themes of card games? With suits and royalty added to the mix, you have a strong theme with clear color choices.
There's no shortage of ideas and themes when it comes to the ultimate home casino room. Entertainment and comfort are top priorities no matter what type of setup you're going for; now that themes and layout are covered, it's time to focus on decor, extra features and high-quality finishes.
Casino Decor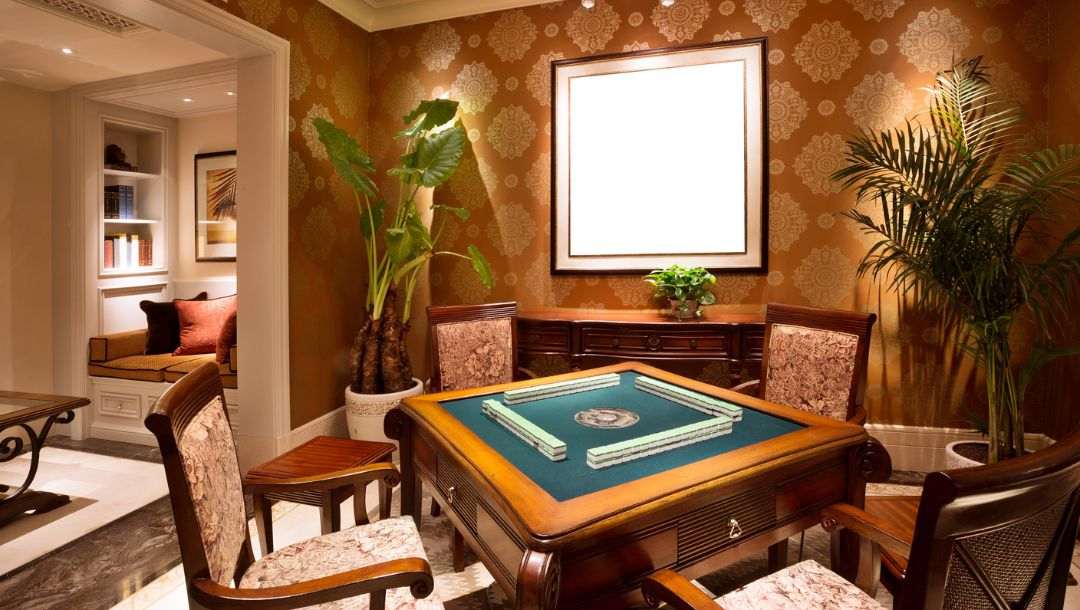 From rugs and curtains to sofas and framed paintings, decor choices add the finishing touches needed to make any room feel complete. Casino rooms benefit from a wide range of furnishing and decorations, depending on the theme and the amount of space available.
Furniture with deep reds and creamy whites is great for an air of sophistication, along with black leather and dark wood. Lighter woods and pastel colors fit minimalist themes better, while metallic finishes can work incredibly well under neon lighting, especially with futuristic furniture to round out the theme.
Casinos offer more than just games, neat decor and comfortable seating. Extra features like a bar make perfect sense in a casino room, allowing you to play games and mix cocktails at the same time. After all, the point of a casino room is to play games and unwind in a fun-filled environment. 
The best casino rooms incorporate as many elements of the authentic casino experience into the design process as possible, provided they suit your personality and budget and don't cause unwanted distractions, whether it's a built-in bar, snack machines or a dedicated waiter on game night.
Focus on the Fun With BetMGM
Keen to play the most popular casino games online? Register with BetMGM and bring the casino experience directly to your doorstep or anywhere else for that matter. Anytime you crave the unique thrills of casino entertainment, play online slots, video poker, blackjack and more directly from your smartphone or any other compatible device.