With the rise of online casino games, it's no surprise that classic and modern variations of several games have gained even more traction over the years. Similarly, the popularity of Dungeons & Dragons (DnD) can't be ignored. This tabletop role-playing game has been around for decades, attracting the attention of the masses over time.
The integration of gambling elements into DnD has added another layer to the experience for those who love to play DnD. Overall, it has introduced them to the unexpected and deviations from what they have come to know as ordinary. The inclusion of a die, a deck of cards or a sudden plot twist in the storyline can be a complete game-changer.
DnD Gambling Games
If you're ready to learn about DnD gambling games worth featuring in your next campaign, let's dive straight in!
1. Three-Dragon Ante
Combining elements of two of the most-loved casino games, poker and blackjack, this DnD gambling game is widely considered a fantasy-style variation of the two games. Three-Dragon Ante is typically played with dragon-themed cards. Players bet and try to one-up their opponents as they would in regular poker or blackjack games. Bluffing is also an integral part of Three-Dragon Ante, with the goal being to obtain your opponents' gold pieces.
2. GYP
This is a popular option because of its relatively simple and easy gameplay, making it reminiscent of board games that you can play on a night in with family and friends. In GYP, you have to roll two dice and calculate your points. If the total amounts to 7 or 12, congratulations, you've won! However, that means if it's anything else, you've lost.
3. Hand of Fate
You, as the player, are considered the hand of fate in this game because you determine the character's fate. The backstory of this game can be quite captivating, as it's premised on the idea of you building an empire from cards that randomly fall down. As is the case with casino games, you never really know what cards you'll be dealt from the deck.
4. The Liar's Dice
This game is a popular choice that entails bluffing and wagering on the outcomes of rolling the dice. Players must bid on a face value and the number that equals the number of dice showing that face value.
5. Twenty-One
If you're familiar with the origins of blackjack, then you might be aware that it was previously called Twenty-One; this game is derived from the popular casino game. Much like some of the best board games around, Twenty-One has no limit on the number of players who can participate. Like in blackjack, the aim of this game is to accumulate a hand value closest to 21 without exceeding it.
6. Gambit of Ord
In terms of rules, this game is often likened to Hand of Fate. In this gambling game, players are required to place their bets and are dealt a card. After two rounds of raising and receiving additional cards, only then can they reveal their cards and add their values together. The player with the highest total wins.
7. Run of Luck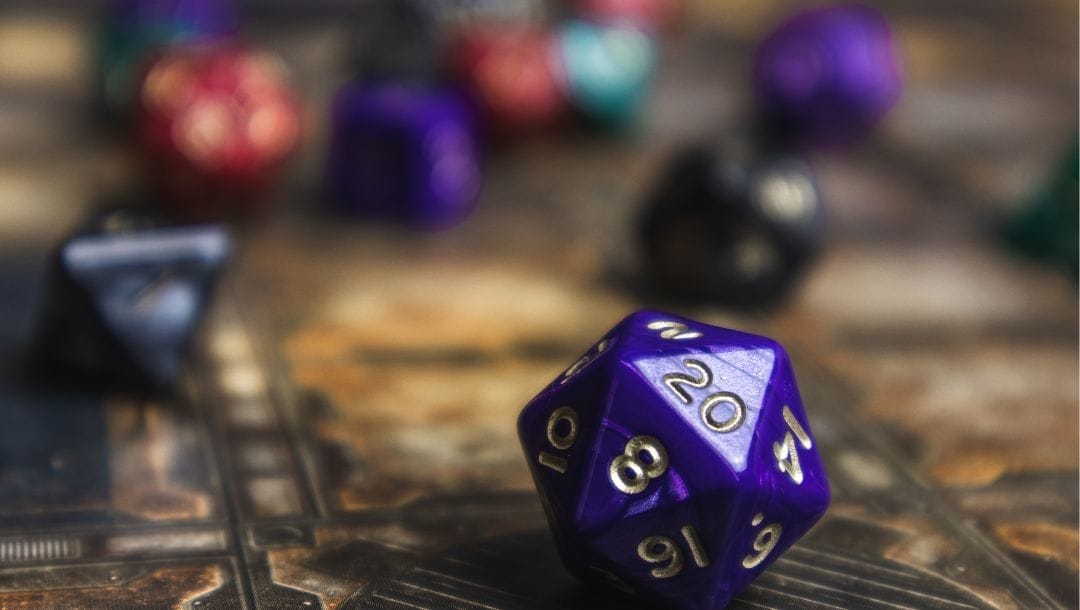 This is just one of many reptile-inspired games that you can immerse yourself in, with one of them being the ever-so-popular Snakes & Ladders board game. In this game, however, it's lizards that you have to face, not snakes. That being said, there are parallels between the rules and gameplay of these two games.
In Run of Luck, you must roll the dice and, depending on the number you roll, move the lizards accordingly. The lizard that reaches the finish line wins.
8. Gnomish Roulette
Like all the other games on this list, Gnomish Roulette is an exciting take on tabletop adventures that you might be used to. As suggested by its name, it's inspired by the beloved casino game roulette. The premise is also closely linked to roulette, except Gnomish Roulette doesn't necessarily require a traditional roulette wheel. Instead, any spinning mechanism can be used on a platform divided into compartments (as on a roulette wheel.)
Players are then required to wager on the outcome of the spinning and where the mechanism will stop. The approach to the game and base rules never really change, but it's not uncommon for the game to be slightly adapted to suit your campaign.
Explore the Immersive Nature of Online Casino Games
If the inclusion of chance and luck into Dungeons & Dragons excites you, consider stepping into our online casino for even more thrilling gameplay! From online slots to classics like poker and roulette, enjoy an immersive experience when you play casino games online. Register at BetMGM to find out what all the hype is about.