If you're the kind of poker player who enjoys a challenge along with the chance to win big with a small investment, multi-table live or online poker tournaments are the way to go. They're good for bankroll management (you never lose more than your buy-in), often carry substantial prizes, and give you the chance to be creative against opponents who are highly motivated to survive and get to the money.
With so many tournaments out there, though, how to choose between them? One important factor to consider is the pace of the tournament structure. Beyond the time commitment, a fast or slow structure will impact your poker tournament strategy. Keep reading for insights into poker tournament structures and how they can affect your experience at the table.
Introducing MTTs
A "multi-table tournament" (MTT) is a poker tournament that starts off with multiple tables of players. As the tournament progresses, the field thins out until eventually there's just one final table of players competing for the title and the grand prize.
Say your local casino is hosting an MTT with a $100 buy-in and a guaranteed prize pool of $10,000. Because 150 players show up, the tournament starts with 15 tables of 10 players each. Most MTTs are freezeouts in which players who run out of chips are eliminated, and the winner is the player with all the chips in the end. Tournaments for casino table games such as blackjack and roulette have a similar format.
The largest, most famous MTT of all is the World Series of Poker (WSOP) Main Event, in which thousands of players pay $10,000 for a chance to win millions. WSOP winners often become household names — Phil Hellmuth, Doyle Brunson, Phil Ivey, and Daniel Negreanu being just a few.
Blinds & Antes
The primary factor that determines the pace of an MTT is its blinds schedule. In every hand of poker, players in the small blind and big blind position are forced to post bets of a predetermined size so that there's something in the pot from the get-go. In cash games, the blinds stay the same, but an MTT will have a blinds schedule in which the blinds go up at regular intervals. This can range from up to 60 minutes per level in a live tournament to as little as five minutes per level in a "hyper-turbo" online tournament.
Many MTTs also have additional forced bets called antes that kick in after a certain period. The idea behind blinds schedules and antes is to put pressure on players' stacks, so they have to really compete for pots to stay in the game. Without a blinds schedule, players could simply trade chips back and forth without busting each other out, and the tournament would never come to an end. Escalating the blinds forces confrontations, so players have to take risks. This makes for a much more challenging experience.
MTT Blind Structures
The second factor that influences the speed of an MTT is the depth of the chip stacks, measured in terms of big blinds. As a rule of thumb, you can look at the size of the starting chip stacks and work out how many big blinds each player has to begin with. The deeper the stacks, the longer the tournament. Say, the level one blinds are 25/50, and everyone starts with 1,000 chips. In this case, everyone starts off short-stacked with only 20 big blinds, so it's going to be a fast tournament. Change the starting stack to 10,000 chips, and everyone is deep-stacked, with 200 big blinds.
Ultimately, it's the combination of blind levels and starting stack size that determines how fast an MTT plays out. Many low buy-in tournaments have levels lasting 15 or 20 minutes, where players start with a stack of 100 big blinds but may be down to 20 big blinds within an hour. By contrast, higher buy-in tournaments often have levels of 60 minutes or more with relatively small blind and ante increases, encouraging more calculated play.
Live Vs. Online Poker Tournaments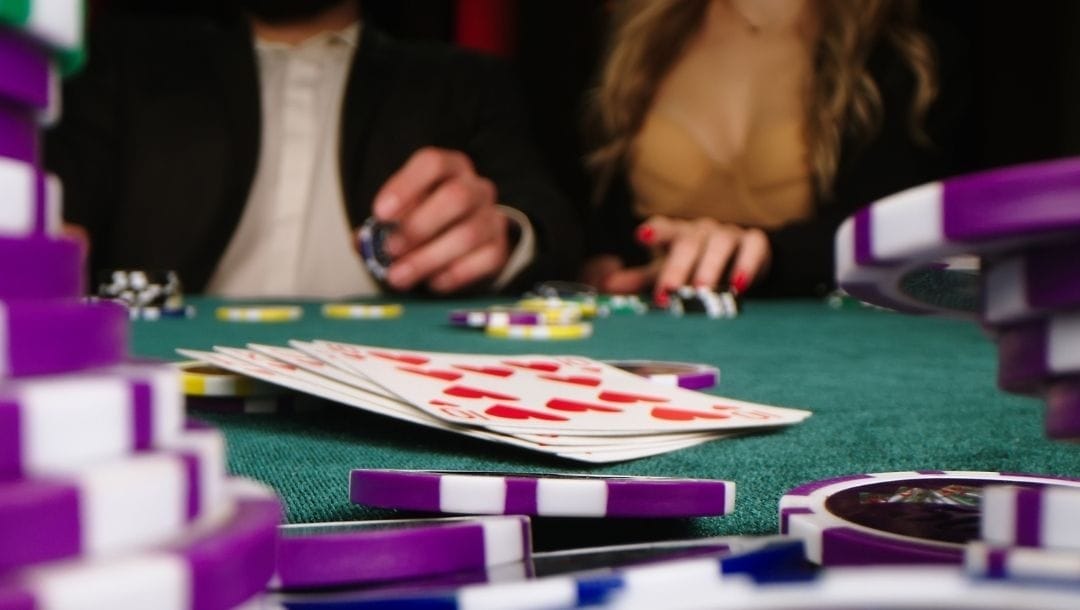 Another major factor when it comes to speed is whether you're playing live or online poker. The reason is simply that hands are dealt automatically in online games, whereas live games require actual physical cards to be dealt. Typically, in an online tournament, twice as many hands will be dealt per blinds level as in a live event. As a result, blind levels of 20 minutes or more are considered to be slow, while levels lasting 10 minutes or less are fast. Another online poker tip where tournaments are concerned is that your opponents will often be using HUDs (head-up displays), so it's probably a good idea to look into how to use one yourself.
How Speed Affects Poker Tournament Strategy
The pace of an MTT should have a direct influence on your live and online poker tournament strategy. A fast-paced tournament structure means you have to be ready to play more aggressively, committing chips and putting your opponents under pressure from the start. You can't afford to play too tight and fold your way through the early levels because you'll suddenly find yourself having to push or fold, depending on the hands you're dealt. Postflop maneuvering is also more difficult in fast MTTs, with a great many decisions coming before the flop.
A slower-paced tournament structure, on the other hand, favors players with the patience to avoid marginal spots and let their opponents make mistakes. Aggressive play too early on is punished, and pot control becomes important. This tends to favor more experienced, selective players with an advanced understanding of the gap concept, floating, and other technical terms. 
A fast-paced MTT structure, by contrast, can be advantageous to novices and recreational players because the luck factor can provide them with opportunities to go deep and maybe even win.
Of course, if you're down to 10 big blinds, it makes no difference whether the overall tournament structure is fast or slow — you have to adapt, and fast. By the same token, you can afford to slow down and be more selective if you're the chip leader with 100 or more big blinds, even in the most fast-paced poker tournament.
Experience Online Poker at Its Finest
Looking for top-rated poker action online? Register at BetMGM to enjoy cash games and online poker tournaments in the comfort of your home. Members also gain access to a broad range of top-rated online casino games, from the latest online slots to authentic table games such as blackjack, roulette, craps, and baccarat. This includes a rich selection of real-time streaming live dealer casino games suitable for every player. Play it your way at BetMGM.