The road to recognition and respect has not been easy for women in the gaming industry. Historically, video game design has focused predominantly on a male audience, despite the fact that roughly half of all gamers worldwide are women.
Regarded by the industry as a lesser priority for decades, female gamers have withstood many challenges to enjoy their virtual entertainment, ranging from unprovoked online harassment to discriminatory stereotypes of their gaming skills. 
Whether it's online casino games, MMOs, or esports, a new generation of empowered women has stepped up to drive gaming toward a more inclusive future, breaking barriers and shattering stereotypes to earn the acknowledgment they deserve. To highlight the unique challenges and triumphant victories experienced by these brave and extraordinary women, it's best to first approach the story from a broader perspective. 
The State of the Gaming Industry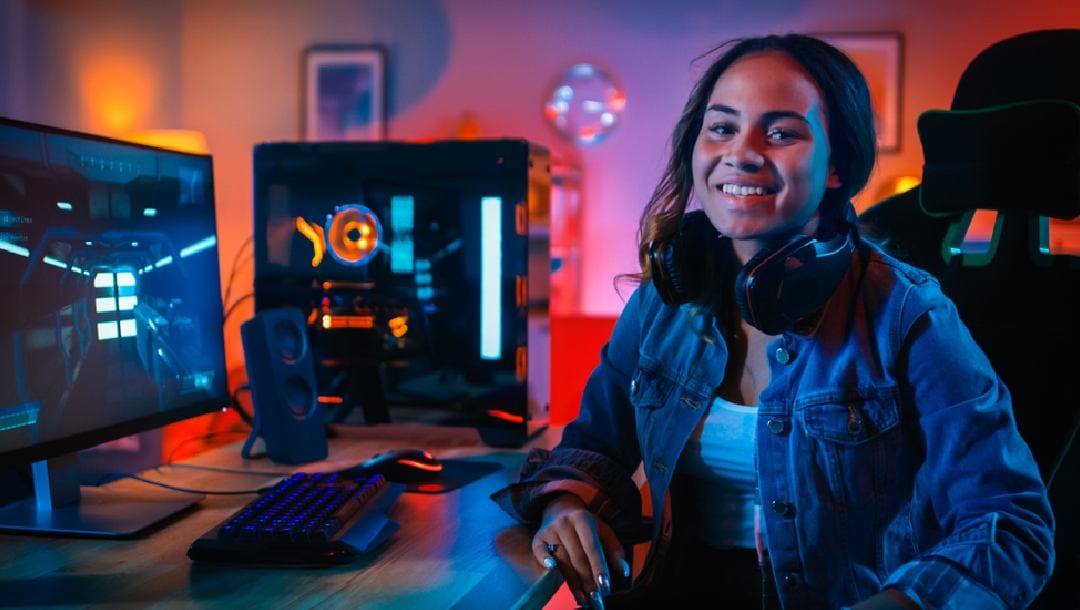 If you're wondering what percent of gamers are female, the answer depends on where you are in the world. In the US, for example, women represent 45–49% of the country's gaming population (depending on the scope of the study.) The UK has a similar split, with about 47% of gamers being female, whereas only 25–30% of women in Norway are regular gamers.
Well over a third of gamers in Asian countries identify as female. Similarly, in countries like Australia and South Africa, the split between genders is fairly even at 40-50%. From current info on what percent of gamers are female, it's evident that women account for a significant segment of the gaming population, begging the question of why there aren't more video games targeted at a female audience. 
Gaming is now the biggest form of entertainment media, but women in the gaming industry are far too few in number when it comes to leadership roles and the development process in general. Executive positions remain male-dominated and recent reports surmise that less than 30% of the industry's workforce is female. 
The Trailblazers
Despite a clear lack of representation, talented female designers, programmers, writers, and producers have made invaluable contributions to the growth of the gaming industry. Many slick and stylish video games simply wouldn't exist without women behind the wheel, including worldwide hits with millions of sales like Portal, Assassin's Creed, Halo, and Uncharted.
Take Amy Hennig, for example, who wrote and directed all three games in the Uncharted series and played a critical role in the all-time classic Legacy of Kain. Or Yoko Shimomura, the composer behind iconic music in Kingdom Hearts, Final Fantasy, Street Fighter, and more. Then there's Jade Raymond, founder of Electronic Arts' Motive Studio and producer of popular series like Assassin's Creed and Watchdogs. 
From popular films and TV shows based on video games to international organizations empowering women in the gaming industry, these trailblazers and other talented individuals have influenced the trajectory of gaming irrevocably, ensuring that the list of influential women in gaming continues to grow long into the future.
The improved diversity of modern games proves that progress toward a more inclusive gaming industry is accelerating, whether it's the latest variety games, online casino classics, AAA franchises, or indie gems. Still, female gamers have their work cut out for them to achieve the same success and recognition as their male counterparts, especially in competitive esports and multiplayer games.
The Next Generation
In online communities for nearly every game, on streaming platforms like Twitch and YouTube, women must deal with challenges that don't affect men nearly as much. For instance, the best sports games such as Madden, FIFA, and NBA Jam have huge fan bases consisting of both men and women, yet the entire genre is marketed to a male demographic, while so-called "girl gamers" are ostracized frequently for no valid reason.
Ronda Rousey, the famous former MMA fighter, is an avid gamer who often recalls her experiences with toxic gamers, immature naysayers, and mean-spirited trolls. She's a vocal advocate for women in gaming and echoes the sentiments of many gamers, stressing the need for gaming communities that are more inclusive for all types of players, regardless of gender.
Esports professionals like Sasha "Scarlett" Hostyn and Stephanie Harvey have similar views on the current state of the industry. Hostyn, known to be the highest-paid female player in the world, has won over $350,000 by competing in over 150 StarCraft 2 tournaments. Harvey, on the other hand, has won world championships for various games, including Counter-Strike: Global Offensive and Rainbow Six Siege.
Both of these accomplished pros have expressed their desire for less negativity and false stereotypes surrounding their skills, competence, and capabilities. To ensure that there's continued progress in breaking gender barriers, the gaming industry must prioritize the value and well-being of its female audience.
Organizations such as Women in Games and Girls Make Games are on the frontline of the fight to improve inclusion and diversity in video games. Initiatives like the UK's #RaisetheGame campaign have promoted inclusivity in the industry, but there's still a long way to go before video games can truly be described as all-inclusive.
Break Barriers With BetMGM
Gender shouldn't dictate the types of games you can play or who you can play with. It might take a while for cultures to adapt to progressive standards in gaming, but the work done in the meantime has already produced positive results, and the industry is steadily changing for the better.
If you're looking for a judgment-free community, thrilling odds, and online casino games galore, register with BetMGM to unlock premium virtual entertainment options beamed directly to your mobile device, from variety games to live dealer poker and blackjack to sports betting, slots, roulette, and more.