Although considered a relatively small state, Pennsylvania has successfully added itself to many people's bucket list destinations. Not only does it boast natural beauty that makes it ideal for outdoor activities such as hiking, it's also rich in history and culture. This can be largely attributed to the diverse groups of people that make up the Keystone State, which has also filtered down to the food that can be found in local restaurants and eateries.
With the option to step into an online casino from just about anywhere in the world, you could treat yourself to interesting Pennsylvania cuisine or an all-you-can-eat buffet while playing your favorite games. Despite not being known for its contribution to the culinary world, there are some world-renowned foods that were invented in PA.
Foods Invented in PA
If you're a foodie who's invested in everything from street food to fine dining, you may be asking yourself, "What food is PA known for?" If that's the case, this list of Pennsylvania foods will hopefully shed some light.
Hershey's Milk Chocolate
When it comes to leaving a legacy, Milton Hershey hit the nail on the head. Given the family name, Hershey's milk chocolate bars were introduced to the market in 1900. Initially, the company produced dark chocolate, but over time – and with enough experimenting with the recipe – fresh milk was added and then later almonds. With the ever-growing dietary concerns of the public, the company responded by launching sugar-free chocolate bars in 2003.
To this day, Hershey's is one of the most respected and loved chocolate brands in the world. This may be attributed to its familial roots, rich history and credibility, great taste and possibly even how it has managed to evolve with the times and accommodate the changing consumer desires. Despite originating in Pennsylvania, it has successfully transcended borders and proven to have mass appeal.
Heinz Ketchup
This is not to say that ketchup itself was invented in Pennsylvania – a scientist from Philadelphia is widely credited for introducing the world to the tomato-based ketchup that's known and loved today. Zooming in on Heinz Ketchup, specifically, it's yet another legacy product on this list. Invented by Henry John Heinz, this brand of ketchup is now acclaimed for managing to strike the perfect balance between sweet, salty and sour.
Interestingly, Heinz Ketchup was inspired by a Chinese recipe that Heinz adapted and played around with. He eventually stumbled upon the ketchup recipe while experimenting in his mother's kitchen. Considering that it has remained consistent and unchanged since its introduction to the market in 1876, it's no wonder that just about every retailer in Pennsylvania and beyond, and some restaurants, have Heinz Ketchup as a staple. For some, it's a nostalgic taste that reminds them of precious memories, helping it remain a popular choice to this day. Because ketchup is included in almost any food occasion, the Heinz brand has become entrenched in past and current culture as the finishing touch to some popular meals.
Philly Cheesesteaks
The name of this food from Pennsylvania says it all. While there are versions of the origins of this food item, one thing's for sure – Philadelphia was an integral part of it. It's widely believed that a hot dog vendor first created Philly Cheesesteaks and the recipe has evolved over the years to include long rolls, grilled beef, onions, cheese and pretty much whatever tickles your fancy. Several iterations of this famed sandwich are now available.
One of the most uniquely appealing aspects of Philly Cheesesteaks is that they deviate from the narrative that food must be presented in a certain way, with ingredients neatly chopped up. While the contents are tucked into the roll, there's a certain charm about the "messy" look that some cheesesteaks have that makes them even more appetizing. Philly Cheesesteaks can be found in various parts of South Jersey and Pennsylvania at large and there's no shortage of street vendors and eateries that specialize in them.
Banana Split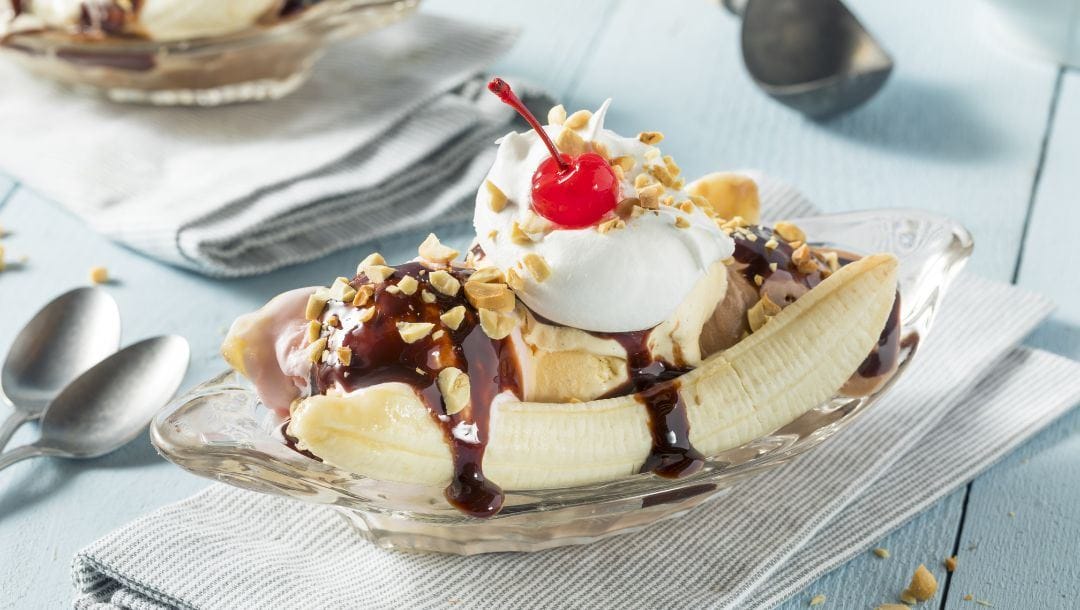 David Strickler from Westmoreland County is believed to have been the person who first tried out the pairing of bananas and ice cream in 1904. The original banana split was made from chocolate, strawberry and vanilla ice cream, three different toppings of choice and whipped cream to seal the deal. Nowadays, people tailor it to suit their personal preferences and it's a key feature on a lot of menus across the globe. Walgreens, in particular, has made it a signature dessert that's a staple in any of its branches.
The Big Mac
When it comes to famous food in Pennsylvania, the Big Mac is undoubtedly one that comes to mind. Although McDonald's, which is one of the largest franchises in the world, was founded in California, the Big Mac concept came from the Pennsylvania franchisee Jim Delligatti from Uniontown. The Big Mac was introduced to the market in 1967 and things have never been the same for the red and yellow franchise.
Considering that there are countless McDonald's across the globe, it's no surprise that in the US alone, it's estimated that more than 550 million Big Macs are sold each year. One can only imagine what the global sales figure is. McDonald's as a whole has become entrenched in fast food and takeaway culture, not just in Pennsylvania but in the world at large.
Treat Yourself to Some Top Casino Games
Whether you prefer online poker, online blackjack or perhaps you enjoy spinning the reels, BetMGM has all of this and more. If you're heading to the Keystone State anytime soon, think of BetMGM as the best casino in Pennsylvania to have in your pocket. Explore the extensive range of popular and lesser-known casino games on offer when you register to gain unlimited access.