New Jersey is an interesting place with so much to offer. It may have come to many peoples' attention through shows such as Jersey Shore and The Real Wives, but there is so much more for any traveler to enjoy. Let's take a break from online casino games and look at some hidden gems in New Jersey and why they deserve to be explored. 
1. Amusement parks
A trip to New Jersey would be incomplete without visiting some of the fun and thrilling amusement parks. Behold American Dream, the western hemisphere's largest theme park, located in East Rutherford. This is also the home of DreamWorks Water Park, Nickelodeon Universe, Big SNOW, Angry Birds Mini Golf, The Rink, Blacklight Mini Golf, Mirror Maze, SEA LIFE Aquarium, LEGOLAND Discovery Center and a wide range of premier dining establishments and retail stores.
2. Waterfalls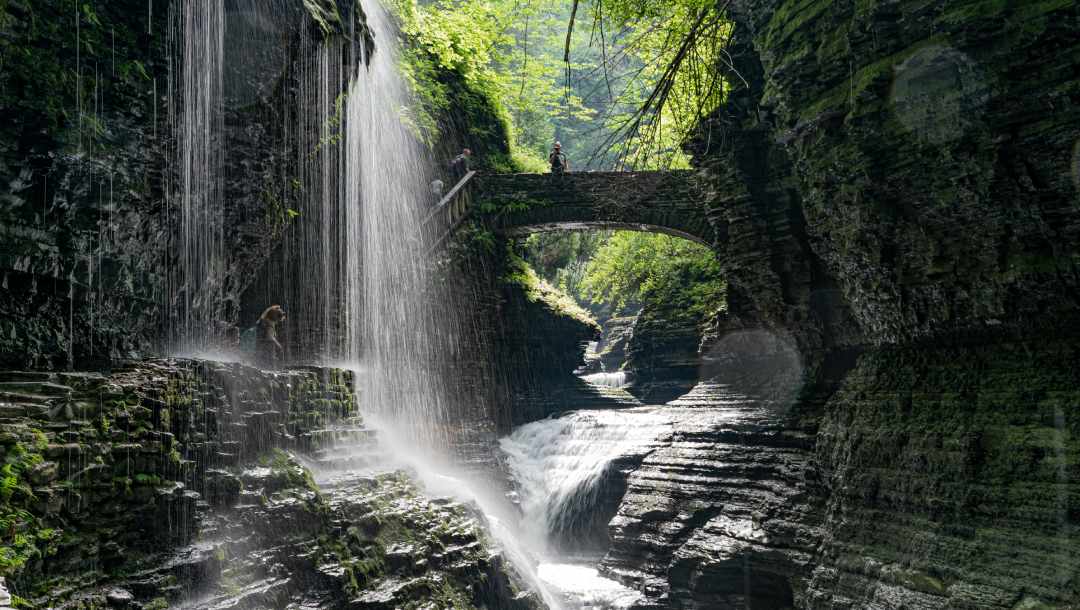 There are some true beauties hidden amid lush forests and craggy rocks. Of course, we're referring to the incredibly beautiful waterfalls in New Jersey. The waterfalls are definitely New Jersey tourist attractions that just beg to be explored. They come in all shapes and sizes and the best time to visit exquisite waterfalls such as Great Falls in Paterson, Buttermilk Falls and Tillman Falls, is in spring. 
3. Vineyards
There are some award-winning wineries and vineyards in New Jersey. In fact, there are wineries located in every part of the state. You'll get to savor everything from deep ruby red Merlots to sparkly bubble wines. There are over 50 fantastic vineyards to choose from, including Renault Winery and Resort, Alba Vineyard & Winery and Auburn Road Vineyard & Winery. 
4. Gardens
If you're looking for spectacular nature, why not visit the gorgeous Deep Cut Gardens in Middletown? Entrance is free and there's a greenhouse to make year-round visits worth your while. This serene gem is the perfect place to take truly memorable pictures on your tour through New Jersey. 
5. Museums
New Jersey boasts some of the country's most informative and interesting museums. Franklin Mineral Museum not only has fluorescent minerals on display but visitors are also invited to dig for their own rocks and minerals. Then there is the interactive Silverball Pinball Museum at Asbury Park where visitors of all ages can learn and play as they engage classic arcade and pinball games, some of which date all the way back to the 1950s! 
6. Yankee Doodle Tap Room
It's the perfect place to explore a wide selection of brews. Yankee Doodle Tap Room is located at Nassau Inn and is named after the mural painted by Norman Rockwell, which can be found behind the bar. The Yankee Doodle Tap Room has a long-standing reputation as Princeton's prime destination for gastro-pub dining and offers the visitor everything from beer tastings to live music. 
7. Spas
After you've explored all the fun and engaging destinations around the state and you're wondering what to do in New Jersey at a somewhat slower pace, you can visit a spa. It's the ideal thing to do when you need to pause and take some time out. After all, there's nothing quite like a day spent at a spa and there are some award-winning spas in New Jersey to choose from. Visit Soja Spa Club for captivating views of the New York City skyline and drift off to the calming sound of waves crashing on the shore at this incredible beachfront spa in Long Branch, New Jersey.
8. Casinos
When it comes to gambling in New Jersey, you are bound to find world-class entertainment, gourmet restaurants and plenty of shopping. You have the option of visiting mega resorts such as MGM Resorts, where you'll get to play at the best poker and blackjack tables. If you're looking for slot machines, you will find a wide range of super fun slot games to play. MGM Resorts also offer the best in dining, lodging and entertainment. 
Play the best online casino games at BetMGM
Now that you know more about some of the fun things to do in New Jersey, you can start by visiting all these hidden attractions the next time you're there. While there you can also explore some fun online casino games at BetMGM. Simply register with us and discover the best online slots, online poker and online blackjack!