When you want to relax and have some fun with your friends, what better way than to throw a casino-themed party? Here's what you need to get the party started, including whether you should host your own games or have some fun at home with a real online casino!
Let your friends know with some themed invitations
The first thing you need to do is let people know that your party's happening, and you can't go wrong with some casino-style invitations to kick the theme off from the get-go. Here are some ideas you can use to take your invites from ordinary to exciting:
Playing cards – Not only can you use playing cards as the influence for your invitation design, but you could even create your invitation and stick it on an actual playing card (great if you have an incomplete pack kicking around!) On one side, you could have the regular playing card symbols or backing design, and on the other, the details for your event.
Classy, like Bond – For this invitation style, you want to keep it relatively simple and sleek. Maybe use a single image or an icon with the details of your event below. When deciding on color schemes, think white or black with a gold border – it'll look really sophisticated.
The casino table – If you really want to get your idea across, why not go with a design that's based on a casino table? Casino chips and cards with the plan for the night will undoubtedly get people's attention.
Make sure guests come in the proper attire
Do you want to go for "rich and classy" or more "tourist in Vegas?" Either way, help your guests get "into character" by guiding them on what they could (or should) wear to your event. If you're going for a fancier event, suits, dresses, watches, jewelry, and formal shoes will be the order of the day. If you're going with something more casual, go for the first-time-in-Vegas look, with jeans, t-shirts, casual tops, and maybe even hats and sunglasses (yes, even indoors!)
Decorate your venue
When it comes to the decor, it's best to keep it in line with however you're approaching the invites and attire. Your guests might be surprised if your invites or attire requirements are all formal, and then they arrive and find your place decked out like a 1970s disco club. Don't feel you have to totally redecorate, though – it doesn't call for much more than a few clever props, some opulent soft furnishings, and a few well-placed light sources for ambiance!
Pick some easy-to-play games
Sure, you may decide to host a casino-themed party without any casino games, but we feel like this would be a bit of a missed opportunity. For those of you who agree, you'll probably want to keep your game choice on the simpler side, so those who've never played casino games don't feel left out because they don't understand how to play.
If you do plan to play casino games, here's our list of easy-to-pick-up gambling experiences that you can set up yourself or play at an online casino:
Bingo – This is undoubtedly one of the simplest games on our list. The host of the game either needs some numbered balls, or even pieces of paper with numbers on will do, if you don't want to buy a bingo set or make your own numbered bingo balls. All players need is a bingo card (you can download and print these from the internet or make your own) and a pen or some markers, which they use to daub off the numbers as they're called out. Whoever gets to complete a winning pattern just has to put their hand up and shout "bingo" and go claim their prize!
Blackjack – While poker may be more popular these days in terms of accessible casino table games, blackjack is a card game that's very easy to learn and to play. The aim is to beat the dealer by getting a hand greater in value than the dealer's hand while also being as close to or equal to 21 as possible, without going above it. If your hand goes above 21 in value, you're "bust" and lose the game.
Roulette – Roulette may have a wide variety of betting options, some of which are very confusing, but there are enough bets you can make in this game that are easy to understand, even for first-time players. For example, betting on a single number, or one of the colors ("red" or "black"), is the easiest way to start playing this gambling game. The more experienced players can take a chance on some of the more advanced bets if that's what they enjoy.
Slots – It really doesn't get much easier than casino slot games. Push a button, spin the reels, and hope for the best! While getting actual slot machines may prove difficult (or just about impossible,) you can set up some mobile tablet devices with slots for your friends to enjoy.
Set the mood with some great casino music
If you're going for an authentic experience, you can enhance the mood of your party with some great casino music. Depending on the type of vibe you're trying to create, your playlist could include the likes of the king of lounge music, Frank Sinatra, some catchy pop hits with Lady Gaga, or classics with the likes of music legend Bob Dylan. Whatever floats your boat, basically!
Ensure you have a fully stocked bar and 'buffet'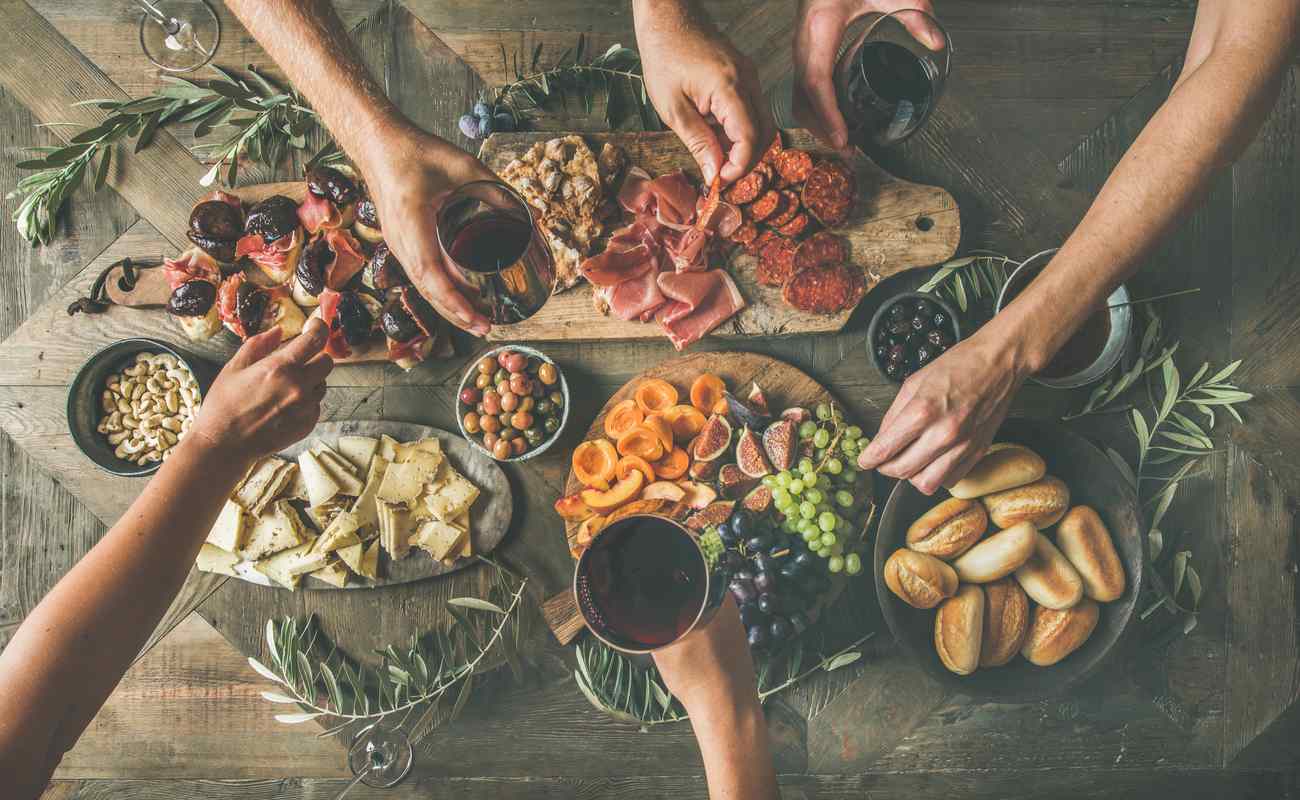 No matter how much effort you've put into setting up the rest of your party, if there's no food and drink, the ambiance can quickly fall flat. When it comes to food, you'll want to keep things light, with snacks and other finger food – such as chicken strips, carrot batons, and delicious dips, interesting cheeses, or exotic fruits – being the order of the day. It just has to be tasty and easy to eat, but not too messy! And if you're thinking about liquid refreshments, you can go with champagne, cocktails, other alcoholic beverages, or even some virgin-styled drinks if none of your friends drinks alcohol.
Make sure your party complies with local gambling laws
As strange as this may sound, some states have very strict laws around who may or may not host any gambling-related events. Ensure your little gathering doesn't fall foul of any local gambling laws to be on the safe side.
Host a virtual event if you're unable to meet in person
If you can't get all your guests together in the same room together for any reason, you can also host a party online.
The first thing you'll need to do is decide on which video-chat app you're going to use to get your friends together in the same virtual space. Thankfully there are many options you can choose from today, including Zoom, Google Meets, Discord, and many more. Some of these options will even allow you to set up additional tools so you can easily play music in the virtual hangout – a great way to set the mood for your online party!
Unfortunately, we've still got a way to go before we can share food over the internet, but every member of your online party can provide their own food and drink to enjoy during the event.
Of course, if you want to play casino games in your virtual hangout, you have two options. The first is to set up real games and try to stream them online, but this will undoubtedly be a lot of work, especially if you want to switch games at all. The second option, and your best bet, is to find a site with online casino games that you can enjoy online with your friends!
Have a real fun time playing at one of the best online casinos
Whether you plan to party and play later or do both at the same time, you can save yourself a lot of time and energy and enjoy a great choice of online casino games at BetMGM. From classic hits such as Gonzo's Quest to the latest titles like Anubis Wild, fans of casino slot games will be spoilt for choice. And there's a whole lot more to discover at our online casino! If you love your casino table games, you can also have a great time with us playing blackjack, roulette, poker, or their live dealer equivalents.
To explore all these games and more, register at BetMGM.