Dubbed the gambling capital of the world, the Las Vegas we know today is very different from what it originally was. The city as we know it is characterized by hustle and bustle, extravagant lights and buildings, a vibrant nightlife and gambling enthusiasts from all walks of life who have hopes and dreams of making it big.
Despite the possibility of playing online casino games, many people make their way to Vegas purely for the experience and to marvel at what is offered by land-based casinos. Considering that it was once a humble railroad town, it's only natural to wonder how the city gained global notoriety and earned the name 'Sin City.' Let's explore the history of Las Vegas and its evolution over time. 
What Was Las Vegas Before Casinos?
Perhaps one of the lesser-known Las Vegas facts and history details is that the city was named by Mexican traders who had stopped there en route in the 1800s. "Las Vegas" is Spanish for "the meadow," which seemed a fitting name for the area at the time. To pass their time, many travelers enjoyed gambling, which was unlawful at the time. Little did they know that their hobby would eventually give rise to a one-of-a-kind city!
Gambling was eventually decriminalized in 1869, prompting a renewed interest in games of chance. That, however, was short-lived, as gambling was again banned in 1909. But despite the law, travelers didn't cease playing their favorite games with the result that gambling was officially legalized yet again in 1931. The rest is, as they say, history. 
The Development of Permanent Settlements and the Growth of Las Vegas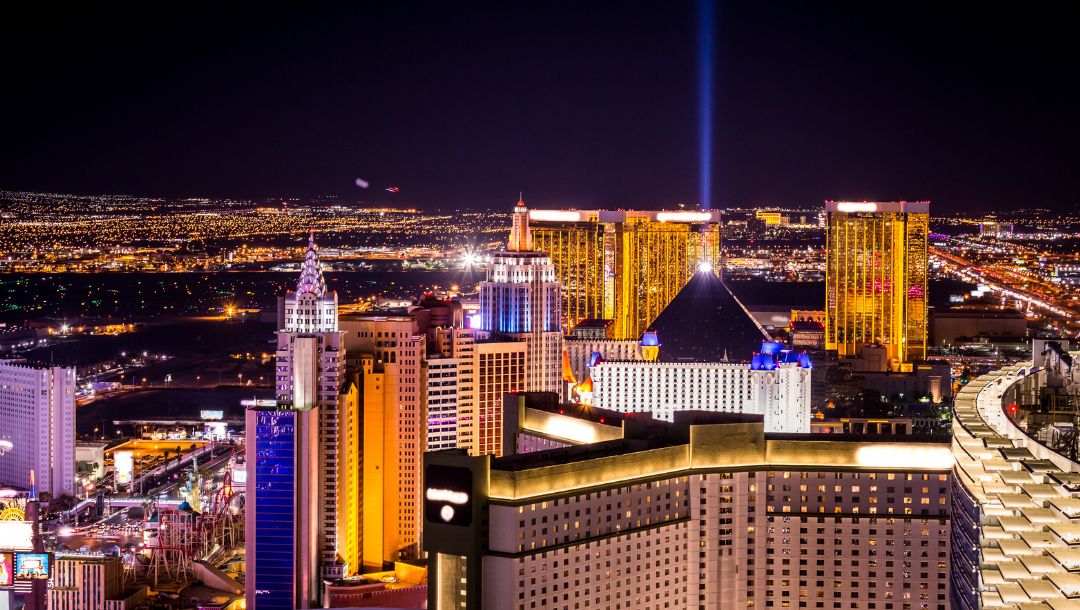 The same year gambling was legalized, construction of the Hoover Dam commenced. This led to growth in the population and an economic boom as workers and their families relocated to this relatively unknown town — at least, until 1941, when construction of the dam was completed. But, as we now know, that was also not the end of things. 
When Casinos Emerged in Las Vegas
The dam's completion witnessed business people showing an interest in developing Las Vegas and growing its potential, especially with the evident popularity of gambling. The city's first hotel resort, El Rancho Vegas, was established by Thomas Hull on the Las Vegas Strip. Five years later, the infamous Bugsy Siegel upped the ante and opened The Flamingo.
The opening of these casino resorts and entertainment hubs gradually positioned Vegas as the go-to place for those looking to escape the predictability of their ordinary and mundane lives. After that, a venerable host of other casinos and casino resorts were built, leaving no room for questions about where to play poker and other much-loved casino games in the infamous city.
Their earlier versions of casino games paved the way for what's on offer today. Classics such as poker, baccarat and blackjack have remained a staple despite the development and introduction of newer and improved versions. Traditional slot machines evolved into online slots with engaging design elements and features.
Modern Las Vegas
It requires only a cursory glance at some of the crazy facts about casinos and gambling to understand why Las Vegas is hailed as Sin City and the gambling capital of the world. The popular saying, "What happens in Vegas, stays in Vegas," speaks volumes. Modern Las Vegas is the epitome of laissez-faire self-expression. Apart from its gambling culture, it's also renowned for its adult entertainment, excessive partying, drinking and dress codes that leave very little to the imagination. 
Despite various global economic downturns, Vegas has somehow succeeded in sustaining a viable form of escapism for many. Both locals and tourists can immerse themselves in the vibrant buzz of the city. But this is not all the city has to offer. On the contrary, Vegas has managed to strike a delicate balance between boundless thrills and conservative offerings. There is a wide range of family-friendly activities to enjoy, such as shopping centers and restaurants with the kind of cosmopolitan cuisine that will make every foody's mouth water.
For many, modern Las Vegas remains a bucket-list destination, with the Las Vegas Strip still a key attraction — and perhaps one of the most consistent and enduring reminders of where the city started and how it evolved to what it is today.
Explore the Online Alternative to Vegas' Thrilling Casino Culture
Evidently, many elements have shaped the evolution of Vegas over the years. While folks may initially have passed the humble railroad town without giving it a second thought, the modern city has evolved into the pinnacle of entertainment and a world-renowned tourist destination. And if you're searching for an online equivalent to what Sin City's casinos have to offer, you're in luck! Our online casino ticks all the boxes and offers a wide selection of classic and modern online casino games. Register at BetMGM and step into our world!