A game night in the comfort of your home is always a great idea – it's a wholesome way to spend quality time with friends. If you're not playing the best casino games, acquiring some great board games for your night in is highly recommended. These days, we're spoilt for choice with the variety of board games available to play. There certainly is something for everyone and every personality. Just like you see in the online casino games market, the seemingly never-ending appearance of new board game titles continues to amaze us. Think bigger than Monopoly and Clue, because even though those games are classics and will always be fun to play, there's a whole lot more out there! 
We've rounded up some great choices for the ideal card and board games for you to consider for your next big night in with some friends. Let's get started.
1. Cards Against Humanity
If you and your friends enjoy laughing at the darker side of life, art, and pop culture, then you'll appreciate Cards Against Humanity. In fact, the game's website says, "Cards Against Humanity is as despicable and awkward as you and your friends." It's easy to learn and play. There's no upper limit on how many people can play this game, but it's best with 6-8 players. During each round, a player will ask a question from a black card, and everyone will answer with their funniest white card. You'll simply be filling in the blank statements using words or phrases that are deemed offensive, risqué, or politically incorrect – or just plain hilarious – which are printed on the game's cards.
2. Adult Loaded Questions
Considered one of the most enjoyable board games for adults, you're guaranteed a night of laughter with friends. In a way, it's similar to Cards Against Humanity, but players get to produce their own answers to the "loaded questions," which obviously makes the game a bit more fun with that extra element of unpredictability. The objective is to collect eight VIP cards by guessing which player wrote which answer on your turn – and concocting the favorite answer on everyone else's turn. Adult Loaded Questions comes with a spinning board, a spinner, 308 Adult Loaded Questions, 55 VIP cards, an answer pad, six pencils, and instructions. The game can be played with 4-6 players. Prepare to expect questions such as "What would you NOT want to find in your partner's bedside drawer?" and "What word sounds dirty… but isn't?" You can have a whole heap of fun with Adult Loaded Questions – and we hope you do!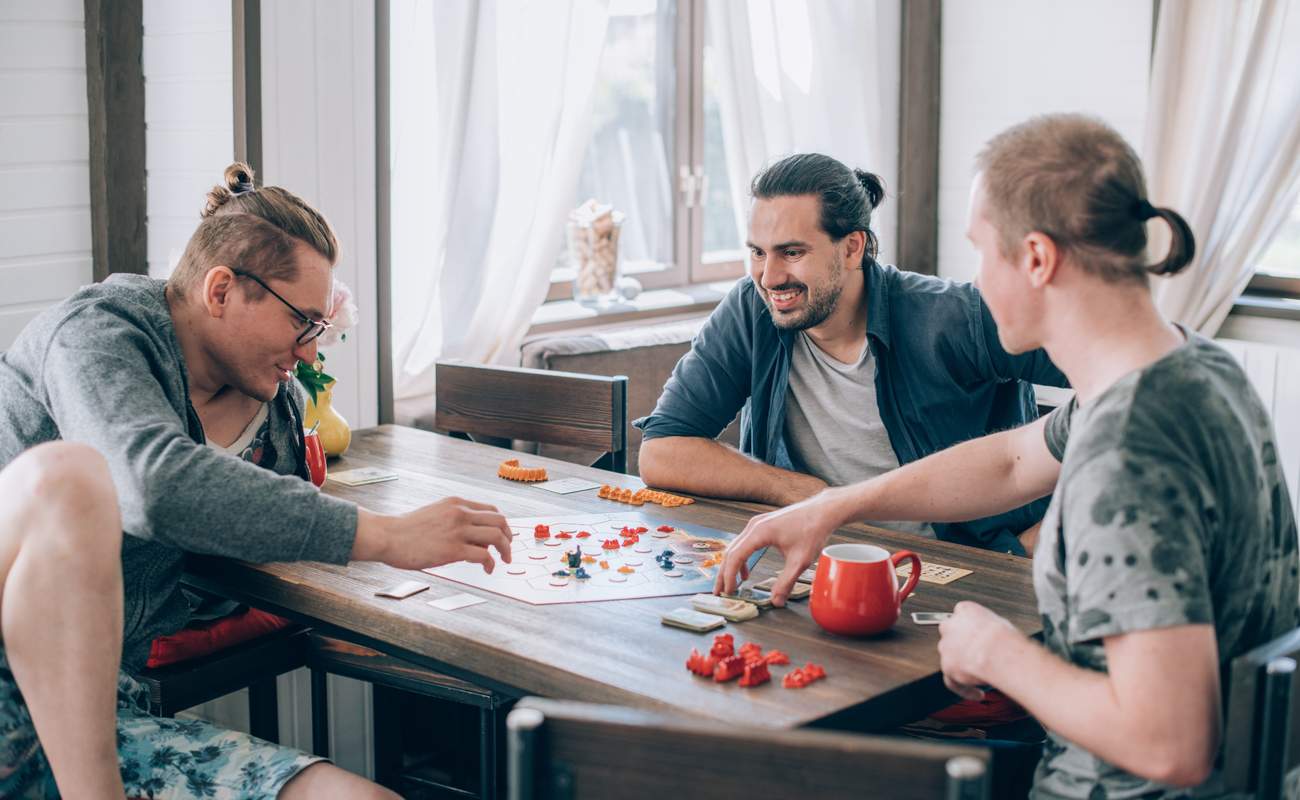 3. Codenames
This game is great for a small group, and is quite a fast-paced board game. In Codenames, you and your friends are divided into two teams. Each team will have a "spymaster" who gives one-word clues that can point to multiple words on the board. Each team must guess their team's words while avoiding the words of the other team. Basically, you're tasked with guessing a set of codenames that are related to the one-worded hints provided by your team's "spymaster." It's considered a great party game and is genius in its simplicity. To start playing, 25 cards are laid out on a 5x5 grid on the table, each with a random word on it. The two teams are assigned either red or blue, and a spymaster is assigned in each team while the rest of the players are called "field operatives." Codenames has surprised many people with its sensational gameplay. It's a wonderful board game to try out if you're looking to take a break from your casino games app.
4. One Night Ultimate Werewolf
If you're looking for the ultimate board game on a tight time budget, One Night Ultimate Werewolf is the ideal game for your big night in. It's a social deduction/bluff game that'll send some players in a spiral – if that's what you're after! Each player is given a secret role, one of them being the werewolf. The aim of the werewolf is to stay hidden and lie about who they are. Each game lasts about 10 minutes. What makes this game so much fun is the chance to fool all your friends as each one tries to find out the identity of the werewolf. It ends up being somewhat like a courtroom drama with people accusing each other of being the werewolf. How straight can you keep your face? (Of course, at the end, you can always let out a victory howl if you've really kept them guessing!)
5. Blokus Duo
If you're seeking an intimate and cozy board game night, Blokus Duo Game is the perfect solution. It's an amazing strategy game for two players. Each player gets a collection of 21 tiles that resemble Tetris. On your turn, you must place a tile on the board so that it touches any of your previously laid tiles at the corner only. Basically, the aim of Blokus Duo is to place more tiles on the board than your opponent. It's a great thinking game that'll see you improving each time you play, and can be enjoyed with some snacks, good conversation, and maybe a glass of wine! Blokus Duo is a lovely alternative to playing at the best online casinos if you're looking to take a break from online slots and other fun casino games.
More fun awaits at BetMGM
The board games on the market have left us speechless. But wait, there's more! At BetMGM, we have a wide variety of excellent online casino games to include in your big night in. In addition to the fun board games, why not consider playing some of our table games such as poker, blackjack, and roulette? Register at BetMGM and play casino games to your heart's content. We also have a fun casino games app, which allows you to enjoy games on the go with pure ease!