Goal scoring is a type of bet that's commonly found in soccer betting, but who are the greatest goal scorers in the history of the sport? Soccer has lots of talented players, and in every position, you'll find a group that stands out from the rest. Here we'll be looking at the best goal scorers, the teams that they played for, and some of their best achievements in soccer.
What makes a great goal scorer?
The greatest goal scorers are more than just poachers (a player who waits for the ball close to the net), and while being a poacher pays off in some games, to truly be regarded as one of the greats, the player has to have a certain set of skills. A great goal scorer should be mobile, strong and capable of using both feet to shoot. 
Mentally, the player should be composed and aggressive, and all of these attributes will make an excellent player. The players we've featured are capable of doing the unthinkable; with brilliant positioning and improvisation, they can make soccer look like art. 
The best goal scorers
The best goal scorers have made a habit of upsetting sports betting odds and they find a way to get past the defenders who are marking them. Below are the best goal scorers in history, along with an explanation of how they became great.
Cristiano Ronaldo
Often regarded as the greatest of all time and with 807 goals in 1,110 games, the 37-year-old Portuguese striker has had longevity on his side as he shows no signs of slowing down. Ronaldo has played for the best teams in Europe, with successful spells at Sporting Lisbon, Manchester United, Real Madrid, Juventus and then returning to Manchester United. Ronaldo is an incredible player who has won Premier League, La Liga, UEFA Champions League and Serie A titles, along with five Ballon d'Or titles. These days, Ronaldo remains the favorite according to soccer odds lines.
Josef Bican
A legend of the sport, Josef Bican was an Austrian player who spent most of his career playing for Slavia Prague. With 805 recorded goals in 530 games, Bican was the leading goal scorer for over 60 years. He played for Farbenlutz, Rapid Vienna, Admira Vienna, Slavia Prague, FC Vitkovice, FC Hradec Kralove, Dynamo Prague, TJ Slovan Liberec and Spartak Brno ZJS. With his stats, the sports betting odds always would've predicted him to score. 
Romario
Before heading into politics, Romario was regarded as one of the greatest soccer players of his generation. The soccer odds were never stacked against him and it became clear why in 1994 when he helped Brazil win the World Cup. With 772 goals in 994 games over a career that lasted 22 years, Romario was clinical in front of the goal and he proved this for nearly all the teams that he played for, which includes Vasco da Gama, PSV Eindhoven, Barcelona, Flamengo, Valencia, Fluminense, Al Sadd, Miami FC, Adelaide United and America Football Club. 
Lionel Messi
The only player who rivaled Cristiano Ronaldo in his prime, Lionel Messi scored 759 goals in 961 games. The seven-time Ballon d'Or winner spent most of his career playing for Barcelona and the Argentina national team before making a shock move to Paris Saint-Germain. The Argentinian playmaker is also the all-time leader for soccer assists and has a series of achievements under his belt. Despite his age, Messi continues to work towards defying all soccer odds as the 2022 World Cup approaches — the one trophy that he's never won.    
Pele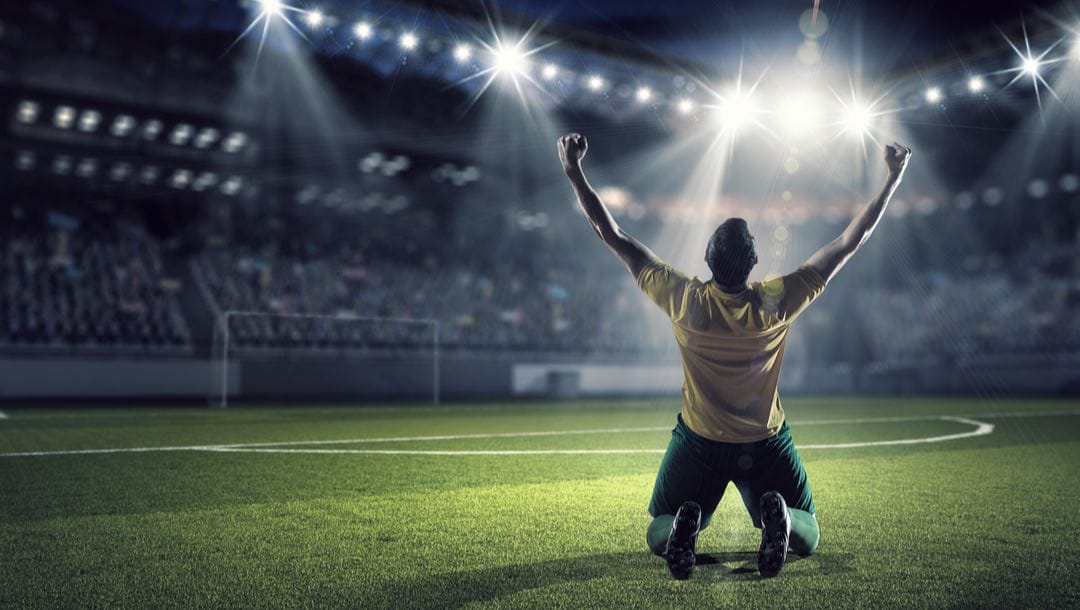 Pele is a legend of the sport, winning three World Cup titles with Brazil and enjoying successful tenures with Santos FC and New York Cosmos. With 757 goals in 831 games, Pele might not have played for the most competitive leagues, but his ability on the world stage was undeniable. This is evident as he received numerous awards, one of them being Football Player of the Century. If Pele played today, he would always be the favorite when it comes to soccer betting — there's little doubt about that. 
Ferenc Puskas
Ferenc Puskas is one of, if not the greatest Hungarian player to have played the game. The forward and attacking midfielder scored 746 goals in 754 games, which is an incredible stat. Puskas enjoyed a successful career at Budapest Honvéd and Real Madrid, with La Liga and Nemzet Bajnoksag 1 titles under his belt. The Puskas Award is named after him and it's awarded to the player with the most aesthetically pleasing goal. 
Learn how to bet on sports with BetMGM
If you're looking for the best online sports betting site, then BetMGM is the ideal choice. Register to unlock a variety of sports betting markets and if you're new to sports betting, you can check out the live betting tips for soccer that are featured on the site, which should get you ready for the 2022 FIFA World Cup.