Many would agree that Pennsylvania's appeal can be largely attributed to its natural beauty and lush greenery. So, it comes as no surprise that you may find yourself interested in hiking in Pennsylvania as a way to connect with nature or to take a break from the hustle and bustle of the city. There's something calming and grounding about letting your mind wander while soaking up the sun and basking in the peace of it all.
For casino enthusiasts, hiking in PA may well be the perfect way to practice mindfulness before returning to play some of your favorite online casino games. Regardless of which casino games you enjoy, taking breaks when necessary can help you do better, especially if you're preparing for a tournament, which requires you to be mentally fit and stable. Here are 15 hiking trails you can try to unwind on next time you're in PA.
15 Hiking Trails in Pennsylvania
1. Appalachian Trail
Nestled in the heart of the Appalachian Mountains, this is one of the most famous hiking trails in PA and the USA at large. It's approximately 2,190 miles in its entirety, with an estimated 229 miles in PA. Be prepared for a more demanding hike because the section in PA is mostly rocky terrain.
2. Shades of Death Trail
Situated near Lake Harmony, this 2.2-mile trail typically takes an hour to complete. If you're looking for a quick but challenging trail, this is one to consider. You can also bring your dog along with you if it's on a leash. The best time to embark on this hike is between March and October.
3. Standing Stone Trail
This 84-mile trail is part of the Great Eastern Trail, which spans a whopping 1,600 miles. More experienced hikers will enjoy this one.
4. Montour Trail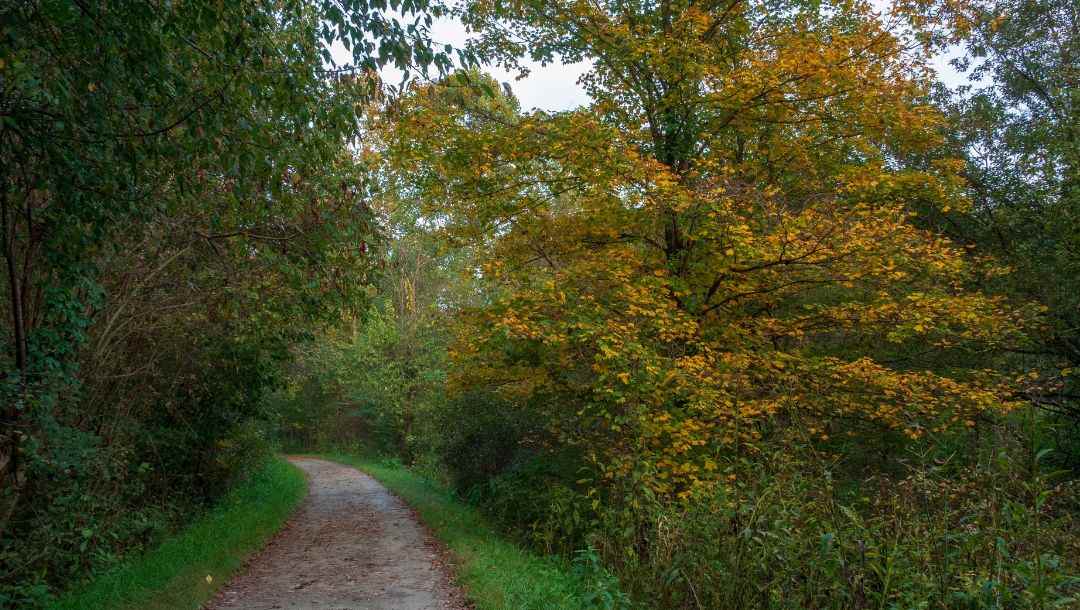 This hiking trail can be found at the intersection of PA and Ohio. Pittsburgh residents may be familiar with this trail because it's close to the city. In its entirety, from Pittsburgh to Washington D.C., this trail is 330 miles long. Having been named the state's Trail of the Year in 2017, this hiking trail is one of the things that PA is famous for.
5. Great Shamokin Path
Spanning 3.5 miles, the eastern part of this trail is most suitable for biking and jogging, while the western part is grassier. It is located in Armstrong County.
6. Heritage Rail Trail
This is said to be one of the most popular and renowned trails in PA, with a rich history. Although it's 21 miles long, it's divided into sections, and you have the liberty of choosing the distance you would like to cover.
7. Quehanna Trail
This trail passes through Moshannon State Forest and Elk State Forest and covers approximately 73 miles. If you're particularly interested in historical landmarks, you'll be pleased to know that this trail passes through a historical monument, Wild Cat Rock, which is a rather unusual attraction in PA. Very little is known about the history or motivation behind Wild Cat Rock, which is an unmissable tombstone on a boulder along the Quehanna Trail.
8. Thunder Swamp Trail
Found in the northeastern region of PA, this hiking trail spans approximately 32 miles. It was created in the 1970s and can be quite difficult for beginners to complete. Unfortunately, this trail isn't flat or straightforward. In fact, its location means that it's often wet, over and above its naturally challenging nature.
9. Minister Creek Trail
Situated near Sheffield, this trail spans approximately 6.5 miles. This is a particularly good route for lovers of nature and wildlife, which can be seen throughout this trail. There's also the option to camp along this route for an enhanced hiking experience.
10. Mount Misery Trail
Don't let the name throw you off; this trail is also a popular choice for birding and running. For hiking purposes, you'll be happy to know that this trail is open all year, with dogs on a leash being permitted. Mount Misery Trail is located near Chesterbrook.
11. Ricketts Glen Falls Loop
Renowned for more than just hiking, many pursue this route to enjoy the waterfall trails that can be found here as well. Spanning just over 7 miles, this is one of the most popular hiking trails in PA.
12. Canyon Vista Trail
This moderately challenging hiking route is located near Forksville. Spanning approximately 4 miles, be prepared for occasional elevations that may require a bit more effort from you to complete. 
13. Marilla Trail System
Comprising several short hiking trails, this is most suitable for photographers and those who just want to connect with nature and the birds that have made the area their home. The trails that make up this system range between one to eight miles and can be found near the PA and New York border.
14. Hawk Mountain Lookout Trail
Another great option for those who are interested in birdlife, this beautiful sanctuary is approximately 5 miles long. Situated near Philadelphia, the Hawk Mountain Lookout Trail is considered moderately challenging.
15. Turkey Path Trail
A rather interesting name for a hiking trail, the Turkey Path Trail is full of natural beauty, from captivating waterfalls to lush greenery. Found on the PA Grand Canyon, this trail is rather steep but family-friendly.
Make Your Way to BetMGM for a Different Kind of Excitement
If you're used to the thrill of online slots offered by BetMGM's online casino, then conquering a hiking trail could be just what you need to clear your mind. Because of how mentally demanding competing in casino games can be, it also helps to take a casual walk and enjoy the beautiful scenery. Fortunately, you can step into the online casino from just about anywhere. Register at BetMGM if you're ready to go for a walk with Lady Luck.