In terms of playing poker, there are few better ways to enjoy the game than getting your closest friends together and competing from the comfort of home. Unlike brick-and-mortar casinos, you have all the control. From minimum buy-ins and dress codes to the rules and setting, hosts can curate an enjoyable and easy-going atmosphere while playing poker for money.
Moreover, it's a great chance to spark an interest among your friends who haven't wanted to play before. From here, you can schedule monthly meetups and create long-lasting memories. Simply put, there are few casino table games that can replicate the same level of socializing, excitement and camaraderie as poker. But before sending out your invite list, it's important to have a proper poker setup to ensure a fun and seamless night. Read on to learn what you need to set up the perfect at-home poker room.
Considerations Before Hosting
Before hosting, a good tip is to see how others have done it, with celebrity poker games being a great example. These include Willie Nelson's home poker game that's attracted the likes of Owen Wilson, Woody Harrelson and other Hollywood stars. Then there are the invite-only games played among millionaires and billionaires, which are regarded as the world's most exclusive private poker games. These include games in Silicon Valley played by tech moguls, as well as VIP games arranged by billionaire gambling fans around the world.
Overall, hosts need an array of items to ensure their DIY poker room replicates the real deal. To do this successfully, you need the correct equipment and facilities.
Playing Cards
Buying a game-standard pack of cards is essential for setting the tone for an entertaining and competitive game. This means not opting for a cheap deck and rather searching for high-quality brands such as Copag and KEM. Not only do they last longer, but your guests will appreciate the sentiment.
Color Scheme
Choosing a suitable color scheme is a crucial consideration for any poker room. The way you dress your room is scientifically proven to affect the mood in the room. Traditionally, utilizing deep, rich colors such as burgundy and navy blue are great ways to create the perfect poker ambiance, as they're known to evoke a sense of sophistication and concentration. Also, it maintains a level of mystery, which is the essence of poker. Whereas bright colors such as yellow and pink will allow players to see their opponents' emotions more clearly.
Lighting
Color scheme and lighting go hand-in-hand. The trick is to have dim lights and dark colors to create a relaxing and intimate atmosphere. Furthermore, it's known to improve players' concentration as they become less aware of external distractions like pets and visitors.
Poker Table
Most would argue that having a strong and sturdy table is the most essential item on this list. Why? Because a poker game will often result in individuals consistently leaning and bouncing against the table, meaning a weak table could wobble at any point. Regarding shape, try searching for a circular, octagonal or oval table to ensure each player feels involved. Stay away from square tables as they make actions like dealing and placing chips in the middle trickier – this could also cause players to lose motivation. And if you're using a glass table, place a dark cloth over it to avoid players looking at other cards from underneath; soft fabric is also good for allowing cards to slide smoothly when dealing.
Furnishing
Once you've got your table sorted, it should be accompanied by comfortable chairs and coasters. Although, if you're purchasing a poker table online, ensure that you opt for a table with built-in cup holders. A home poker game can last several hours, meaning comfort is key.
Décor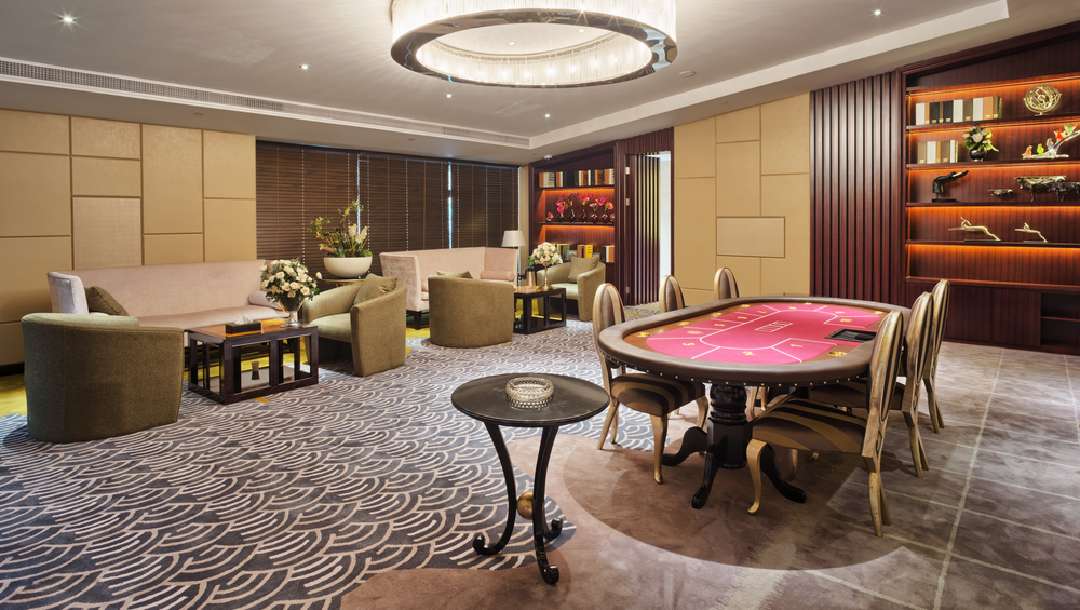 Another important element that can create an exciting and match-ready ambiance is décor. Think vintage posters, a drinks cabinet and iconic poker photographs.
For friends who regularly play poker via online casinos together, organizing an in-house game is a great way to socialize with like-minded individuals and enjoy the game together.
Similarly to other casino games, another crucial consideration is seating arrangements. Remember that the skill levels between your friends will vary, so ensure you don't give experienced players any significant advantages. For example, avoid placing a skilled player to the left of a beginner. Novices are more prone to making mistakes and have a higher chance of being exploited if the skilled player plays directly after them. And if you're organizing a poker tournament, ensure that the rules and buy-in amounts are clearly stated to avoid the game slowing down.
Play Poker at BetMGM
Want to improve your skills before playing at home? Available 24/7, online poker provides the perfect opportunity to understand and test new strategies under game-play conditions. Register today, play with friends and explore extensive poker variations – from Texas Hold'em and Seven-Card Stud to Omaha.
In addition to poker, BetMGM gives you access to an endless array of online casino games. From themed slots and bingo to roulette and BetMGM's latest addition, online blackjack live dealer games, you can play from anywhere at any time.