If you are the kind of player that likes sleek and minimal design—without all the animations, bells and whistles that most Vegas slots offer—then Black Diamond by Texas game developers, Everi, is the game for you.
While it doesn't have the glitz and glam of typical Vegas-style online slots, it makes up for that in a big way with incredibly decent payouts—which is probably the biggest pull to a game besides the graphics. 
Game overview
Black Diamond has all the qualities of a land-based casino slot machine, and that is because it was originally designed as one. Its unique simplicity and straightforward design make this online casino slot game a pleasure to play for extended periods of time.
Black Diamond is available to try for free, with no changes made to the way the game plays, the betting limits, the game's paytable, or the machine's volatility—this means that you can get a real feel for how the online slot plays before you actually decide to start wagering your hard-earned money and play for real.
Here is a little more about the 3-reel 9-payline gem that is Black Diamond.
How to play
Everi slots tend to be simple to play, which is always a bonus if you are trying it out for the first time, and with Black Diamond, it is exactly the same. Both beginners and veterans of online slot games will all be able to enjoy this game, and there are plenty of extras and bonuses for all players to discover and explore. 
Black Diamond has 9 selectable paylines and you can stake anywhere between 1 to 27 credits per spin. If you want to take a shot at the jackpot, then maxing out your bet is your best option. Simplicity is key in the design philosophy of Everi it seems, as a lot of their other casino games play very similarly – such as Wild Wild Gems and Smokin' Hot Gems. 
If you are a fan of simplicity, solid gameplay mechanics, and old school aesthetics, then try out a few more Everi games available in our collection of casino slots and stand a chance of winning big.
Graphics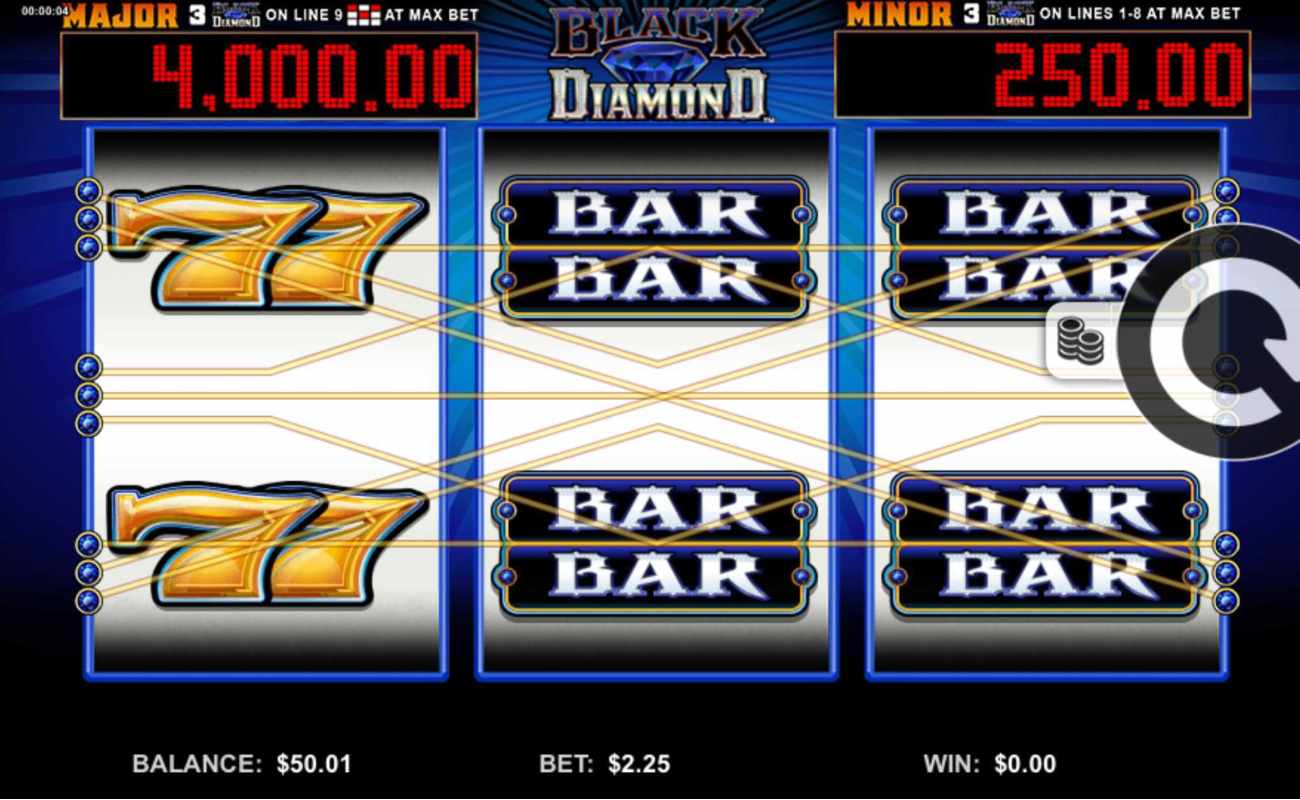 Black Diamond is designed to give off a more traditional slot aesthetic than most modern online slots. We are used to seeing over-the-top 3D animation and brilliantly colorful graphics that catch the eye and lure us in, but Black Diamond looks (and feels) like the classic one-armed bandit slot machines from the American casinos of the past. The quiz-like sounds and classic alarm bells that chime when you spin or hit a win really reinforce the theme.
What makes Black Diamond so much fun to play is this uniquely simplistic theme because it is quite clear that the developers were more focused on refining the actual gameplay and mechanics of the game, rather than trying to doll it up and leaving the actual refinement of the game on the sideline. There are old school symbols on the reels too such as the BARs, 7s, and Diamonds that reinforce this olden-day theme, and the actual animation of the spinning reels makes you really feel like you are staring into a machine on the casino floor.
Features
Black Diamond is filled to the brim with prizes waiting to be won by players on the reels, starting with the high-value blue 7s and gold double 7s which will each give you 300-150x your line stake if they land on an active payline. Next up in the high roller symbols are the red 7s and double BAR symbols which carry a 90x and a 60x multiplier respectively. The lowest paying winning combination is a mix and match of the BAR symbols.
Each symbol in Black Diamond carries with it a multiplier of its own, which means that regardless of what your winning combination comes out as there will be bonus multipliers of up to 30x for your winnings. The multiplier for each symbol may be added to another multiplier in order to increase your winnings. The triple 7s, double 7s, and double BAR symbols carry a 5x multiplier, and the 7 and BAR each have a 3x multiplier. A 3x multiplier can be allocated to a random symbol on the reels.
The wild symbol comes in the form of—you guessed it—a black diamond, which also comes with its own bonus features. If you are playing and not maxing the bet, then the black diamond symbol may replace all symbols except those with multipliers. 
Bonuses & jackpots
While playing for free is fun and exciting and a safe way to learn a game and figure out if it is for you, you are only going to actually hit those big progressive jackpots if you actually pay to play. 
Landing 3 or more black diamonds on an active payline will pay out 300 to 5000 credits. On a max-bet though, the black diamond symbol is associated with the major and minor progressive jackpot. Landing 3 black diamonds on lines 1-8 will get you the smaller of the jackpots but landing 3 black diamonds on line 9 will reward you with the far larger major progressive jackpot.
Similar games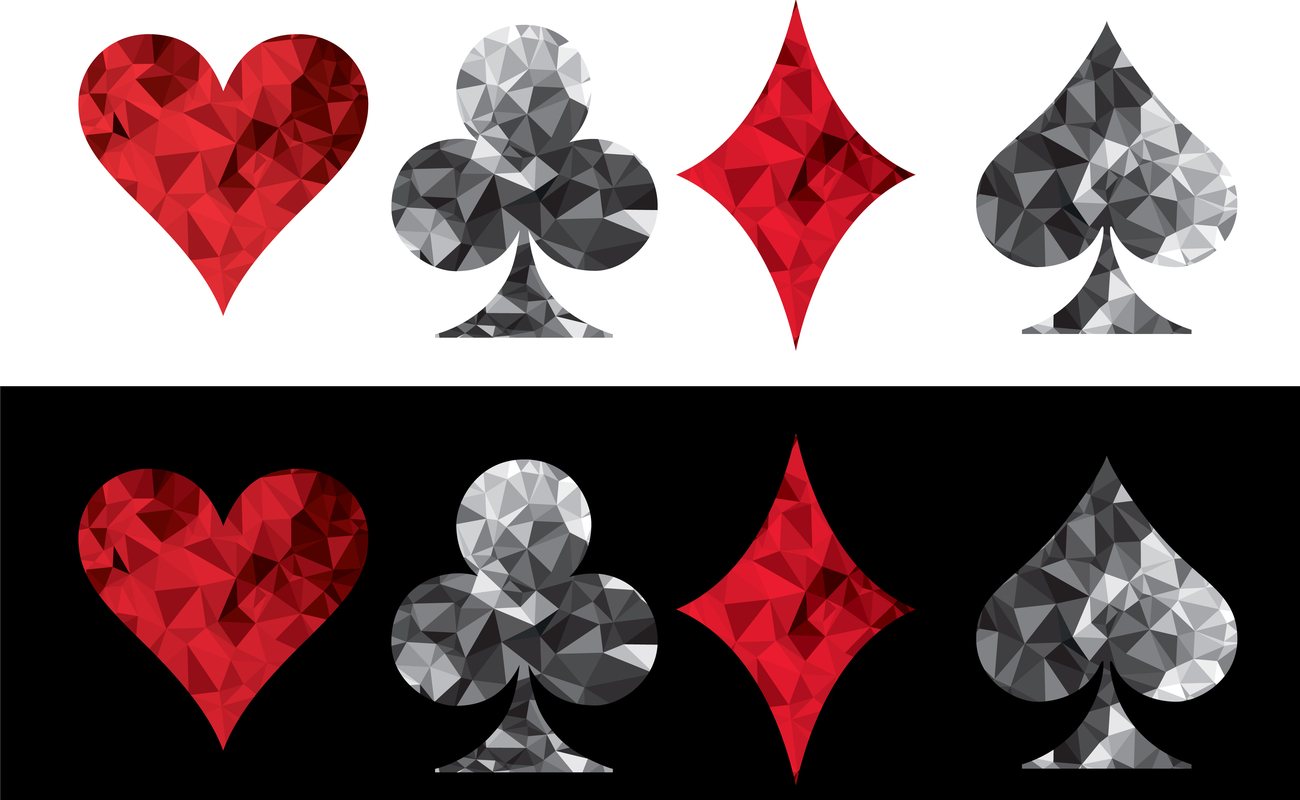 Everi has produced a rather large collection of good online casino games, inspired mostly by classic Vegas-style slot machines, and Black Diamond has slotted in as a classic Everi game. A lot of the titles that they develop and release, Black Diamond included, share many similarities in their design, gameplay, and the structure of reels and lines. Black Diamond is very similar to another Everi classic, Double Leopard, which features the same 3-reel 9-line layout and has a few special symbols of its own that carry the leopard theme, just like the black diamond wild symbol.
If you are a fan of the old school, one-armed bandit slot machines, then Black Diamond is the online casino game for you. Otherwise, there are many similar titles available on our site that can be played for free including the following: 
Try out any of these Everi classics for free at BetMGM, and you might decide you love them enough to spend a little money, and possibly win one of the progressive jackpots. Our casino also hosts a wide variety of exciting online casino games such as blackjack, baccarat, roulette and so much more. These are also accessible through our live casino where you get to play against a real dealer. Play casino games now at BetMGM!