Casino slot games are essentially made up of two elements: Symbols and reels. While it's true to say that the vast array of online slots is incredibly diverse in terms of themes, graphics, animations and sounds, all of them are about landing symbols on the reels in the different combinations you need to win prizes. There's a lot to be said about the role of reels in today's video slots, with reel innovations such as cascading reels, cluster pays, 243 ways and Megaways that are specifically designed to increase the number of ways in which you can potentially form winning combinations, but we're going to focus on symbols in this blog. If reels represent the lock, then symbols are the key to unleashing the recreational force of today's online casino slots. Let's take a closer look at standard symbols, wilds, scatters and bonus symbols.
Standard symbols
Standard symbols are the foundation of all online slots. Consider them the workhorses of the game. Other symbols have special functions that add value and fun to the game, but the basic job of forming patterns along paylines falls to the standard symbols. You'll see them start to land randomly with the first spin of any given slot. The way they look, of course, depends on the theme of the game you're playing. Some slots have the same symbols as the classic fruit machines, as the first land-based casino slot games were known: Cherries, dollar signs, BARS, lucky 7s and bells. Most online casino slots today, however, are based on a specific theme. Take one of the most played online casino games of all time: Gonzo's Quest. This entertaining slot game tells the story of Gonzalo Pizarro, a loveable conquistador searching for the treasure of El Dorado, so the standard symbols appear as an array of animals and masks carved on stone slabs, including a snake, bird, alligator and fish as well as symbols representing fire, the moon and heath. In Immortal Romance, another fan favorite, the symbols appear as the characters in a vampire story. There are hundreds more examples. In fact, part of the fun of slots is the ability to find games with themes based on genres that you're interested in, from epic fantasy, mythology and science fiction to movie tie-ins, music and sports.
Wild symbols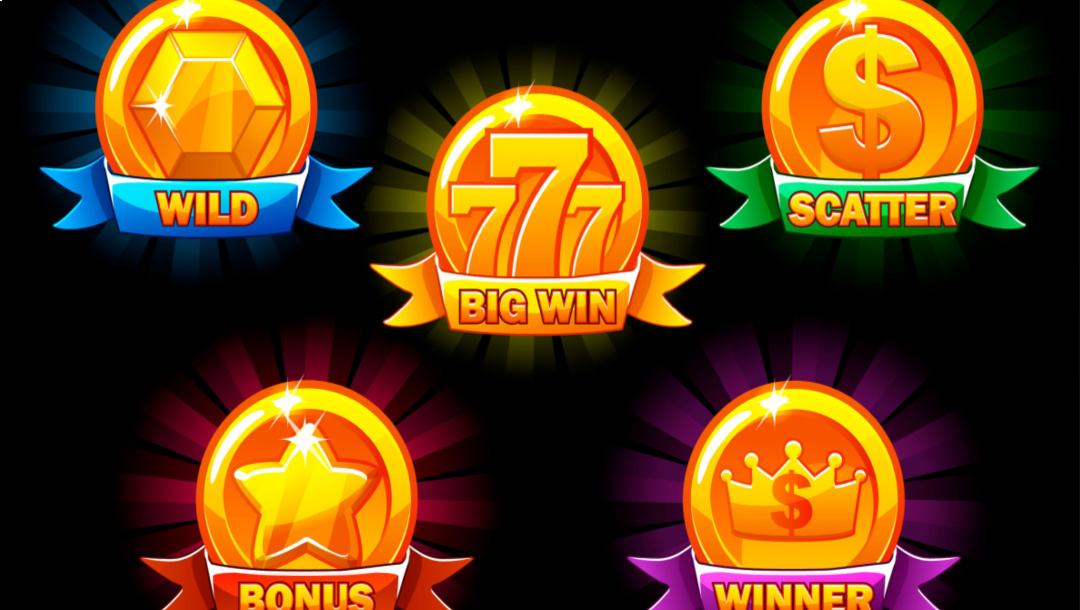 Wild symbols are special symbols that appear randomly on the reels and work with standard symbols to help you form winning combinations more easily. To understand how they work, think of a joker in a deck of cards. If jokers are wild, then they can substitute for any other card in the deck. Say you're at an online casino playing the video poker variant known as Joker Poker. You draw a pair of twos, a pair of sevens and a joker. The joker being wild, you can play it as a seven to form a full house, which is a very strong poker hand. The principle is exactly the same when it comes to slots: The wild symbol can stand in for any standard symbol on the reels. Unlike card games, there's no limit to the number of wild symbols a slot game can randomly generate. Wild symbols sometimes have special properties that increase your chances of forming combinations. Expanding wilds, for example, can cover an entire reel, while sticky wilds stay in place on the reels for multiple spins. Stacked wilds appear in stacks of two, three or more, while expanding wilds expand to cover the reel as soon as they land. Some wild symbols, such as the Thor wild symbol in Thunderstruck, will multiply your wins. Generally speaking, the more wilds on the reels, the better.
Scatter and bonus symbols
Scatter symbols are known as the slot player's friend, and it's easy to understand why. These special symbols don't have to form combinations to unlock rewards. Instead, they can "scatter" across the reels to trigger special features such as free spins or bonus rounds. In Gonzo's Quest, for example, you'll want to land three golden scatters (called "Free Fall" symbols in the game) anywhere on the first three reels. This triggers the Free Fall bonus round, which awards you with 10 free spins and increases the value of multipliers operating in the game. In Immortal Romance, the scatter symbol is a door knocker in the shape of a lion, and it's quite a big deal. By landing three, four or five scatters anywhere on the reels, you'll gain entrance to the Chamber of Spins and play one of four different bonus rounds with free spins, multipliers and other special features. Scatter symbols can often retrigger, too, which makes for more spins and more enjoyment.
Bonus symbols
Standard, wild and scatter symbols are what power the majority of video slots, but some of the best online slots take things further with their own special bonus symbols. These are typically symbols that kick in once you've already triggered a bonus feature. For example, one of the bonus rounds in Immortal Romance's Chamber of Spins includes a Wild Vine symbol, which randomly transforms adjacent symbols into wilds! In Link&Win slots such as Arctic Enchantress, Thunderstruck Wild Lightning and Hyper Gold, you get additional free spins if you collect specific bonus symbols (ice orbs, in the case of Arctic Enchantress).
Play the best online slots and more at BetMGM
You can play all the slot games mentioned in this article and a whole lot more when you register with us at BetMGM. Whatever genre, fandom or sport you support, you'll find a corresponding slot right here. You'll also find a broad range of engaging real casino games such as blackjack, roulette and baccarat. Looking for an authentic gaming experience in the comfort of home? Give our live dealer casino games a try. Enjoy the freedom of the online casino.