In 1994, a South African named Martin Moshal started a company called Microgaming and developed what is claimed to be the first real online casino software in the world. Considered the pioneers of online gaming, Microgaming later released the first-ever casino in cyberspace, from which the online gambling industry was born. The industry has grown exponentially since its humble beginnings — and online casino technology has evolved with it.
The Dawn of an Industry
While other companies besides Microgaming might claim to have been the first to create an online casino game, none of them would have been able to do so without the Free Trade and Processing Act, which allowed licensing for online gambling sites, which, in turn, allowed gamblers to play at an online casino for real money. The bill was passed in Antigua and Barbuda in 1994. Later that same year, the first true online gambling website — The Gaming Club — was released. Although Microgaming had the first foot in the door, InterCasino was quick to follow with a website of its own, which launched in 1996.
By 1998 the online gambling industry was becoming very popular. Game developers around the world were releasing new online gambling content at a frenzied pace in order to stay ahead of their competitors. Microgaming stepped it up again (leaving their competitors behind) and hit on another industry first — the online progressive jackpot. Whether they expected it to or not, the release of their online slot game Cash Splash would change the newfound industry forever. 
As with their land-based counterparts, online progressive jackpots would pool a portion of every bet to form the progressive jackpot, which would grow as more spins were played on the online slot game until someone eventually won it. 
In most virtual slots, the progressive jackpot could only be triggered if a specific combination of symbols appeared on the reels, but some games had different criteria, such as randomly awarding the jackpot to players (only if you wagered a certain amount,) or only being able to win it during bonus mini-games. Having started the industry all those years ago, the introduction of the first progressive jackpot and other developments have helped Microgaming remain one of the biggest companies in online casino software development.
While many online gambling games were in production at this time, development of new sites was slow because of the relatively rudimentary nature of the internet in the 90s. 
Still, some companies recognized the potential growth and popularity of online gambling and couldn't wait to get on the bandwagon. Intertops was one of the earliest to strike. As a sports betting company that had taken bets over the phone since 1983, they were now poised to adapt to the fast-growing phenomenon that was the internet.
While online slots were the first games offered by online casinos for real money, it was another game that would properly bring the online gambling industry to the masses, namely online poker.
Poker Shines the Spotlight on Online Gambling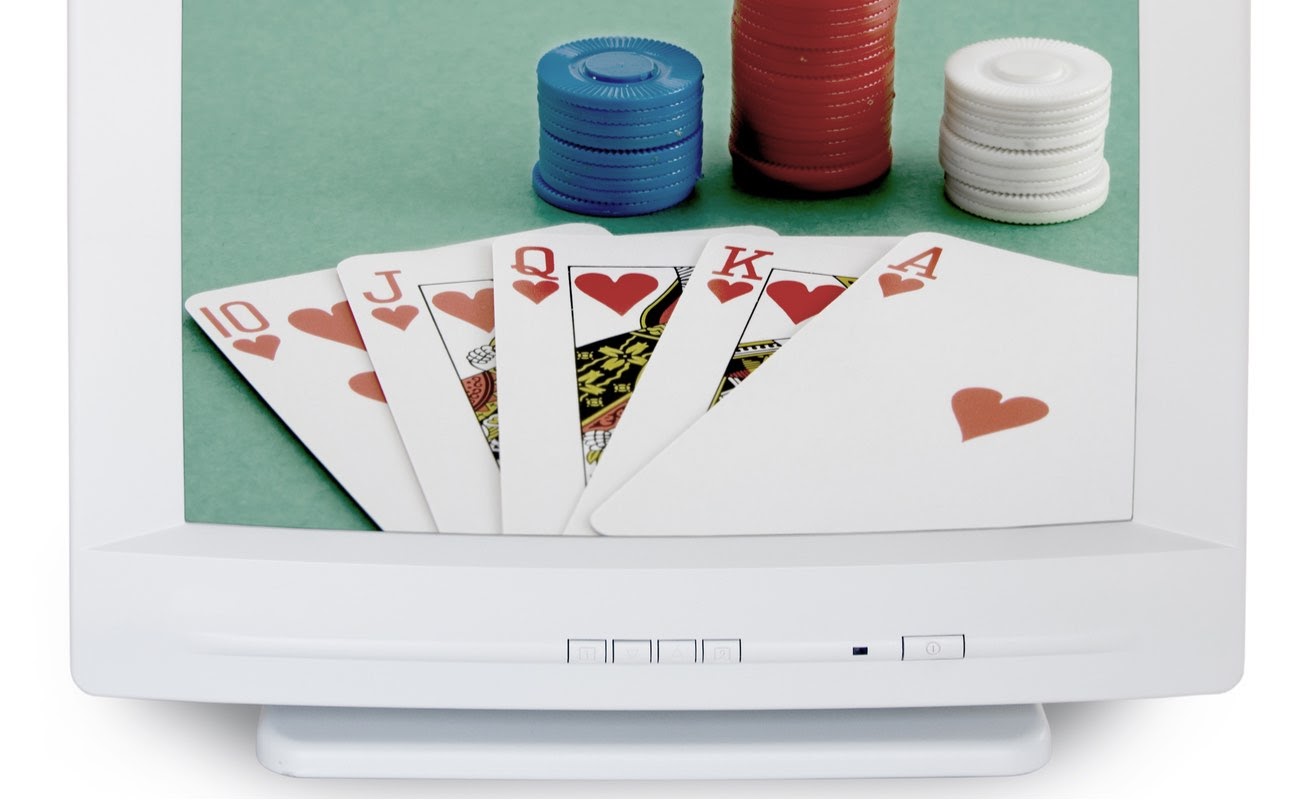 By 1998 online casinos were starting to gain more popularity. It was at this point that the industry was blown open by yet another newcomer to the scene — a little online poker site called Planet Poker. 
For almost a year after Planet Poker went live, it was the only game in town. But their success and exclusivity were short-lived, as they had only motivated their competition to introduce similar offerings. By 1999, other poker sites like Party Poker (which would go on to become one of the most popular online gambling sites in the world,) Paradise Poker and PokerStars started cropping up, all aiming to cash in on Planet Poker's innovation.
By the turn of the century, the popularity of online gambling sites had skyrocketed. As the internet became a staple in people's households, more players were playing casino games online and joining the worldwide community of online gamblers. 
In the mid-2000s, online gambling in the US came under threat due to changes in government policy. The introduction of the Unlawful Internet Gambling Enforcement Act in 2006 brought in new laws that made it illegal for anyone to accept an online wager from someone who lived in a state where gambling wasn't legalized. This dramatically limited the number of players who could legally engage in online gambling and it still affects the online gambling industry to this day.
Modern Online Gambling
In the years following the initial boom in the popularity of online casinos, massive numbers of new casinos and games were released. As game developers refined their designs and brought out more and more exciting games, technology moved forward at an alarming rate.
There were now hundreds of virtual casinos with new, beautifully designed games on offer. Whether you wanted to play casino games such as online poker, blackjack, slots or even baccarat, you were sure to find what you wanted. 
As their popularity grew, classic casino games were being retrofitted with new features while new games were evolving to suit this new online environment. Free spins, bonus games and many more enhancements were made possible by innovations in technology and developers' ability to implement them. 
These days digital slots have all but sidelined their classic ancestors. The introduction of virtual reality to online poker and blackjack has done the same. New games and software are being released constantly, with big gambling software companies constantly trying to outdo each other. 
The online gambling industry was (and still is) constantly evolving and transforming to remain as relevant as possible. One of the biggest shifts in the past was the introduction of technology that allowed online casinos to fit in players' pockets.
Online Goes Mobile
By the early 2000s, new innovations in mobile internet technology such as 3G were starting to change the way people lived their lives and, indeed, the way they wanted to play at an online casino for real money. Technology emerged that would create the foundation necessary for mobile gaming to truly enter the scene; the online gambling industry was about to realize its true potential.
The UK took the lead in the adoption of mobile gaming into the gambling industry when, in 2003, having a 3G connection enabled you to use The Betting Site. You could place bets right from your phone, with your choice of five different bookmakers. This meant that you could now indulge in online sports betting while you were on the go. 
The release of the iPhone in 2007 and the App Store in July 2008 meant there was no looking back — the way forward was mobile casino games apps. During the first year of the App Store's release, Texas Hold'em was one of the most downloaded iPhone apps. These casino apps took to their new mobile environment even more naturally than they did to computers or laptops. Poker, slots, sportsbooks and anything else you wanted to play or bet on, could now be carried with you everywhere you went. Even though public Wi-Fi was not so prevalent yet, the possibility existed. As mobile technology moved forward, it caught on and changed the way people would gamble forever.
In the last five years, mobile technology has had a profound impact on online gambling. Online gambling websites have adopted responsive design, ensuring easy access and a satisfying user experience on various mobile devices. 
Developments have also enabled the growth of live dealer games beyond PCs, allowing players to engage in real-time gaming experiences by interacting with professional dealers through video streaming wherever they are. 
In-play or live betting has become increasingly popular thanks to mobile technology, allowing users to place bets on sporting events in real time, receive live updates and make informed decisions instantly. 
Mobile payment options have also made transactions more convenient and secure, with mobile wallets and banking apps simplifying depositing and withdrawing funds on mobile gambling platforms. 
Lastly, mobile devices have facilitated social integration, allowing players to connect with friends, share achievements and compete on leaderboards, enhancing the social aspect of online gambling. 
Technology Never Waits
With the increasing popularity and availability of virtual and augmented reality as well as other developments in gaming technology and software, online casinos are not done changing yet. You can already experience live dealer casino games, VR poker and VR blackjack on certain virtual gambling sites. What's more, augmented reality games are already widely available on mobile platforms.
In recent years more online gambling technological advancements have been introduced. Artificial Intelligence (AI) has personalized player recommendations, increased fraud detection, supported responsible gambling practices and enhanced gameplay experiences. Blockchain technology has brought transparency, security and fairness to the industry, allowing for provably fair gaming, instant payouts and increased trust in transactions. 
Cryptocurrency integration provides users with faster transactions, improved privacy and reduced fees. Many online gambling platforms have implemented enhanced security measures, including encryption, multi-factor authentication and biometric authentication, to safeguard user data and financial transactions. 
As technological advancements continue to shape the world around us, they'll continue to shape the world of online gambling too. Over the lifetime of the industry, the most significant of the changes revolve around the choices available to players — from unusual online casino games to mobility and full immersion. More platforms, more games, more developers and more players mean more change and more development in online casinos and the games they provide.
Try Your Luck With BetMGM
Technology may change, but BetMGM's commitment to offering you the best online gambling experience won't — it features some of the best online casino games available. From live poker and blackjack to hundreds of great online slots, BetMGM delivers one of the best online gambling experiences available. Register today to put the technology at your disposal to the test.