In today's world, online slot machines can be as exciting as real-life casinos, with the best online casino platforms offering a myriad of themes to choose from. Among these, Asian-themed slots are especially popular, as East Asia has long been a source of inspiration for casino games online.
AGS presents Fu Nan Fu Nu, a tantalizing Chinese-themed online slot game radiating endless appeal. This game is the perfect combination of visual aesthetic and jackpot slots, making it a must for online casino game enthusiasts.
Game Overview
Fu Nan Fu Nu is a traditional Chinese-themed game featuring two adorable characters named Fu Nan (lucky boy) and Fu Nu (lucky girl). This AGS slot machine offers a peek into Chinese art and culture, providing gamers with a unique online casino experience intertwined with traditional symbolism.
The game is set against a backdrop of deep greens with intense red and gold highlights, all colors signifying good luck and wealth. The Fu Nan Fu Nu slot machine plays out on a 5×3 grid, putting out a base of 243 paylines. It does, however, incorporate AGS's PowerXStream mechanic, which promises to shake things up quite a bit.
The return to player (RTP) comes in at slightly lower than your average online slot machine, sitting at 95.89%. With that, it has an estimated hit rate of 30%, but make no mistake, this game is highly volatile. You may not hit often, but the juice is worth the squeeze — when it pays out, it pays out big.
How To Play
There's a certain thrill to playing Fu Nan Fu Nu, and it's not hard to get the hang of it. A few handy tips and strategies can amplify your luck and the overall gaming experience.
The game invites both new players and seasoned veterans on online slot machines, with bet levels ranging from $0.88 to a pretty high $88 for a max starting bet (also, a clever nod to the symbolism of the lucky 8). Considering it uses the PowerXStream mechanic, replacing traditional paylines, there's potential for big payouts as soon as three, four, or five matching symbols surface.
Understanding the game's rules and symbol meanings is crucial. Luckily, there are free demos available to give you a head start. Given its high volatility, it's a good idea to be a little more reserved when you start. Stretching your bankroll is a good strategy to get more spins in and minimize risks in anticipation of that big hit.
As the old saying goes, "Luck is what happens when preparation meets opportunity." When playing any online slot machines, always remember to be patient and ease your way in. Good fortune is worth the wait.
Graphics
The Fu Nan Fu Nu slot machine's graphics go above and beyond, blending innovative gameplay with a traditional flair. Classic images render a familiar feel, while the unique characters, framed by marquee-style lighting, provide an innovative touch.
The symbols in the game are carefully chosen representations of Chinese culture, resonating with the overarching theme of fortune and prosperity. Fu Nan Fu Nu marries traditional style and meaning with enjoyable, familiar gameplay, offering a welcome blend of cultural insight and fun for players.
Features
One of the game's standout features is, without a doubt, its PowerXtreme payline structure mentioned earlier. Substituting traditional paylines, it offers a dynamic winning mechanic with massive payouts at just the base game level. It just gets better from there. Matching three to five symbols on connected reels gets you started on the wins. If your symbols appear more than once on the same reel, your wins are multiplied by the number of symbols showing.
Fu Nan Fu Nu includes standard card symbols for low-payers and a string of picture symbols for high-payers. The Fu symbol is the highest payer, and combinations of these are significant, starting out at 100x your stake for matching three, 200x for matching four, and 1,000x for matching five. And that's just in the base game. Wilds and scatters are also available and turn the action up another notch.
Bonuses and Jackpots
Apart from its immersive features, Fu Nan Fu Nu is prominent for its progressive jackpot. The potential for substantial rewards is enticing for even the hard-to-impress players. The game offers three slot bonus options, so there are plenty of ways to make your wins come true.
These slot bonus rounds come in the form of free spins and revolve around the lucky coin scatter symbol. Once you land a combination of three symbols or more anywhere in the reels, you get to pick one of these three bonus games.
The dynamic that comes into play makes these rounds really special. Each game has a different volatility level by expanding the rows on your reels. A lucky selection could trigger 15 free spins with the standard three rows of symbols and 243 paylines in play, 10 spins with four rows and 1,024 paylines, or five spins with five rows and 3,125 paylines.
The game also features a slot jackpot round revolving around firecracker wild symbols. Every wild symbol you land contributes sparks to a number of firecrackers in a jackpot meter. These contributions are randomly selected regardless of how many wilds you land and lock in place until you fill the meter or the game ends. Filling the meter, of course, triggers the jackpot bonus game.
In this mini-game, you'll be shown a screen with identical Chinese symbols and have to make a selection to reveal either mini, minor, major, or grand jackpot symbols. Matching three wins you the prize corresponding to the symbol. The max win here, for the grand jackpot, is an incredible 250,000x your stake.
Similar Games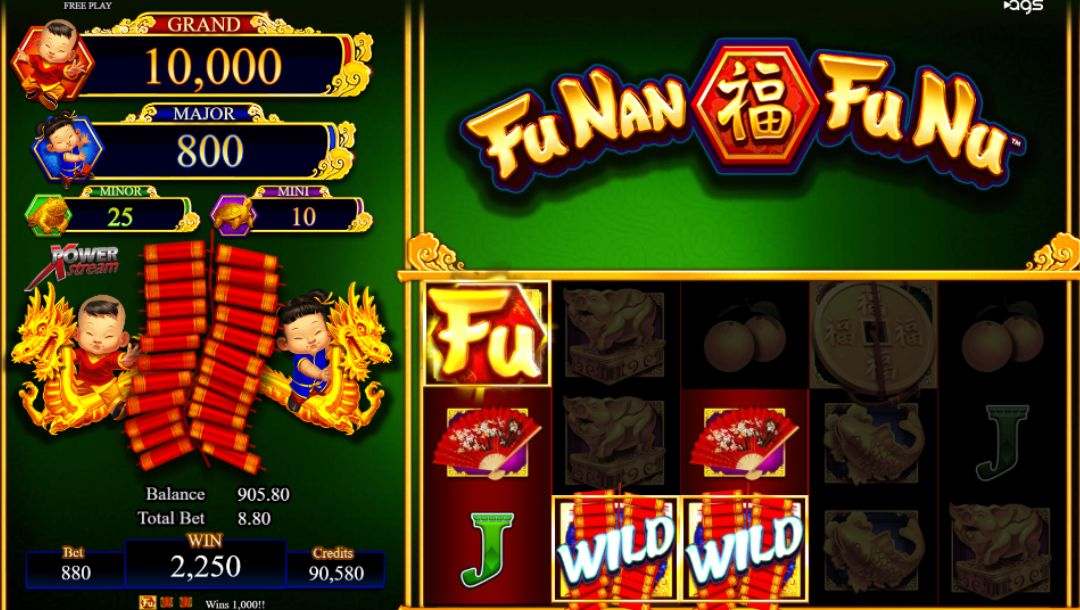 If you enjoy the Fu Nan Fu Nu slot by AGS Gaming, BetMGM hosts a range of the best Asian-themed games to try out. Titles like 15 Lanterns or Fu Dao Le are similar games with rewarding bonuses and are definitely a must for enthusiasts of themed slots.
Spin the Wheels of Fortune With BetMGM
So, are you feeling lucky today? Embrace the Fu Nan or Fu Nu inside you, and let the games begin. If fortune favors the brave, unleash the dragon and enjoy the ride to riches. Register with BetMGM, seize the day, and seize the jackpot.