The non-fungible token (NFT) craze seized the world not so very long ago, with all-or-bust trades in pixel art making some people millions and leaving others with empty crypto Bitcoin wallets. The Casino Punks online slots game captures the zeitgeist of those heady days and depicts this culture in a niche and unique way that is NetGaming's trademark style in their variety games.
This retro-style slot is available on all devices, with the demo version also available on mobile devices, so if you feel like taking a peek before you commit to playing online slots for real money, this is a good opportunity.
 Game Overview
The entire look and feel, including the soundtrack to this game, is retro and feels a little like a video game from back in the day. It has a 3×3 reel set up with five paylines, is non-progressive and has a maximum payout of 2,700x. Although the game has a low 94.4% return to player (RTP,) it has high volatility and as online casino games go, it's fun and relatively rewarding.
How To Play
The objective of Casino Punks is to arrange matching symbols on different reels, with a three-of-a-kind giving a payout based on the value of the symbol. The symbols have to land on predetermined horizontal or diagonal lines across the five paylines. Wilds, free spins and multipliers all feature in this game, with its eight symbols, each with different values. The five lower-paying symbols each pay 5x, with the top three punk character symbols of the game's title offering 10x, 25x and 50x.
Three wilds, which replace all other symbols, give a 100x payout. If three bonus symbols appear simultaneously anywhere on the reels, you get free spins and the opportunity to bet for more.
The multiplier WAGMI feature makes the game extra fun – see under Features for more about how WAGMI increases your chances of winning.
Graphics
The entire game is crammed full of pixelated graphics which represent the style of NFT art and the world of blockchain, in particular the popular Crypto Punks on which the game is based and which generated 10,000 unique characters. Bitcoin symbols float around the game and sometimes hard-to-decipher representations of hats, dollar bills and cigarettes make up the other symbols. The game ultimately represents the whole crypto/bitcoin scene and the pulsing electro-beat soundtrack complements the graphics perfectly.
Features
For a small three-reel game, Casino Punks has a host of fun features, including free spins, wilds, multipliers and a buy option for more spins. There is also an autoplay feature and a clock timer, so you can check how long you're playing; always a good idea in case you lose yourself in the world of online casino games.
Most special and fun is the WAGMI feature. WAGMI is an acronym commonly used by the crypto community that stands for "We're All Going To Make It," and much like the NFT market itself is a wildly fluctuating multiplier. The WAGMI window sits under the reels and goes up and down randomly, multiplying your win at whatever rate it stops on. With a low RTP, in this game, it's worth noting that just about every win is multiplied by WAGMI.
Casino Punks has a great free spins mechanism with an option to buy a bonus feature for more free spins at any point in the game – you can buy the bonus game for 70x and if you do, you have access to the Gamble Game.
 Bonuses and Jackpots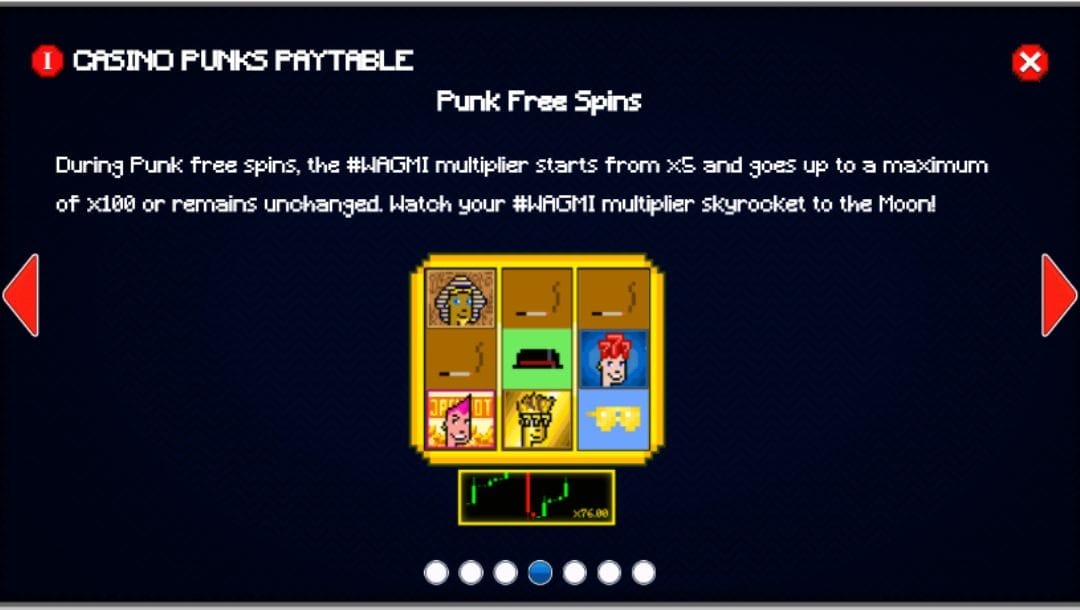 The golden punk wild and free spin bonuses are important for this compact three-reel game. Landing three wilds gets you a 100x payout. Three bonus symbols trigger five free spins with the option to gamble for more in the Gamble Game. If you choose to go for it, you will activate an additional mini-game featuring red and green fields. If you land on a green field, you can win up to an additional 12 free spins. But if you land on a red field, you'll lose all free spins. That's the risky world of NFT trading right there. Keep your eye at all times on the WAGMI feature during bonus games as it can skyrocket right up to 100x.
With some good luck and even better timing, much like in the NFT market, you can win big playing Casino Punks on online slot machines.
Similar Games
NetGaming has a number of popular games if their design style appeals to you. Try Dragon Fortress: Battle of the Castle, 3 Wild Jokers or Winfinitum. Similarly, Age of Da Vinci and Crypto Fortune come from the NetGaming stable. If retro is your thing, there's Pinball Wizard. Other games with good multipliers like Casino's Punks' WAGMI include Lucky Dragon and NFT Megaways by Red Tiger.
Retro or Futuristic – All the Slots with BetMGM
It doesn't matter if you're looking into the past or gazing into the future; BetMGM's selection of themed jackpot slots includes something for everyone. When you've worked your way through the slots catalog, try the range of casino table games and register here.