Today's world of online casino slots is extremely diverse. Gone are the days of primitive 3×3 grids with a single payline. Instead, you can now enjoy a wide range of innovative gameplay mechanics and designs.
This August 2023 release by Design Works Gaming (DWG) is a case in point. Starring ice hockey legend Wayne Gretzky, the game is easy to play but highly entertaining. It adopts the developer's own LuckyTap mechanic to create a fast-paced and intense gaming experience.
To discover exactly what makes this game so unusual and engaging, be sure to read this review in full.
Game Overview
The aim of the game is simple: you'll control Canadian hockey icon Wayne Gretzky as he shoots pucks toward the goal. Hit as many targets as you can to earn rewards, including a Free Games feature that can award one of four progressive jackpots.
Fans of sports-themed slots and casino games will surely love this game since Gretzky is the protagonist. However, the real star of the show is DWG's LuckyTap casino mechanic, as seen in other popular games like Land O'Loot and Balloon Bash. If you're new to the concept, don't worry, as all will be explained shortly.
You can bet on this straightforward hockey-themed game from just $0.05 per play, making it ideal for the casual slots player. On the other hand, the upper bet limit is a hefty $25 for this 94.90% RTP (return to player) game.
How To Play
If you don't already know how to play online slots using the LuckyTap mechanic, it might be confusing at first. But stick with it, as it's really easy to understand. 
First things first, you'll need to set your bet size using the plus and minus signs found in the bottom-left corner. Once you're ready to play, hit the green button with the white arrow found to the right of Wayne Gretzky. Alternatively, tap the double arrow symbol directly above that to configure the autoplay feature.
Unlike with traditional slots, such as Gaelic Luck by Playtech, there are no reels to spin here. Instead, Gretzky himself fires pucks toward the goal. If he successfully hits a red target, congratulations — that's a winning play. Anywhere from 3–15 prizes can be randomly awarded as a result.
Continue shooting and scoring to rack up the rewards, including multipliers and a slot bonus.
Graphics
In fairness to DWG, there's only so much you can do with a hockey player firing pucks toward a goal on a sheet of ice. So, in that regard, there's nothing that's immediately eye-catching about this game. 
That said, the motion-captured animations are expertly executed. The developer has clearly directed a lot of time and effort toward replicating Gretzky's unique movements and physical likeness. When he starts shooting at the targets, it's hard not to become immersed in the whole experience.
To round things off, there's a nice animation featuring an explosion of gold coins accompanying your big wins.
Features
Whenever you strike a target, that's deemed a winning play. A number of prizes will be issued as a reward, varying randomly from 3–15. The size of these potential rewards is determined by your initial stake. 
However, if fewer than 10 prizes are awarded on a single winning play, the Multiplier feature could kick in. If it does, a random value of between 2x–7x is randomly chosen and applied to all of your wins.
The only other feature of note in this simple but massively engaging game is the Free Games bonus.
Bonuses and Jackpots
If Gretzky successfully collects all three of the BONUS pucks, the Free Games feature is activated. At this point, you'll receive five free plays. 
But that's not the only way to collect additional games since it's also possible to hit a gold-colored target in the goal. Do so to receive two further free games.
When playing your free games, the multiplier feature will be disabled. In addition to picking up further cash rewards for free, this bonus is also the key to landing one of the four progressive prize pools.
Progressive Jackpots
Most progressive jackpot slots require you to land special symbols on the reel grid. But since this game doesn't have any reels, how on Earth do you win the jackpot?
Well, during your free games, Gretzky has the chance to hit a golden target, as well as the standard red bullseyes. Hit enough golden targets and you'll win the biggest prizes. 
Naturally, the pools continue to grow as players enjoy the game. A small percentage of every bet is contributed towards each progressive jackpot fund. Once won, the jackpot pools reset to their initial seed value. 
This table explains all of the key information about each jackpot.
| | | | |
| --- | --- | --- | --- |
| Jackpot | How To Win | Seed Amount (1x) | Bet Contribution |
| Mega | 10 gold targets | $450.00 | 0.17% |
| Major | 7 gold targets | $60.00 | 0.21% |
| Minor | 5 gold targets | $15.00 | 0.24% |
| Mini | 3 gold targets | $7.50 | 0.30% |
Similar Games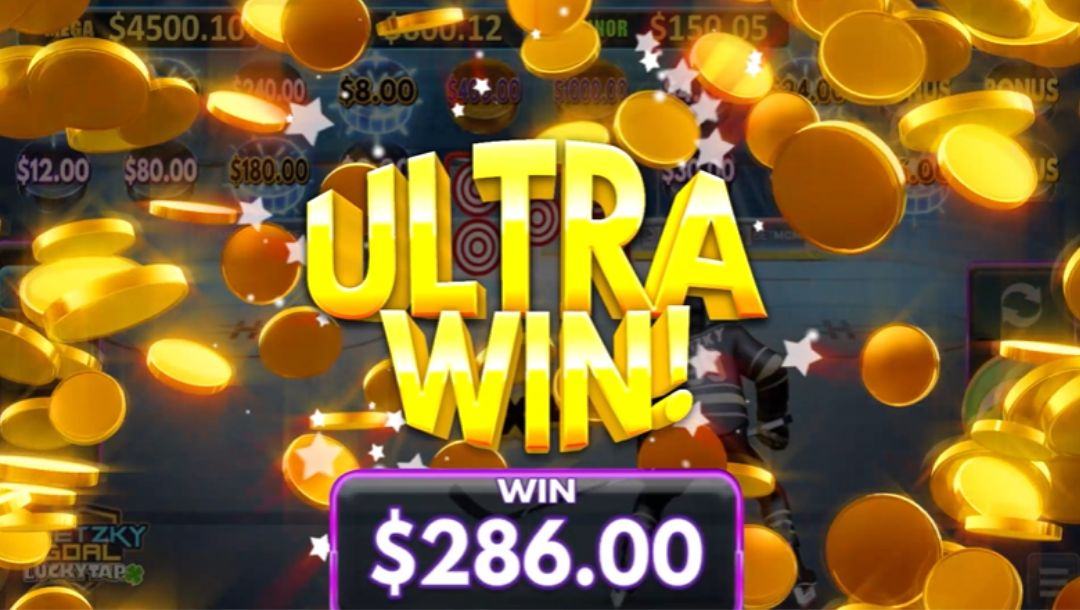 There are many casino games online that use DWG's LuckyTap concept. So, if you like the sound of this game and want to venture beyond the hockey theme, take a look at these alternatives. 
Battle for Booty (LuckyTap):

Set sail on the high seas with your pirate crew in search of treasure in this DWG game.

Pop-A-Shot (LuckyTap):

This release is based on the popular arcade game where players continuously shoot basketballs into a hoop.

Skee-Ball (LuckyTap):

Another title based on a well-known arcade game. Here you must shoot balls up a ramp and land them in the holes to earn your rewards.
Or perhaps you're looking to play a more traditional progressive jackpot game? If that's the case, Molten Hot 7s might be worth a try.
Shoot and Score at BetMGM
Ready to join hockey legend Wayne Gretzky and shoot for glory? Register at BetMGM today and score yourself some big wins.