Temple of Torment feels like it plays a little differently from Hacksaw Gaming's usual work, but it's a solid online slot offering a 96.22% return to player (RTP) and medium volatility. The Egyptian mythology theme may be a little overdone — Hacksaw is generally good at finding more unusual themes, but overall they have rendered the struggle between light and dark — the gods Anubis and Ra — in a visually exciting way that slot lovers will enjoy.
Game Overview
Played on 5×4 reels with 14 paylines, Temple of Torment has a good base game with a number of bonus features that you don't always find on other online slot machines. The jackal-headed god Anubis stands firmly in the bottom-right corner of the game, and the winged-hawk god Ra hovers in the top left. Each makes their presence felt throughout the game by changing reels into golden scarab wilds. A global win multiplier accumulates with each activation of the scarab wild. Players can expect — or hope for —  a maximum payout win of 10 000x. This isn't a complex game but is layered enough to make it interesting for all levels of players who love casino online betting.
How To Play
There are 10 symbols that play through Temple of Torment's reels: five low-value cards and three of ancient Egypt's most sacred symbols — namely the ankh, eye of Horus, and the shen symbol — plus the two gods themselves. The card symbols yield between 5x and 10x your stake, while the premium symbols are worth between 15x and 30x when you land five on a payline.
The wild symbol substitutes for any of the paying symbols upping the winning potential, and if you land five on a payline, there's a win of 40x your stake.
The Golden Scarab wild symbol is a special kind of wild — refer to "Features" for how this behaves on the reels. Both of the gods have their own bonus games, the Anguish of Anubis and Reign of Ra, which enhance the base game significantly.
Graphics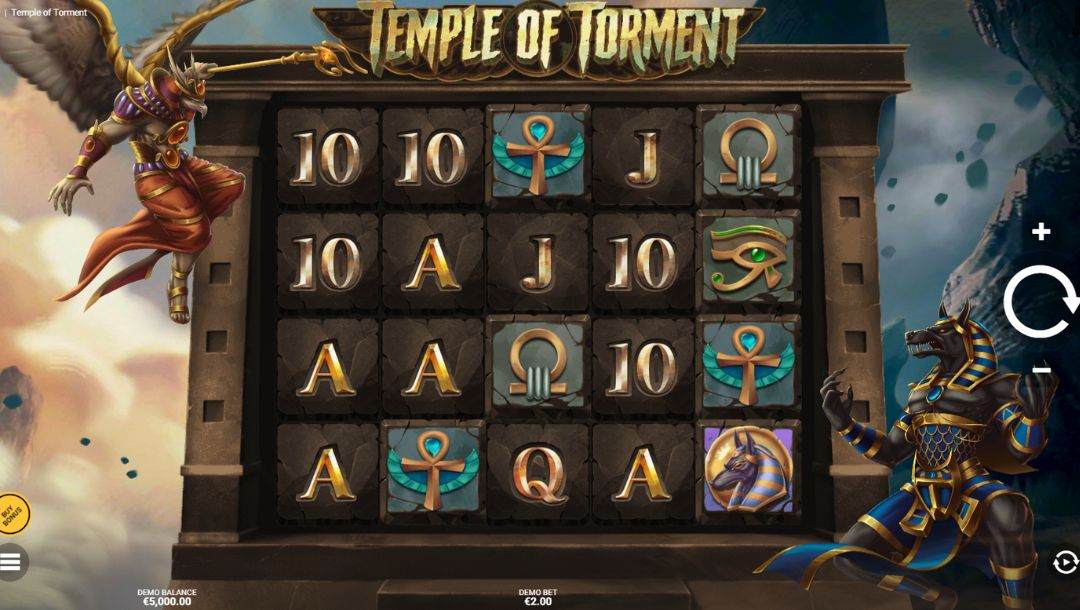 The backdrop of Temple of Torment is less temple and more "Indiana Jones." Falling rocks make it appear more like a treacherous quest than the interior of an Egyptian temple, but the rest of the graphics compensate for this odd setting. The gods each appear equally sinister. Anubis, with his jackal head, menaces the reels, and Ra hovers, his wings outstretched and staff ready to strike. The other Egyptian symbols have been seen in many similarly themed slots, and these are the eye of Horus for protection, the ankh or key of life, and the shen or omega symbol for symmetry and perfection. The soundtrack complements the theme, which overall is well represented here.   
Features
The golden scarab wild may expand up or down the reels or be a static symbol, holding its position on the reels. The expanding feature expands upwards or downwards if it means there will be a win. Only one golden scarab wild will appear at any one time on any one reel, but if the expander feature expands through a regular wild, a random multiplier of between 2x‒200x is applied.
The Anguish of Anubis bonus game triggers 10, 12, or 14 free spins from three, four, or five Anubis free spin symbols, respectively. During the free spins game, the regular and expanding golden scarab wilds land more frequently.
The Reign of Ra bonus game is triggered in the same way as Anubis's, with the same amount of free spins. So neither god gets the upper hand there. The global multiplier racks up during these free spins as multiplier wilds add their value to the pot.
Bonuses and Jackpots
The bonus buy-in Temple of Torment offers a number of options that change the RTP of the game. There are the bonus hunt feature spins, scarab feature spins, Anguish of Anubis, and Reign of Ra. These latter two bonus features will cost you 100x and 200x your stake, respectively.
There's no single slot jackpot in Temple of Torment, but if you're looking for a good slots bonus, the extra features and 10 000x top payout, multiplier, and multiplier wilds add to the winning possibilities in this game. And, if you're wondering how all this works, when and how the big prize money pays out, and if the house wins, just know that casinos do not control slots or any other online casino games. All outcomes are determined by random number generators (RNGs.)
Similar Games
There are literally hundreds of Egyptian-themed slots available when you play casino online, as well as other ancient mythologies from Rome and the Orient. Some of these include Slingo Cleopatra (Slingo Originals;) Prometheus, Titan of Fire (Fantasma Games;) Medusa's Golden Gaze (2By2 Gaming; and Dragon Tao Imperial 88 (AGS.) If you're a fan of Hacksaw Gaming's designs and game style, try Tasty Treats or Break Bones, both of which have some great features, and don't forget to check which of them are jackpot slots.  
Play to Win at BetMGM
Although ancient Egypt comes up again and again as a theme for slots, there's an entire catalog of games waiting for you with BetMGM. And, if slots aren't your thing,  take your pick of a wide range of casino table games or live dealer casino games. Register here to get started.