Do you want to play online slots with a fun, jungle theme? We take a look at Gorilla Go Wild, an online casino game from NextGen Gaming that doesn't monkey around.
Game overview
Gorilla Go Wild is a light-hearted online slot that has the look and feel of a great Saturday morning cartoon. Gary, a cute and hungry purple gorilla who has a craving for bananas, and aspirations to be king of the jungle, takes center stage in this casino slots experience.
For players who like to test-run online slots, a free demo of Gorilla Go Wild is available for you to play before you part with your hard-earned cash. It is also available for mobile devices, so you can play while you're on the move.
How to play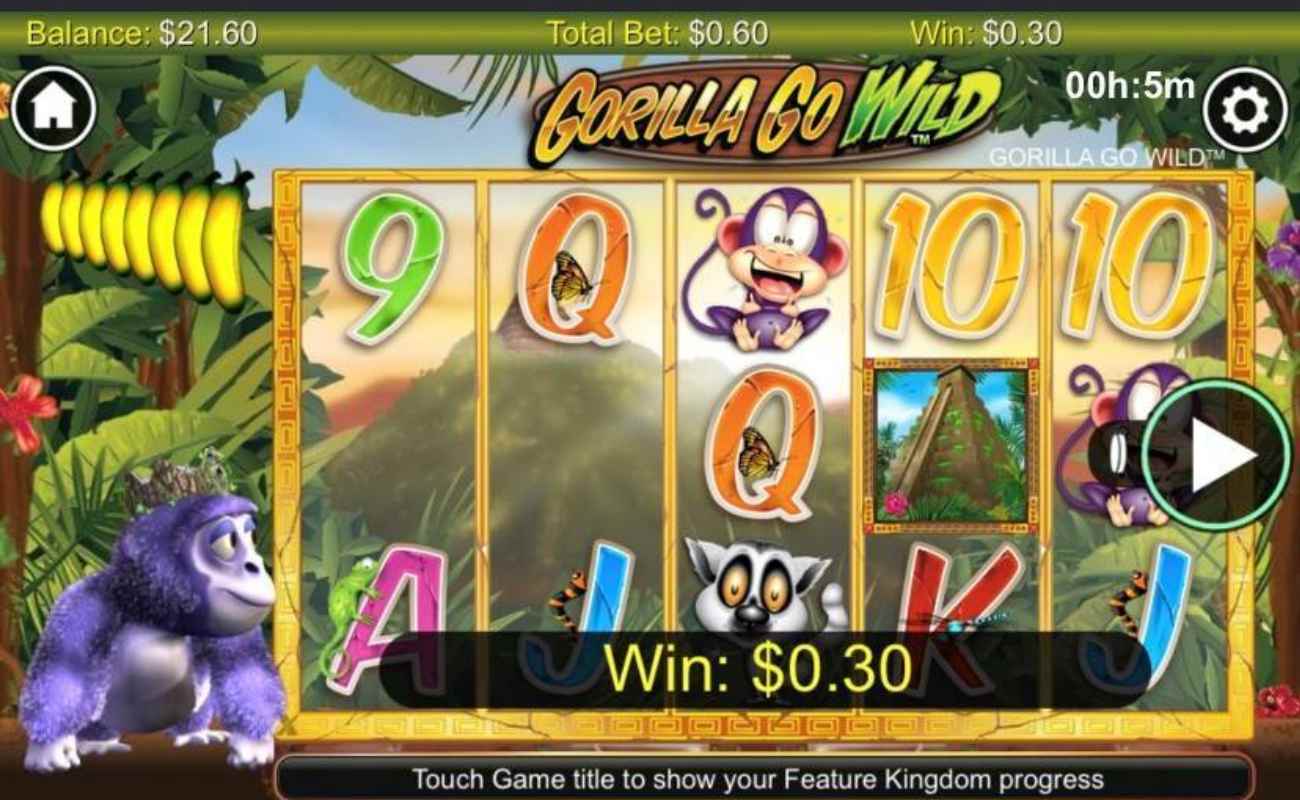 Gorilla Go Wild consists of a five-by-three reel, with 25 different paylines. The game features a variety of symbols including the classic wild, scatter, and Ace, King, Queen, Jack, 10, and nine. In addition to this is a golden gorilla coin, a purple monkey (likely one of Gary's cousins), and a Toucan. 
There is also a wild symbol, featuring a picture of the game's mascot, Gary, and a scatter symbol, which is an ancient Mayan temple. As with many other slots, a wild symbol can substitute all symbols except for the scatter symbol. Also, the scatter symbol has the highest value, while the 10 and nine have the lowest. 
If the player manages to land a payline or scatter win, they are multiplied by the bet value.
Graphics
Being over five years old, Gorilla Go Wild unfortunately doesn't deliver a cutting-edge visual experience. However, that's not to say this game is visually unappealing. Its cartoon-style 
graphics mean the game still retains a certain charm, even if it does lack the bells and whistles of some more modern games. 
Combining this visual approach with a warm color palette that consists of shades of green and yellow, mixed with dashes of other primary colors, makes Gorilla Go Wild extremely easy on the eyes. 
Features
One of the game's unique features allows people who spend large amounts of time playing to increase their chances of winning big. When players buy a spin, Gary may eat one of the bananas that hangs above his head. After Gary has eaten all the bananas hanging above him, he will move to a new part of the jungle. This can occur three times, and each time this happens, the bonus time is increased.
Bonuses & jackpots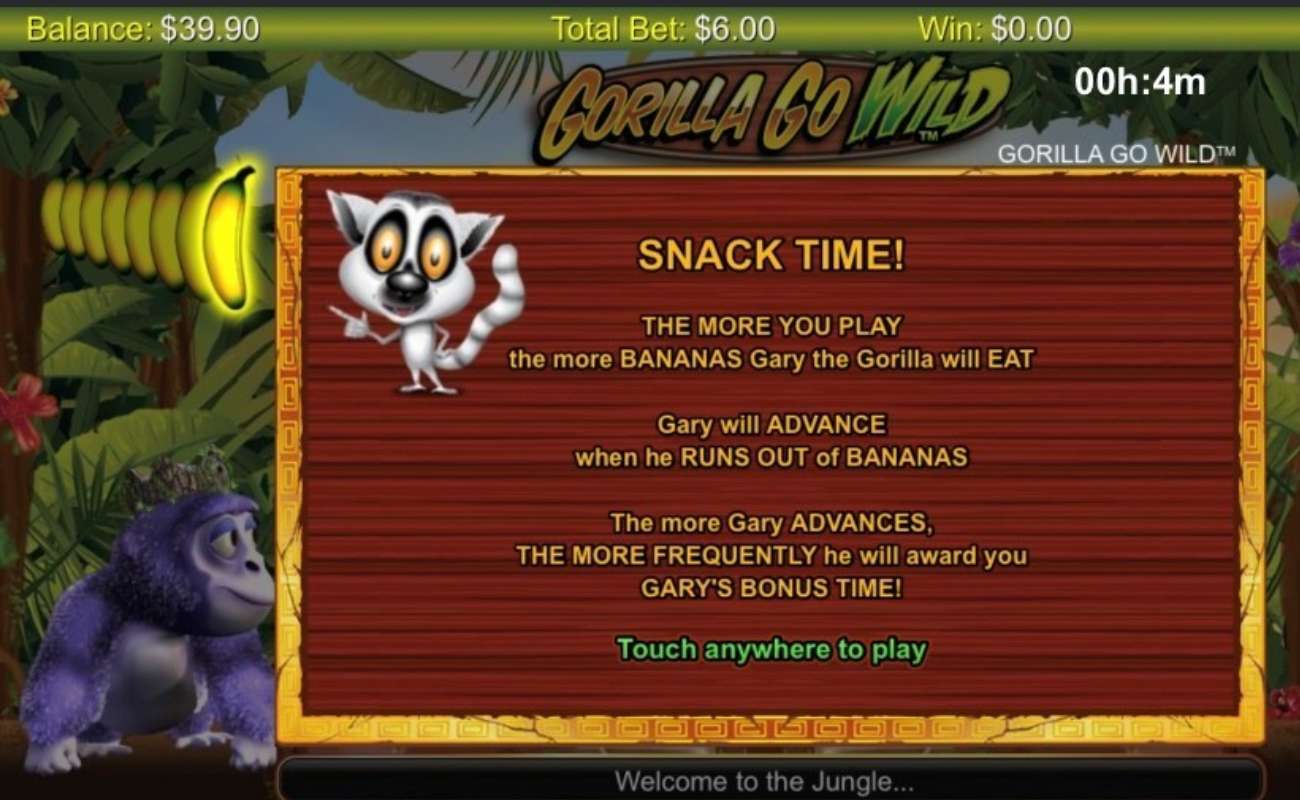 Gorilla Go Wild has numerous bonuses that are connected to the features described above. 
With Gary's Bonus Time, the player may receive a multiplier of 50, 100, 150, 300, or 1000. The player can also be granted entry into Gary the Gorilla's Feature Kingdom. The Feature Kingdom can also be unlocked by landing three or more scatter symbols. 
Once the Kingdom is open, you can choose from one of four bonus features. These are Gorillionaire Win Spins, Stay Wild, Mega-rilla Multiplier, and More Wilds. However, players should note that you can only gain access to these games after a certain number of triggers, but that each of these bonuses can be randomly re-triggered once by Gary:
Gorillionaire Win Spins - Accessible after the first trigger—during this bonus game, if you land 10 winning spins, all your wins are doubled. It can also be re-triggered, however, this can only take place once.
Stay Wild - Accessible after the fifth trigger—during this bonus game you are awarded 10 free games. If you land a wild symbol it will stay in place for all your free spins. It can only be retriggered once.
Mega-Rilla Multiplier - Accessible after 10th trigger—This bonus game builds upon the ideas of the Stay Wild bonus game. It has all the same rules but also multiplies wins by the Free Games Multiplier, which starts at 1. This Free Games Multiplier is increased by landing wild symbols during your free games.
More Wilds - Accessible after the 15th trigger—If you trigger this bonus game, you're awarded 10 free games. During this game, if you land 3 symbols (excluding the scatter symbol), there is a chance they may be converted to wild symbols.
Gorilla Go Wild has an RTP of 96.5, with a medium-to-high volatility rating.
Similar games
If you'd like to try other animal, nature, or jungle-themed online casino games, be sure to check out these other great casino slots:
If you are someone who likes to play casino games at New Jersey casinos but find yourself unable to for whatever reason, why don't you give an NJ online casino a try?
BetMGM, formerly PlayMGM, is an online platform that offers a fun and exciting experience to people who want to play at a casino online. We offer a variety of new casino games and jackpot slots on our site. Players can enjoy all the games we offer directly on our website or by installing our casino games app on their mobile phone.