Poker machines were the start of something that quickly became one of the most popular categories of online poker. Video poker was a great option for many players, especially those who aren't comfortable playing the traditional game. Video poker has been one of the newer game types that started as a mechanical device that was found in bars, and it quickly became a hit. These days, video poker is a casino staple for players caught between playing slots and table games. 
What is video poker? Where did it come from? And how can you get started? We'll be answering all of these questions below and more. Find out what video poker is all about and how it differs from playing traditional and online poker.
Early beginnings
To understand where video poker is heading, it's good to know its origins. You'll find the highlights of the history of video poker below.
Sittman and Pitt Company
It all started in 1891, with the Sittman and Pitt Company based in Brooklyn, New York. The company invented a prototype poker machine consisting of five drums, each having 10 playing cards. The game worked by inserting a coin and pulling the arm of the machine. This caused the drums to spin, and when each one stopped, it revealed a poker hand. At the time, the law prohibited real money payouts on poker machines, so players would receive prizes that consisted of cigarettes and drinks. 
Charles Fey
Not too long after Sittman and Pitt Company produced its prototype, Charles Fey invented the Card Bell. The new machine could automatically disperse prizes, with a royal flush paying 20 coins. In 1901, Fey created the Skill Draw, which had a "Hold" feature that allowed players to hang onto certain cards so they could choose the reels that spun again. It was the first real five-card poker machine. 
The draw feature and prizes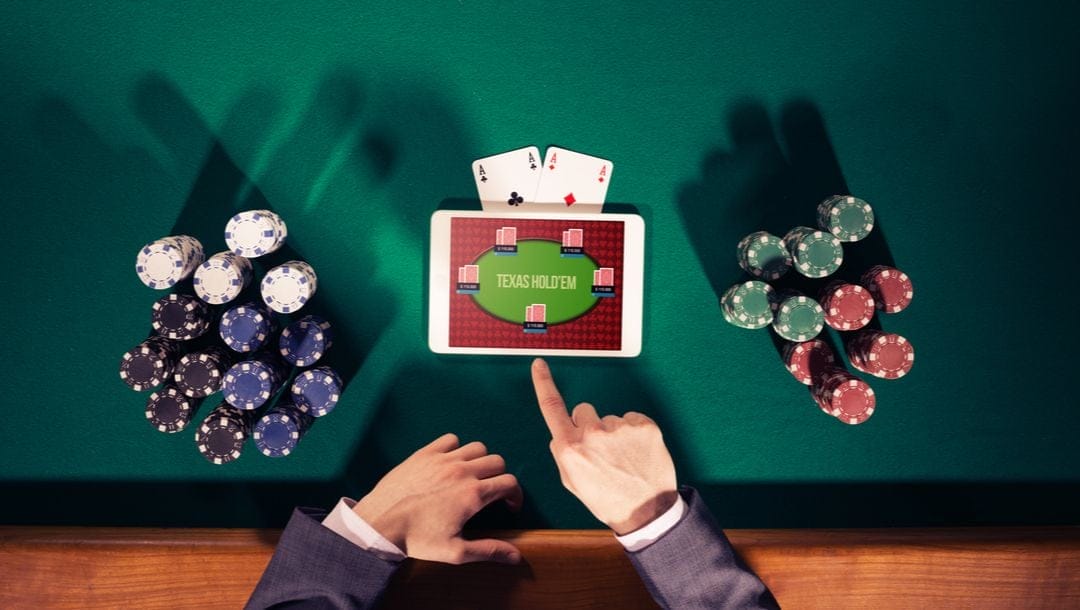 While poker tournaments weren't nearly as common as they are today, the card game itself was. Since Sittman and Pitt added the draw feature to machines, poker machines became extremely popular and popped up in almost all liquor stores across the US. 
The draw feature eliminated the element of blind luck by introducing an element of skill to the game. However, gambling was illegal in most parts of the country, so winning hands were paid in prizes of cigars, cigarettes, and drinks. 
Just shy of a full deck
Many players believed that the poker machines consisted of 52 cards, but only 50 cards were used. It wasn't cheating, but it was necessary as the machine could only accommodate 50 cards. It was usually the jack of hearts and the 10 of spades that were removed, as this halved the chances of being dealt a royal flush.
Modern video poker is born
The 1970s were a strange time, where technology was slowly progressing, and having a personal computer was nothing but a pipe dream. The foundations of video poker as we know it today were laid by Si Redd, also known as William, although the concept was almost scrapped. 
William Redd's design
Redd worked as a distributor for Bally, a huge name in the casino industry, and was responsible for many modifications that led us to enjoy the modern slot machine. His concept of electronic video poker was pitched to Bally executives, but it wasn't well-received as they weren't ready to progress in the gaming industry. They weren't prepared to commit to a new type of game that the public hadn't tested.  
Regardless, Redd was determined to bring his idea to fruition and eventually persuaded the executives to provide him with an exclusive patent for video poker. This proved to be a mistake for Bally, as Redd struck a deal with Fortune Coin Company to start his own firm, called Sircoma. The first machine was called Draw Poker and had two pairs as the lowest winning hand. 
After Sircoma went public and rebranded as IGT (International Game Technology), it went on to have success in producing video poker. Its Jacks or Better title remains one of the most popular games found at online casinos. You may well have already played it!
Growing popularity
Many players were intimidated by playing table games such as Blackjack and Texas Hold'em Poker, and by the late 1980s, video poker grew in popularity. This occurred around the same time that video slots came into existence, but video poker didn't catch on because many people preferred games that had physical reels. 
Video poker today
Today IGT remains one of the largest producers of video poker games and has also branched out to virtual casinos, where you can play video poker online. The game can be enjoyed alongside online poker tournament events, live poker, and other variations of traditional poker. Video poker titles have been released with more special features, including multipliers, bonus games, and access to multiple hands in play per game.
There are hundreds of types of video poker these days, and there are plenty of rules and tactics that can be used for each one to enhance your odds of winning. Learning how to play is a lot easier than playing regular poker online or in a poker room, and sites including BetMGM offer guides to understanding different hand values and other aspects of this intriguing casino table game. 
Play video poker online with BetMGM
If you'd like to try your luck at video poker, then BetMGM has a decent selection of games in its catalog. Register and gain access to a wide selection of titles and live poker tournaments, with many different prizes up for grabs!