Although the origins of blackjack remain unclear, many historians believe it was being played in French casinos as long ago as the late 16th century, which means the game has been at the heart of casinos for centuries. Blackjack's easy-to-learn and social nature, combined with the fact that it typically offers the lowest house edge of all casino table games, has made it one of the most-played casino games of all time.
Blackjack creates long-lasting memories through the thrilling and exciting moments it provides. The addition of online blackjack with a live dealer has only cemented its legacy as one of the greatest — and most popular — online casino games. Read about the ins and out of blackjack and the step-by-step guide for getting started online.
Learning the Basics
Before playing for money, it's crucial to understand the rules and card values. Otherwise, you risk losing it all and will probably never play again. Luckily for you, the game is simple to learn.
Even if you haven't played before, you may have heard it being referred to as "21." In fact, when it was being played in France all those centuries ago, it was known as "Vingt-et-un," which means 21 in French, while the Spanish called it "Veintiuna," which translates to the same number.
So, with that clue in mind, the objective of the game is to beat the dealer by getting 21 (or as close to it as possible) first. This is when the cards come into play.
Within a 52-card deck, each card holds a certain value to get you closer to the target. Any cards valued below a jack (2-10) hold their face value. For example, a 5 equals five points, a 9 equals nine points and so on. Then there's the jack, queen and king, each holding a value of 10. Lastly, the ace counts as either a 1 or 11.
The quickest route to victory is being dealt a jack, queen or king (10 points) and an ace (11,) as this totals up to 21. However, this doesn't occur often, meaning players are left with needing three or four cards in order to reach 21. The more cards you hold, the bigger your chances are of exceeding 21 and losing the round, also known as going "bust."
For beginners, understanding blackjack terminology is crucial in ensuring that you become familiar with the rules of the game. It's also a great way to spark conversation with experienced blackjack players and form long-lasting friendships. During a game, you'll often hear players saying, "hit," which means they're asking the dealer for another card. Other terms include "push," which refers to a draw between the player and dealer, as well as "blackjack," which is normally confidently said, as it means they've reached 21.
These are just the basic glossary terms. Once you become comfortable with these three essential sayings, be sure to learn the other terms, such as "box," "color up" and "cut." Simply put, they'll make your life easier around the table.
Then there's the importance of adhering to blackjack etiquette. Ensuring that you're respectful to the players and dealer is crucial to having an enjoyable time around the table. Don't forget to give your dealer a tip at the end.
For land-casino players, make sure you've put your chips in the betting round before the round begins. Once the cards have been dealt, you cannot touch your chips unless you decide to take insurance, surrender or double down.
Step-by-Step Guide for Playing Online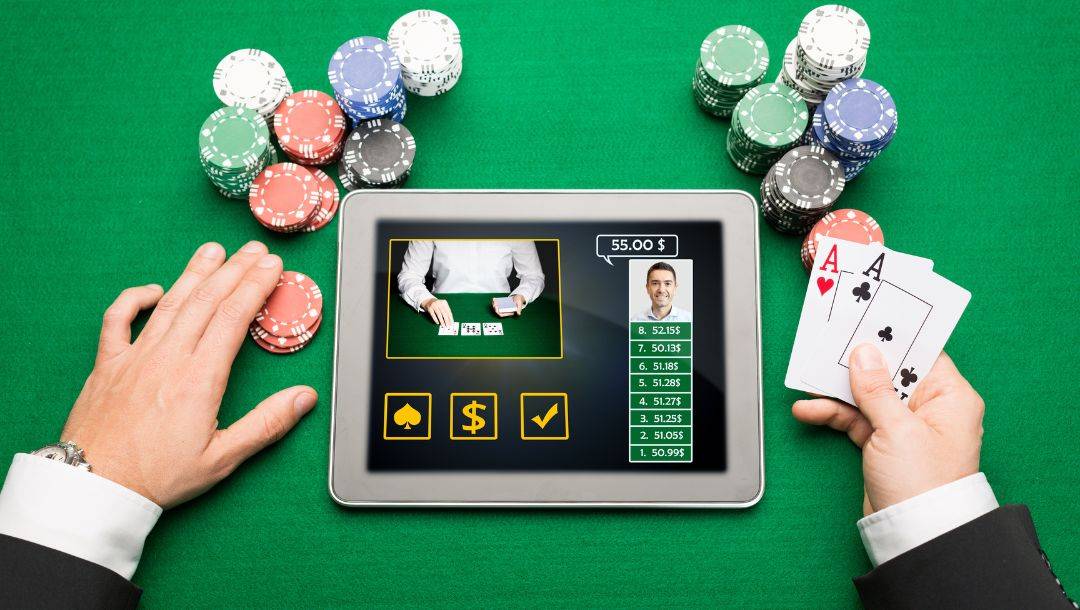 Online blackjack is one the most popular games worldwide, meaning you'll have an easy time finding a reputable online casino to play at. At the same time, there are endless scammers trying to take advantage of the game's noticeable popularity. Read this step-by-step guide for a safe online experience:
Choose a Trustworthy Site
Regardless of what casino game you want to play, choosing a trustworthy site such as BetMGM should be your top priority. Be sure to read the site's reviews and try to find any material you can about it, whether online blogs or YouTube Videos. Another great idea is to ask experienced gamblers which sites they use.
Create an Account
Once you've decided on a site, it's time to create an account. However, these two decisions should go hand-in-hand, as you'll notice most sites offer welcome bonuses for setting up an account. Ensure that you read through each casino's bonuses, rewards and deposit limits thoroughly before committing so that you get the most out of signing up.
Navigating Blackjack Games
If you're a novice, before playing for money, it's strongly recommended that you make the most of free online blackjack to become confident with the rules and card values. Only once you're comfortable around the table should you start playing for money.
After that, you have three options online. There's traditional blackjack which consists of you playing on your own table using the rules and card values provided above. Then there's the innovative live dealer blackjack which includes a human dealer on your screen which emulates the authenticity of a land-based casino — this is fast becoming a favorite amongst players. Then there's mobile blackjack, which is great for playing on the go, whether it be on your lunch break, in a queue or on public transport.
Play Blackjack at BetMGM
Wanting to play blackjack online? With games available 24/7 on all devices, you can play from the comfort of your home or on the go. Register today and enjoy the selection of themed tables, bonuses and live dealers.
Apart from blackjack, BetMGM also gives you access to an almost endless range of other online casino games. From themed slots and bingo to poker and roulette, play from anywhere and anytime.