Video poker and slots are the most popular solo online casino games. Fast-paced and fun, they both have a lot to offer the recreational gamer. At the same time, there are significant differences in knowledge, skills, gameplay, and strategy between slots and video poker online. Which one you choose to play ultimately depends on your preferences and style. Read our breakdown of the most important differences between video poker and online slot machines to guide your choice.
How to Play Slots Online
The big advantage that online slots enjoy in terms of gameplay is how simple and accessible they are. It's so easy to get started with online slot machines. Let's say you're in the mood for a fishing-themed game such as Lazy Larry's Lobstermania II. When you open the game on your chosen device (most slots are mobile-friendly these days), the base game with its background and reels will load up on your screen. You'll also see your bankroll and various operating buttons such as "spin" and "max bet." Take a glance at the game's paytable to see the various symbols and how much they're worth. Choose your betting level and click "spin" to set the reels in motion (use the auto spin feature to avoid clicking for each spin).
And that's it. The game takes care of all the rest, serving up a side-splitting selection (Larry's a very funny guy) of entertaining special features and bonuses depending on how things work out on the reels. The only thing you really have to do (this is important) is to keep an eye on your bankroll.
Video Poker Online 101
At surface level, video poker is not much different from playing slots online. You load up a game, select your betting level and hit "deal" (as opposed to "spin") to receive your starting hand of five cards. That's where the resemblance ends. Instead of sitting back to watch the fun kick off on the reels, you have to make decisions in video poker, which takes a certain amount of knowledge. This online poker game is based on the five-card draw variant, so you need to understand poker hand rankings: One pair, two pair, three of a kind, straight, full house, flush and so on. You also need to understand the specific video poker variant's paytable.
Once the machine has dealt your cards, you have to apply this knowledge and make a call on whether to keep or exchange your cards in hopes of building a winning hand. This gives video poker a different rhythm from slots. You get your cards, tank and make your call. The outcome is revealed – and you hit "deal" again. Rinse, repeat. This stop-start gameplay may not appeal to players who prefer the smooth ride that online slots provide. That said, it's one of the best online poker games in town if you're looking for quick gameplay.
Strategy
Another key difference between slots and video poker online is the strategy factor. With slots, the only strategic choice you can really make is whether to select a game with high, low, or medium variance (variance being the relationship between win frequency and average payout size). After that, the only decision you need to make is whether to quit or keep going, depending on the state of your payroll. With video poker, strategy is possible. You can make an informed decision on what cards to keep and discard based on the mathematical probability of forming a winning hand.
Now, that's some heavy-duty number-crunching to do on the fly, especially in a fast-paced game of cards, but thankfully, it's easy to find video poker strategy cards online. These handy references show you the best decision based on the cards you hold and the variant you're playing. They're not guaranteed to yield wins by any means, but they can improve your chances considerably. Better still, you can transfer that insight when the time comes to play online poker against other players.
Choice of Games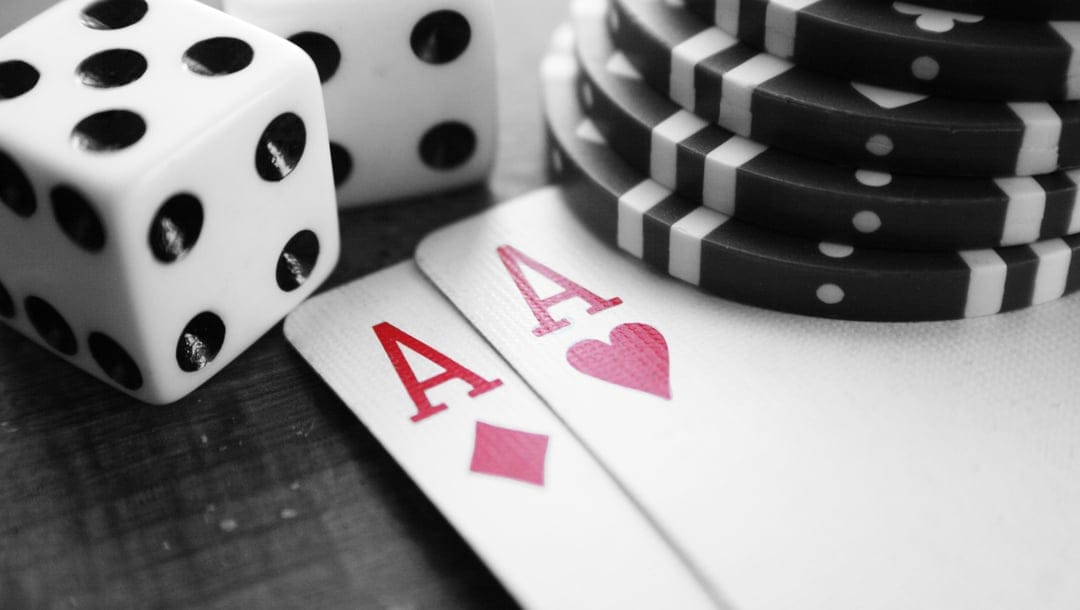 A key difference between video poker and online slots is the range of choice. There are hundreds of slot titles with a vast range of themes covering all the bases you can think of. Adventure, fantasy, horror, steampunk, space, sports, gems, fruit – the list goes on as far as your imagination is capable of stretching. By comparison, classic video poker has only nine variants (you'll find them all if you play titles such as Game King Video Poker, Five Play Draw Poker and Ten Play Draw Poker):
Jacks or Better is original video poker where a pair of Jacks or better is the minimum winning hand




Joker Poker adds a Joker to the mix




Bonus

Poker pays a bonus for certain four-of-a-kind hands




Bonus

Poker Deluxe pays out a bonus for all four-of-a-kind hands




Double Bonus Poker pays a bonus for four Aces




Double Double Bonus Poker pays a bonus for four Aces, 2s, 3s or 4s, plus a

specific kicker




Triple Bonus Poker offers a payout for four Aces, four 2s through 4s, and four 5s through Kings




Deuces Wild Poker is where twos are wild (can substitute for any other cards)




Deuces Wild Bonus Poker, in which twos are wild and certain four-of-a-kind hands are rewarded.
Get the Best Slots and Video Poker Deals at Betmgm
We hope you now have a better idea of how slots and video poker compare. If you're keen to try them out for yourself, register for an account at BetMGM Online. You'll find a vast array of slots at your disposal, along with numerous video poker bundles such as Triple Play Draw or Ultimate X Poker 10 Play that allow you to play multiple hands of different variants at once. For more competitive games, head on over to our live online casino for live dealer blackjack and baccarat, or join one of our daily online poker tournaments. Whether you want to test your skill or just chill, it's all happening here.