Fun, interactive and nostalgic, Viking-themed slots present a new wave of exciting online casino games. The Vikings have an extraordinary history and rich legacy and have become a popular theme across Hollywood this past decade. Online slots are on a fast trajectory towards mirroring this.
From Game of Thrones and Gonzo's Quest to Norse mythology-inspired games, Viking slots take you back in time and into the 9th-century world of warriors, sailors and explorers. With many Viking-themed games to choose from online, we discuss the ones that provide the most thrill, adventure and enjoyment.
Origins of the Vikings
Otherwise known as Northmen or Norseman, Vikings originally inhabited Scandinavia's cold, harsh lands – primarily Denmark, Norway and Sweden. Their rise to European power in the 9th century continued over three centuries. At home, they were farmers and fishermen but at sea, they were pirates, raiders and settlers.
Their first target was the coastal sites, towns and monasteries of Britain. Once they conquered these lands, they hoisted their sails and set their sights on the rest of Europe as well as Iceland, Greenland and Russia. They were successful throughout. Many believe they were motivated because their homeland was overpopulated and they needed to expand their empire. Once they realized how easy it was to annihilate Europe's highly skilled armies, there was no stopping them.
As a society, Scandinavians practiced Norse Paganism, worshiping gods such as Odin, Lodi, Thor and Njord. They believed dying in battle was the way to join Odin in Valhalla. Their religion played a big role in their raids and they would deliberately target and destroy Christian churches, cathedrals and villages. Today the Vikings' history and their gods have inspired hundreds of popular Viking-themed slot games.
What are the best Viking slots?
Over time, online slots have become the most popular online casino games as people gravitate toward themed games from the past. Similar to live dealer casino games, Viking-themed slots are interactive, thought-provoking and daring. Game creators such as Evolution Gaming have created immersive battles, conquests and characters from Viking history to create games such as Vikings go to Valhalla, Thor's Lightning and Ring of Odin.
Here are some of the best online slots with a Viking theme.
Vikings
Regarded as one of the best casino games, Vikings offers slots, blackjack, roulette and Baccarat. There are over 200 games and among them are some of the most popular titles, such as Game of Thrones and the legendary characters Bjorn and Ragnar Lothbrok from the Vikings TV series. With games created by NetEnt and Microgaming, Vikings offers high-quality graphics and a fantastic payout percentage of 96.1%.
Vikings includes enticing bonus symbols that can result in fruitful rewards. A type of bonus symbol is the Shield Wall Feature. This feature consists of mystery symbols that appear randomly across the screen, then convert into randomly-selected symbols that, in turn, convert into rewards. Another game includes scatters. This involves the player trying to land three or more symbols on the reels to gain a maximum of seven free spins.
Asgard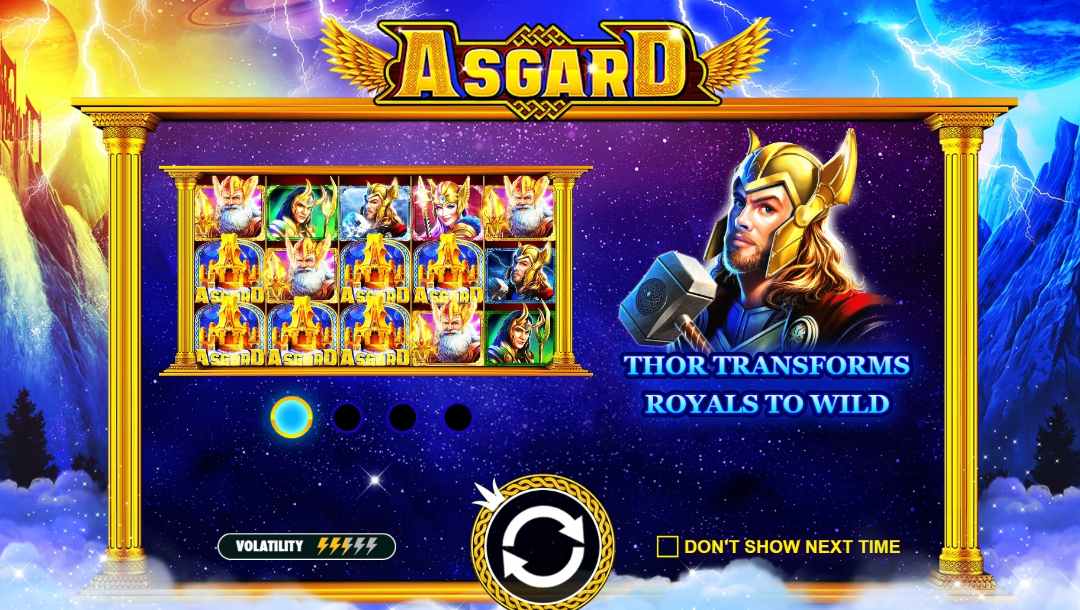 Based on Norse mythology, Asgard refers to the dwelling place of the gods. Legend has it that Asgard was divided into 12 realms. These include Valhalla, the home of Odin and where heroes slain in earthly battle went, and Thrudheim, the realm of Thor. Created by Pragmatic Play in 2018, Asgard is one of the best reasons to play slots online. Each game is associated with the gods from the Norse mythology of Asgard.
Within the online casino game, each god has its own symbol to play with. For example, the Thor feature involves Thor landing on reels, resulting in all the lower-paying symbols transforming into the wilds. Then there is the Loki feature, which stacks up Loki symbols and creates identical symbols with the potential of big wins. And then there's the wild symbol which represents Asgard. When it appears on screen, it rapidly transforms the random ones into the wilds.
Vikings Go Bezerk
Created by Yggdrasil, this is one of the most immersive and mesmerizing online slots and a sequel to the popular Vikings Go Wild slot game. Overall, it is a combination of spectacular graphics, exciting gameplay and bonus features that take you right onto a Nordic battlefield. Similar to Vikings, it boasts a high payout percentage of 96.1%.
By entering Berzerk Mode, you trigger free spins with five different bonuses. Within the visual wildness, there are key symbols to look out for, such as the treasure chest. Through cash prizes, bonuses and free spins, the chest can lead to a mountain of winnings that the Vikings would be proud of.  
The key rule that opens players to a number of fantastic features is landing combinations during the base game on the high seas. The game utilizes 25 paylines, meaning a player needs three or more similar symbols to win.
Power of Gods: Valhalla
Power of Gods: Valhalla takes us into the mythical world of Norse mythology and is another visually-exciting game. It boasts the ability to tailor your preferred pace and volatility, making it one of the few games that allows for personal customization. It is packed with an array of exciting features, including 16 reels and four 1,000x jackpots. The maximum win can go as high as 2,145x of your stake. To trigger these features, bonus symbols stick to the reels for one spin. There is also a buy feature where you can access bonuses immediately by selecting one of three different options.
Play Viking slots on BetMGM
Want to play real online slots? From online games such as Vikings and Asgard to Viking Runes and Thunder Shields, enjoy BetMGM's ever-growing range of high-quality, thrilling Viking-themed slots. With all the top games Viking slots have to offer on our site, register today and play at a casino online – start your journey into the Nordic world.