With their exciting grid formats and delightful animations, online slots promise players hours of enjoyment. Although these games are usually straightforward and easy to play, there are still tips and tricks you can learn to make sure you're having a blast while playing them.
Peggy Sweets, developed by Red Tiger Gaming, is an exciting retro-themed game designed to keep you entertained with its animations, music, and colorful features. 
Game Overview
If you have a sweet tooth, this unique slot game is just for you. Join Peggy and her friends as they serve up delectably sweet desserts. The developer, Red Tiger, released Peggy Sweets on February 9, 2023. Set in a 1950s-themed retro diner, Peggy Sweet has eye-catching pink and purple colors and upbeat background music to groove to as you play. Between the beautifully animated symbols and exciting features, Peggy Sweets offers a fun and unique experience to citizens of the world of slots games. 
How To Play
Peggy Sweets uses the 5×5 grid format, which gives you a better chance of getting any winning combination. The game can be played on any device, anywhere and anytime, and is also available in 31 languages, including English, Japanese, Spanish, Portuguese, and Korean. 
As with most 5×5 reel slots, Peggy Sweets uses the scatter win mechanic, which increases your chances of winning as you unlock different bonus features. Once the wins are activated, the symbols are replaced with others and will continue to be until there are no more wins for that round. 
The spin button is at the bottom right corner of the game. To its left, you'll find the turbo function, which will help speed up your spins and bonus activations. 
Graphics
Peggy Sweets takes on a retro theme most associated with the 1950s era. The game setting is a roller diner that serves mouth-watering treats. The game leans into the retro theme, with pink, purple, blue, and red making up the color scheme. The symbols are beautifully drawn and detailed. Peggy Sweets adds more animated flair by including flashing neon lights in the background and on the grid.  
Features
Peggy Sweets is packed with exciting features to keep you glued to your screen. The most notable are the symbols of Peggy and her two friends. They serve as the highest-paying symbols. The pink girl represents the titular Peggy and is worth 0.5x-60x the bet. The blue girl is worth 0.8x-100x the bet, while the yellow girl is worth 1x-150x times the bet. The game also has four symbols that represent the lowest wins. These include the treats served: the donut is worth 0.1x-12.5x the bet, the sundae 0.1x-20x the bet, the jello 0.2x-30x the bet, and the pancakes 0.2x-50x the bet. This scatter-win game aims to collect eight of the same symbols to activate other features and bonuses. When you get more than 25 symbols, you stand the chance to win up to 150x the bet. 
Volatility in slots refers to the likelihood that you'll trigger a win and how high or low the worth of that win will be. High volatility means that, although the possibility of a win is scattered, they're worth a lot. Low volatility in slots means that the chances of a win are a lot bigger, but the wins are smaller. Peggy Sweets has high volatility, and the return to player (RTP) is 95.74%. 
Cascading features in slots refer to how symbols land on the grid. They're most popular in online casino games such as Peggy Sweets. In this game, the icons cascade from the top and land on the grid. This cascade happens after every spin and when bonuses are collected from certain symbols. 
Bonus Features and Jackpots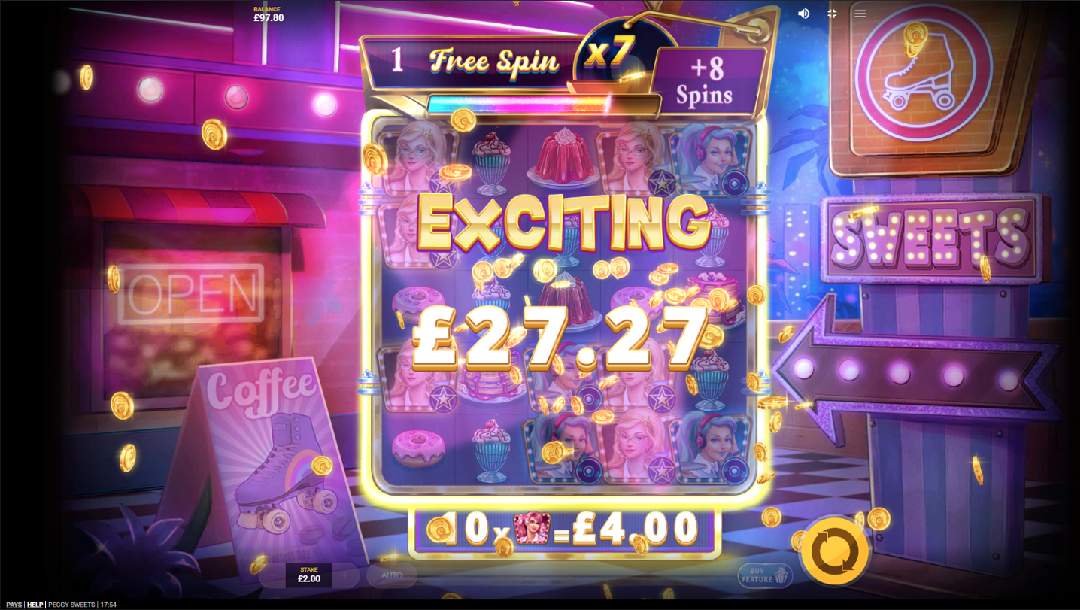 Peggy Sweets offers other slots bonus features: multipliers, modifiers, and free spins. Multipliers are bonuses that reveal the amount that the bet will be multiplied. Modifiers refer to the bonus rounds that are triggered. In Peggy Sweets, the modifiers are the three highest-paying symbols — the pink girl, blue girl, and yellow girl. When the pink girl modifier (Make it Large) is activated, any low-paying symbol is swapped for a higher-paying one. When the blue girl modifier (Get One Free) is triggered, any symbol on the grid is doubled in value. When the yellow girl modifier (Win Multiplier) is activated, your win can be multiplied between two and five times. 
Free Spins in Peggy Sweets is symbolized by a pair of skates leaning further into the roller diner setting. If three free spins symbols appear on the grid, the game rewards you with eight free spins. Free spins can also be bought by using the Buy Feature. This feature is worth 60x the bet. Unfortunately, free spins don't count in bonus rounds. 
Jackpots are the biggest prizes that can be won in any slot game. Usually, they increase with every bet you make. In Peggy Sweets, there are two possible jackpots to be won, rapid jackpots, and hourly jackpots. Rapid jackpots mean that your chances of winning are higher, and in Peggy Sweets, they're worth $235. This game also offers an hourly jackpot where a minimum of $58 can be won every hour. 
Similar Games
If Peggy Sweets is your thing, here are three other online gambling slot games you may like from the same developer: 
Cake & Ice Cream

: For those craving more sweet games after playing Peggy Sweets, this one's for you. This game has a 3×5 grid with 20 possible wins.

Neon Links

: If you enjoyed the flashing neon lights in Peggy Sweets, you'll love Neon Links. This game has a 3×5 grid and uses the classic slot symbols for a vintage feel. 

Atlantis

: You'll adore this game if you enjoy the cascading feature of Peggy Sweets. Atlantis utilizes classic slot symbols and unique pictures. This 5×4 grid game packs exciting bonuses such as the Gold Spin and Wild Reels. 
Register With BetMGM
Grab your favorite sweet treat and indulge in hours of fun when you Peggy Sweets. Activate the exciting features and bonuses, all while bobbing your head to the tune of the music. 
Register at BetMGM now and explore the vast casino games collection available, including slot games.