In recent years, Twitch streaming has gained immense popularity, attracting millions of viewers and streamers from around the world. While the platform is primarily known for live-streaming video games, another phenomenon emerged within the Twitch community – gambling streams. 
Let's look into the rise and fall of gambling in Twitch streaming, with a specific focus on online casino games, how individuals stream these games, the subsequent decline of gambling streams, the potential earnings from online gambling and Twitch and the role of influencers in attracting new users to the gambling streams.
The Beginnings of Twitch
Twitch was founded by Justin Kan in 2011 as a spin-off of Justin.tv. Originally, Justin.tv was a channel broadcasting Kan's life around the clock, pioneering the concept of "lifecasting." However, it attracted users who wanted to broadcast their own lives. 
In response to this interest, the site relaunched, allowing users to create channels and share their own content. The popularity of streaming video games led to the creation of Twitch.tv as a separate platform within Justin.tv.
The Rise of Gambling in Twitch
Twitch quickly outgrew Justin.tv,, and in 2014, Justin.tv was shut down, allowing Twitch to take center stage. Amazon recognized the potential and acquired Twitch for $1 billion that same year, drawing parallels to Google's acquisition of YouTube. Twitch's growth has been remarkable, with 1.5 million broadcasters and 100 million monthly viewers in 2015, reaching 2.2 million broadcasters and 15 million daily viewers in 2018. In 2021, average concurrent viewers exceeded 2 million. 
In 2022, Twitch achieved impressive milestones. The platform generated an estimated revenue of $2.8 billion, highlighting its financial success. It also maintained a substantial viewership, with an average of 2.58 million concurrent viewers. The community of Twitch creators continued to thrive, as 7.6 million users streamed on the platform at least once a month. Additionally, Twitch users consumed a staggering 22.4 billion hours of content throughout the year, demonstrating the platform's popularity and the engagement of its audience. These statistics underscore Twitch's significant presence in the live-streaming landscape.
The Role of Influencers in Attracting Users
Influencers played a crucial role in the growth and popularity of gambling streams on Twitch. Streamers with a significant following and engaging content attracted viewers who were interested in gambling and sought entertainment within that genre. 
Influencers learned how to stream on Twitch and showcased their gameplay skills, shared strategies and created a sense of community within their streams. Their influence helped generate new users and contributed to the overall expansion of the gambling streaming community.
Streamers also took advantage of live chat functionality to connect with their audiences. They often broadcast live events like concerts and sports games, offering viewers real-time experiences.
As influencers, they're able to promote their brands and collaborate with partner brands. An example is KFC's partnership with esports player DrLupo, where they distributed complimentary dinners to followers and introduced a new, popular emote during the event. 
Streaming Online Casino Games on Twitch
As the platform grew in popularity, it naturally attracted individuals who were interested in streaming different forms of content. This included casino enthusiasts who began live-streaming online casino games, offering viewers an interactive and immersive gambling experience. Online casino game streaming allowed viewers to watch real-time gameplay, engage in chat discussions and experience the thrill of live dealer online gambling without leaving their homes.
Streaming online casino games on Twitch involves broadcasting real-time gameplay of popular casino games such as blackjack, poker, roulette and slots. Streamers use screen capture software to showcase their gameplay and interact with viewers through live chat. 
They provide insights, strategies and entertainment while engaging with the audience's comments and questions. Some streamers even organize casino tournaments or exclusive giveaways to enhance viewer engagement.
The Slots category alone has amassed a dedicated following of 1.1 million users who tune in on weekdays to witness their favorite content creators chase jackpots in a kind of virtual live mobile casino. Viewers are drawn to the thrill of gambling and the unique, often exaggerated commentary provided by entertainers during the experience.
The Fall of Gambling on Twitch Streaming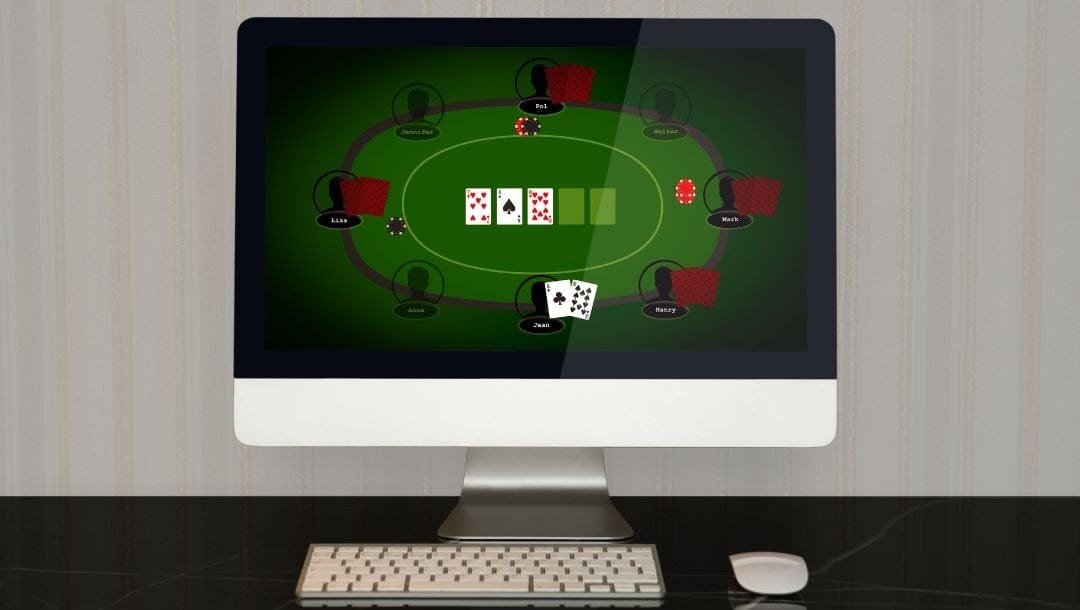 In recent years, Twitch has implemented stricter guidelines regarding gambling content due to legal and ethical concerns. In response to concerns about excessive gambling and irresponsible broadcasting, Twitch took action to address the issue. As of August 2021, streamers on the platform were no longer allowed to advertise gambling referral codes or links to online gambling sites, aiming to discourage unhealthy habits. 
To protect underage viewers, many streamers labeled their content as 18+. Twitch acknowledged the problem and assured users that they were taking measures to prevent any harm or encouragement of dangerous behavior through their streams.
After facing criticism from top creators, Twitch made the decision to ban a few forms of online gambling on their platform. They announced the implementation of a new policy on October 18, 2022, which prohibits the streaming of unlicensed online slots, roulette or dice games lacking adequate consumer protection in the US or other jurisdictions.
While some streamers advocated for a complete ban on gambling content, others are complying with the platform's regulations and labeling their channels accordingly. Twitch clarified that streaming content focused on sports betting, fantasy sports and poker are allowed and the top poker streamers are definitely worth a follow if you're looking to up your own game.
Twitch previously held a dominant position in the market, accounting for approximately 96% of the market share, with YouTube picking up the rest. However, following the policy change, its market share has decreased to 74%. While Twitch remains the leading platform, the substantial 22% drop in a short period of time is notable and highlights the impact of the policy change on its market position.
Earning Money from Online Gambling Streaming
During the rise of gambling streams on Twitch, streamers had various avenues to monetize their content. Revenue streams included subscriptions, donations, sponsorships and ad revenue. 
Viewers could subscribe to a streamer's channel to gain access to exclusive emotes, badges and benefits. Donations offered a way for viewers to support their favorite streamers directly. Streamers also collaborated with gambling platforms for sponsorships and ad revenue was generated through advertisements displayed during streams. However, with the decline in gambling streams, the revenue opportunities in this specific niche have significantly diminished.
Those who have remained have found other revenue streams, though, which has drawn some criticism and courted controversy. To attract more customers, crypto casinos often sponsor streamers who promote their platforms. These casinos offer users the chance to purchase cryptocurrencies and engage in digital versions of traditional casino games. 
Stay in Touch With Your Favorite Games at BetMGM
As Twitch evolves, new opportunities and trends are likely to emerge, shaping the future of Twitch streaming and its relationship with casino games. One thing you can rely on is the best live dealer online casino, BetMGM. Register to safely play your favorite casino table games and live dealer casino games and be your own gaming hero.