For some, playing the slots on the floor of their favorite casino or at an online casino involves a highly technical strategy – watch the play and players and see which machines are paying out. For others, it's about how the machine feels to them, that instinctive tug at the gut that says "play me." Whichever tactic or platform you use, the thrill of spinning online slots, winning, and then spinning again is something that calls again and again.
However, did you know that if you play online casino games or slots regularly, you'll probably fall into one of these categories – utilitarian, excitement, multipurpose or relaxation – and your reason for hitting that Play button will be altogether different from someone in another category.
Whatever your game of choice is, BetMGM has a wide range of online slots and physical locations where you can enjoy a flutter or a full-on splurge to quench your thirst for adventure.
Bellagio Fountains of Fortune – BetMGM
Be inspired by the elegance of old Europe and the opulence of the kings of France, Germany and Spain. Call on lady luck, hit the button and reel in the fortune when playing the Bellagio Fountains of Fortune. This 5×3 reel online slot features 20 fixed lines with a free spins feature that's activated when you land four or more cascading wins in the main game. Play again and you may win even more free spins when cascading wins take place in the free spins bonus round.
Cleopatra MegaJackpots – IGT
Find your fortune in the sands of time – let the unrivaled queen of Egypt, Cleopatra, show you the way to rule the pyramids in the Cleopatra Mega Jackpot online slot. Join the mighty Cleo on her barge down the Nile to see if you can lay your hands on the pharaoh's fortune.
Hit the Spin button and enjoy the thrill of the MegaJackpots where you could double your winnings. Get 15 free spins in the Cleopatra Bonus and lavish in the luxurious rewards where wins are tripled and you get even more opportunities at winning the MegaJackpots progressive.
Divine Fortune Megaways – NetEnt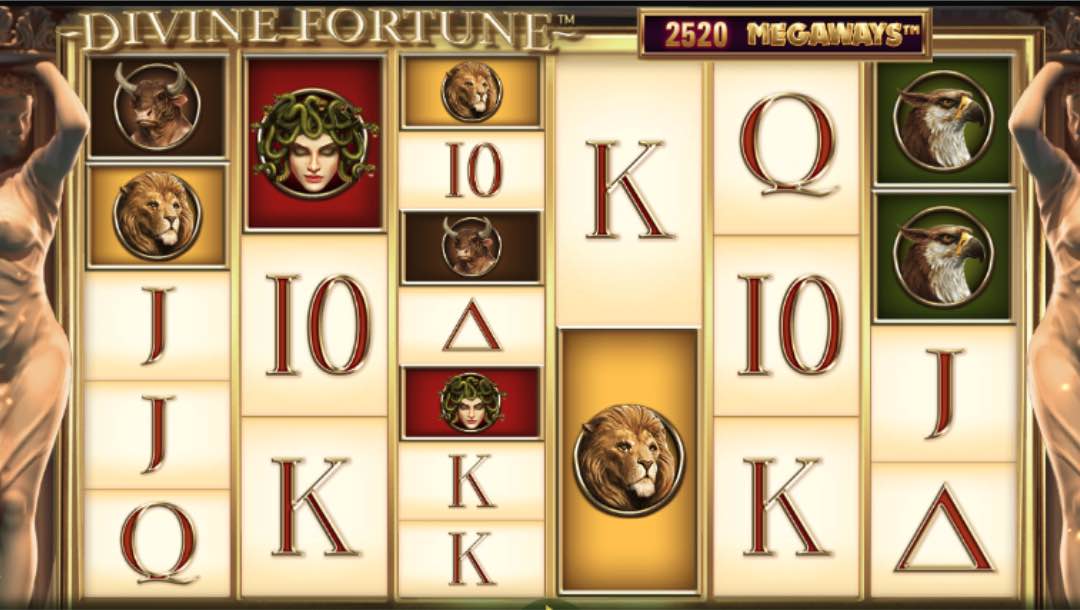 Oh, to be a god and determine your own destiny – when you play slots online and choose Divine Fortune Megaways, you could very well be setting yourself up to rule the roost.
Take a wild ride with the Wild-on-Wild feature with free spins with three Bonus Win symbols. Divine Fortune Megaways is a 6-reel Megaways video slots game that offers up to 117,649 ways to win. Different bet values, coin values and bet levels give you the thrill of a lifetime and the chance to live on cloud nine.
 New York Jets Slingo – BetMGM
Fall in love with winning when you play Slingo online. BetMGM's slots-meets-bingo game is high-stakes fun where matching numbers determine your win or your next free spin. Place the bet, hit the button, cross your fingers and watch the wheels spin. Matching squares and lines of equal symbols will earn you a payout. With each play you add to the progressive jackpot – the one you could win with just one more tap of the button.
Money from Mars – Ainsworth
Make one small step for mankind and one giant leap for yourself as you launch yourself towards Mars (and big payouts, hopefully!) Reach for the stars with the free play, scatters and bonuses that are out of this world.
Play the games you love
Don't just play any old games – play the games that make you love life even more. BetMGM provides the best casino games at our MGM partner hotels, where you can place your bet at actual tables and feel the thrill of winning at your fingertips. We're also one of the world leaders in online casino games – changing the way it's always been done.
Now you can play slots online from anywhere, anytime. It's as easy as registering and choosing your favorite game. And it's not only slots that are up for grabs, but any game that you're prepared to bet on, from video poker to sports betting – we've got it all.