Casino games have been a source of entertainment for centuries and with the advent of online technology, playing these games has become even more accessible and convenient. Players can now enjoy a wide range of exciting games, including classic card games, slot machines and more, no matter where they are in the world.
When it comes to online casino games, blackjack and Spanish 21 are two of the most popular choices among players. Both games are variations of the classic game of 21, but they have some key differences that set them apart. Let's compare Spanish 21 and blackjack in greater detail, including the rules of each game, strategies for winning and where you can play.
Spanish 21
So, how do you play Spanish 21? Spanish 21 is a card game that is available at many online casinos, including those that offer online blackjack live dealer options. In Spanish 21, the game is played with a deck of 48 cards instead of the standard 52. 
The four 10s are removed from the game, giving the player a slight advantage due to the deck comprising fewer cards. In turn, this reduces the chances of the dealer having a natural 21, otherwise known as blackjack.
The goal of Spanish 21 is to get a hand value of 21 or as close to it as possible. Players are dealt two cards, after which they can hit or stand depending on the value of their hand. The dealer must follow strict rules to give the player a fair chance, such as hitting on a soft 17, for example. All remaining players win if the dealer busts (goes over 21). However, if the dealer stays in, then the player with the highest hand value wins.
Another key element of Spanish 21 is that players can surrender their hand after the dealer has checked for blackjack, which isn't possible to do in traditional blackjack. This allows players to save half of their bet if they have a hand that is likely to lose, giving them a better chance to stay in the game and potentially win on future hands. 
Spanish 21 also allows players to double down on any number of cards, which is a great way to increase your winnings. What's more, several bonus payouts are offered in this form of blackjack. For example, a 21 made up of six or more cards can result in a payout of 3:2 or even 2:1.
Blackjack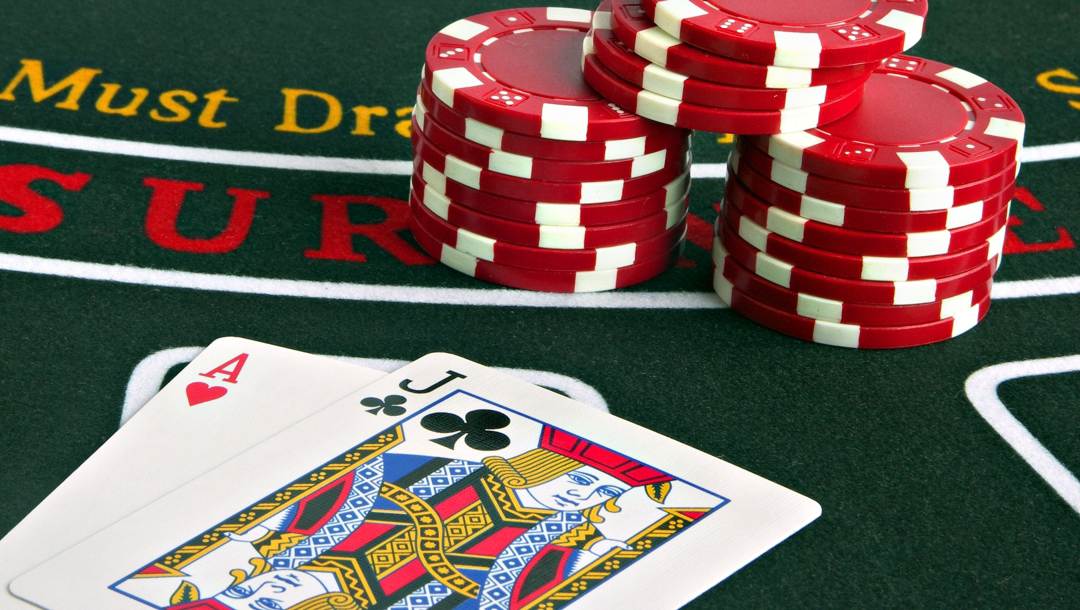 Blackjack, having been around for centuries, is one of the oldest and most popular casino games in history. The game is widely available at casinos of all types. The goal of blackjack (similar to Spanish 21) is to get a hand value of 21 or as close to 21 as possible without going bust. 
Players are dealt two cards, after which they can hit or stand to try and hit 21. The value of a hand is determined by adding up the values of the individual cards. Face cards (king, queen and jack) are worth 10 points, aces can be worth 1 or 11 points and all other cards are worth their face value.
Similarly to Spanish 21, the dealer must follow strict rules when playing blackjack. For example, they must hit on a hand value of 16 or less and must stand on a hand value of 17 or higher. This helps to level the playing field and gives players a better chance of winning.
If a player's hand value exceeds 21, they lose the game, regardless of the value of the dealer's hand. If both the player and the dealer have a hand value equal to or below 21, the hand with the highest value wins. The player can split their hand into two separate hands if they are dealt two cards of the same value. They can also double down, which means they can double their original bet and take only one additional card.
Blackjack also features some special payouts, such as a 3:2 payout for a natural blackjack (an ace and a 10-point card) and a 2:1 payout for a five-card hand that doesn't bust. By following the rules and understanding the game's objective, players can use basic blackjack strategy and enjoy a thrilling gaming experience.
Winning strategies
When you're playing in an online casino for real money, every mistake can be costly and there's no room for error. If you want to win at either Spanish 21 or blackjack, it's important to have a thorough understanding of blackjack basic strategy. This involves knowing when to hit, stand, double down, split your cards or surrender. There are many resources available online that can help you develop a winning strategy, including charts, mathematical formulae and strategy calculators. 
Basic strategy is always based on mathematical probabilities, so it's important to analyze the odds for success if you want to maximize your chances of winning. Of course, luck always plays a role in any casino game, but following a math-based strategy will help to reduce the house edge and increase your chances of winning in the long run.
Where to play
In terms of where to play Spanish 21 or blackjack in an online casino, there are many options available. Online casino games are your best bet for any format you prefer. When choosing an online casino, it is important to choose one that is reputable, has a good selection of games and offers fair odds. It's also important to consider bonuses, promotions, payment options and customer support.
Another factor to consider is whether you want to play Spanish 21 or blackjack with a live dealer. Online blackjack live dealer options allow you to play the game in real-time with a dealer via a live stream. This can add an extra level of excitement and realism to the game, making it feel more like you're playing at a traditional brick-and-mortar casino.
Play with BetMGM for a premium experience
Ready to explore the most popular casino table games? Look no further! BetMGM offers a wide variety of games, fair odds, exciting bonuses and worthwhile promotions. Register now to start playing today! With our user-friendly interface and reliable customer support, you can enjoy a seamless and enjoyable gaming experience from the comfort of your own home.