May the fourth be with you! Star Wars Day is upon us, and all fans from a galaxy far, far away will be celebrating in style. Whether you'll be binge-watching Star Wars or cooking some Star Wars recipes, we're sure you'll make it a spectacular Star Wars Day! For those who love playing online casino games, you can explore some of the space-themed online slots right here at BetMGM. 
Before we mention some of the best online slots with a space theme, let's find out about the origin of Star Wars Day.
What is Star Wars Day?
It's no surprise that Star Wars fans are some of the most passionate fans around. They've even succeeded in making the famous saying "May the force be with you" into a global event. It takes place on May 4, and it's the day that fans honor and celebrate the iconic franchise. 
What does "May the fourth be with you" mean?
The phrase is a pun based on the legendary Star Wars catchphrase: "May the force be with you." It's catchy, and even if you've never watched Star Wars, you may have found yourself saying, "May the fourth be with you." Credit for the pun goes to England's conservative party, the Tories. When Margaret Thatcher won the election to become the first female prime minister of the United Kingdom on May 4, 1979, the group took out a newspaper ad that read, "May the Fourth be with you, Maggie. Congratulations." Star Wars adapted this for themselves, and we continue to say it every year on May 4. 
Space-themed online slots
In addition to rewatching the Star Wars films for the millionth time, you can also play some popular and exciting space-themed slots online. Here are some slots that you can enjoy.
Starburst
Developed by NetEnt in 2012, Starburst is a popular slot game across the globe. When the game loads, you'll see five reels bursting with color and potential wins for you to reap. Starburst has an RTP (return to player) of 96.09%, and you can land expanding Starburst wilds for respins. Symbols on the reels include a range of gems, including yellow, green, red, blue, and purple, as well as the iconic BAR and 7 symbols. This space-themed online casino slot game has great color and graphics. Starburst has dominated the casino industry for years and continues to impress slot players.
Space Invaders
Space Invaders video slot will take you back in time as you spin the reels on this classic arcade game adaptation. It's played on a 5×3 grid layout with 20 paylines. This video slot looks and feels like the original arcade game, which will be welcomed by those who enjoyed it in their youth. With an RTP of 95% and a medium to high volatility, the Space Invaders slot game has a large betting range from $0.20 to $200. Features in this slot game include a sticky win feature, a coin scatter symbol, and a UFO reel modifier. 
Galactic Streak
Galactic Streak should be on your list of the best games to play at a casino. It's packed with exciting features that'll keep you highly entertained. Look out for wild fireballs, which are the game's high-paying symbols. An orbit feature also changes all winning positions to multipliers for three wins, while multipliers are locked in place for all Galactic Free Games. Designed by Playtech, Galactic Streak is played on four reels, and it's set against a space backdrop with twinkling stars. If you're looking to be submerged in space as you spin the reels, this is the game for you. With its 20 fixed paylines, Galactic Streak has an RTP of 95.95%
Space Wars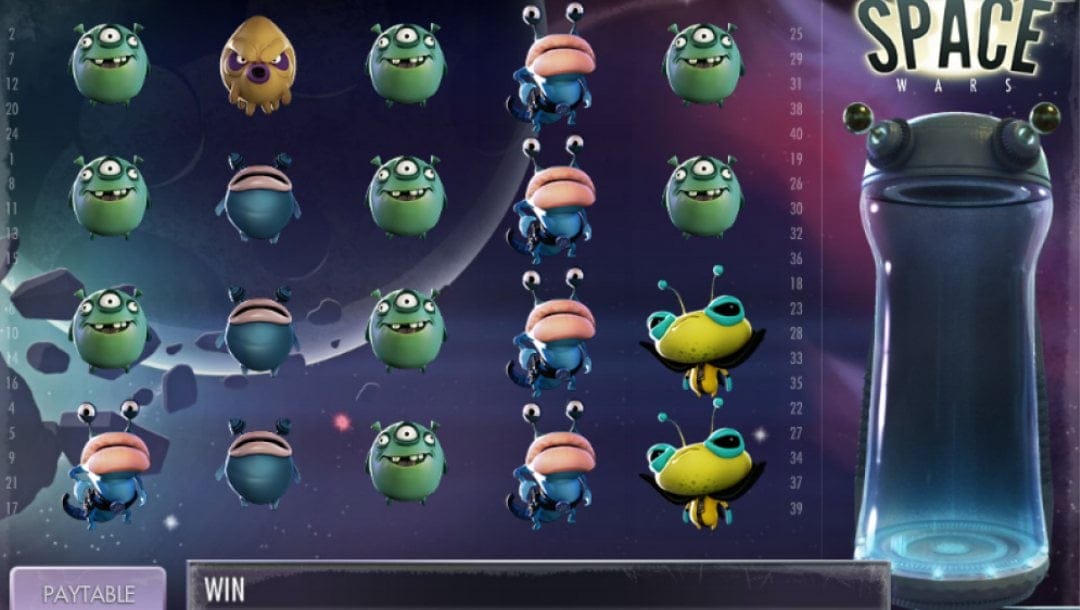 Space Wars is played on five reels and 40 paylines. It is a wonderfully-crafted 3D game that combines imagery from the Pixar film Monsters Inc. and a space theme. It's an action-packed video slot that will afford you some very decent spins. You can unlock features such as wilds, stacked symbols, re-spins, and other great elements that can help you unlock fun wins. The theme follows five unique and animated space creatures at war over a powerful space crystal. The backdrop for this game will take you out in the cosmos to a place unknown. This beautiful and fast gameplay will keep you thoroughly entertained. Space Wars has an RTP of 96.75%, and its unconventional gameplay is worth trying out for yourself.
"May the 4th" adventures at BetMGM
At BetMGM, we offer a great variety of online casino games that you can play. Discover some of the best online slots, casino table games, and live dealer games. Register with us and check out our space-themed slot games that you can enjoy on May 4th.