If you've ever gambled at a land-based or online casino, you'll know the excitement you feel when raking in a whole bunch of casino chips following a well-deserved win. But have you ever stopped to wonder how these casino chips became such a crucial part of casino table games like poker and blackjack?
Below is a comprehensive look at the invention and history of casino chips, undoubtedly the most well-known and widespread casino paraphernalia in the world.
The history of the casino chip
The very first gambling houses opened their doors back in the 17th century, with most originating in Venice, Italy. Back then, it was common to gamble using cash, and this gambling currency remained the same for around 200 years before anything changed. During the early 19th century, and especially during the time of the legendary Gold Rush, some gamblers started playing with nuggets of silver or gold, as well as metal tokens and small ivory "coins."
The popularity of casino table games continued to increase throughout the 19th century, and it quickly became evident that forgery was becoming a problem. After all, it was relatively easy to forge these valuable "coins" and nuggets compared to forging cash. Along with forgery, it wasn't surprising every time a player who found themselves on a particularly unforgiving losing streak grabbed whatever they could from the table and made a run for it!
For these reasons, owners of most gambling houses decided to standardize their playing currency, crafting their own branded chips. The chips you played with back then used to look very different depending on the casino you visited. For example, some chips were quite large, while others were very small, and some were made out of bone while others were made out of wood. However, eventually, all playing chips started to look similar, regardless of where you ended up for a gambling session.
The first standardized casino chips were all circular in shape, white or ivory in color, with the majority made out of compressed clay or sand. Usually, each chip was stamped or printed with its unique value, but over time, color was introduced in order to help categorize different playing amounts and reduce confusion during gameplay.
Further standardization occurred sometime during the 20th century with the invention of new machinery. Using high-pressure mechanisms, it was easy to create multiple chips, all of the same size, shape and weight. Nowadays, all casino chips are 1.53 inches in diameter, with the only distinguishing aspect being the casino brand usually found in the center of each.  
What does the future hold for casino chips?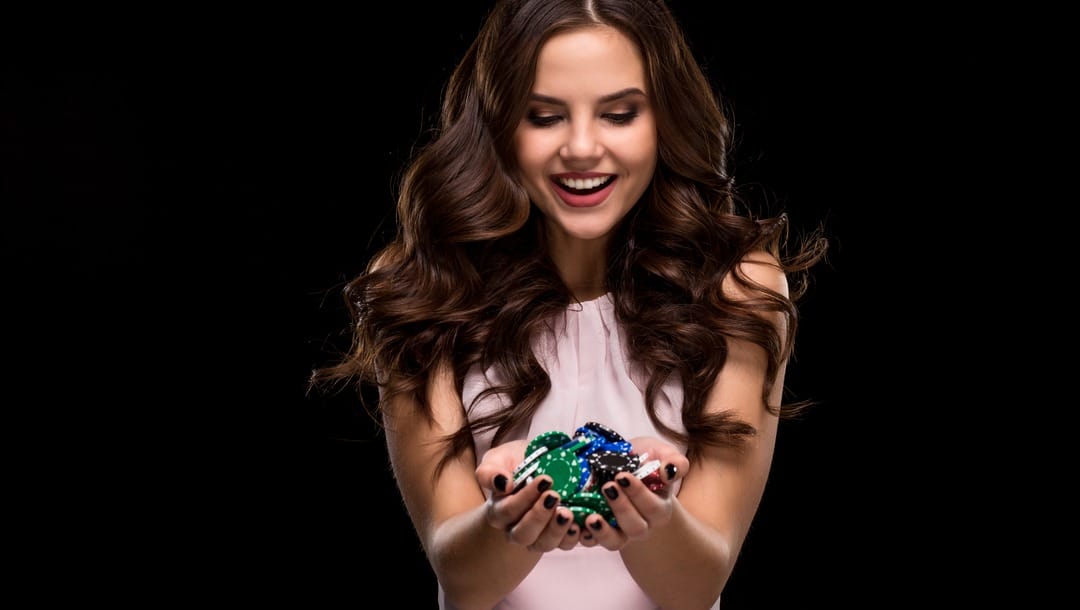 Since COVID hit in 2020, many gamblers have wondered whether casino chips will continue to be used in land-based casinos. Considering that these chips change hands regularly, there was obvious concern that these tokens could contribute to the spread of the virus. Despite these concerns, the vast majority of casinos opted to keep chips in play on the casino floor, encouraging all gamblers to sanitize their chips before using them. Gamblers were urged to bring their own sanitizer for this purpose, although most casinos also supplied and continue to supply sanitizer for those who didn't have any handy.
So, by the looks of it, casino chips are here to stay. The good news is that those who are worried about the potential risks of playing with real casino chips have the option to play their casino table game favorites online from the comfort and safety of their own homes!  
Fun fact: Did you know? COVID also led to some casinos around the world replacing and redesigning their chips more often to provide gamblers with greater peace of mind. Contrary to how things were done back in the day, casino owners no longer get rid of their outdated chips by throwing them into the depths of a river or mixing them in with concrete to be used on a building site. Now, in the US, outdated gambling chips can only be disposed of by special disposal companies approved by the Gaming Control Board. Gaming regulators working for these companies are legally obliged to stand there and watch the old chips being crushed into dust to ensure there's no way for them to fall into the wrong hands.
Play online casino games at BetMGM
Are you looking for a world-class online casino specializing in a broad variety of casino games? Then BetMGM ticks all the boxes. While you won't be able to get your hands on real casino chips, you will be able to play with real money and choose from a diverse menu of the best games to play at a casino, including poker, blackjack online casino games, live dealer casino games, online slots and much more.
If you're interested in exploring our list of casino games and joining our digital community, please feel free to register using our user-friendly mobile portal. Enjoy!