You've been playing online casino games for a while (and you're quite impressed with your skills!) Now it's time to embark on your first visit to a brick-and-mortar casino for fun with friends.
Visiting a casino for the first time can be daunting — but fear not! We've put together all the top casino tips to ensure a truly unforgettable evening out, from a rundown of the basic house rules to a guide to picking the best beginner-friendly casino games.
Set a Budget
It's easy to get caught up in the glamor and excitement on the casino floor, which is why it's crucial to set a budget before you arrive. Determine how much money you're going to spend based on how much you can afford to lose — and, most importantly, stick to it!
Choose the Right Casino
Research different casinos in your area or the one you plan to visit. Look for reputable establishments with positive reviews and a wide variety of games. Consider factors such as the casino's atmosphere, amenities and available services. If you've never played casino games before, it's also helpful to check if the casino offers any beginner-friendly programs or tutorials.
Learn the House Rules
Each casino has its own specific rules and regulations — and there are rules to learn for each game, too. Take some time to familiarize yourself with these rules before you start playing (you can usually find a list on the website.) Here's a breakdown of the basic house rules to expect at most casinos in the US:
Age Restriction
Casinos typically have a minimum age requirement for entry, which is usually 21 years old in most states. Bring your ID along!
Dress Code
Common dress codes range from casual to business casual or formal attire.
No Photography or Filming
Many casinos prohibit photography and filming on the gaming floor. This rule is in place to protect the privacy and security of players.
No Outside Food or Drinks
Casinos generally have strict policies against bringing outside food or drinks onto the gaming floor. You can buy refreshments from the casino's restaurants and bars or make use of the beverage service.
No Cheating or Fraudulent Behavior
Casinos have strict rules against cheating. Engaging in any form of fraudulent activity is a serious offense. This includes activities like using electronic devices to gain an unfair advantage or colluding with other players.
Know the Games
Casinos offer a diverse range of games, so it's important to pick ones that suit your preferences and skill level. Look at the options available, such as slot machines, table games like blackjack, poker, roulette and specialty games. Learn the basic rules and strategies of the games you're interested in to increase your chances of success.
Start With Simple Games
Slot machines, for example, are straightforward and easy to get the hang of, so they're a perfect choice for beginners. Similarly, games like roulette and baccarat have simple betting options. You can gradually move on to more complex games, like poker, as you build up more experience.
Manage Your Time
Casinos can be captivating and immersive environments, making it easy to lose track of time. Set limits on how long you plan to stay at the casino and take regular breaks to refresh your mind. Remember that gambling should be an enjoyable experience — it's important to balance it with other activities.
Join the Players' Club
Most casinos have a players' club or loyalty program that offers various benefits to members. These perks may include discounts on dining, free show tickets or even complimentary rooms. Even if you're not a big spender, every little benefit counts. Of course, make sure you actually enjoy the traditional casino setting first — you might prefer online casinos, after all!
Stay Sober and Alert
Alcohol is readily available at casinos, but drinking responsibly is crucial. Excessive alcohol consumption can impair your judgment and lead to poor decision-making, which could cost you at the poker or blackjack table!
Practice Responsible Gambling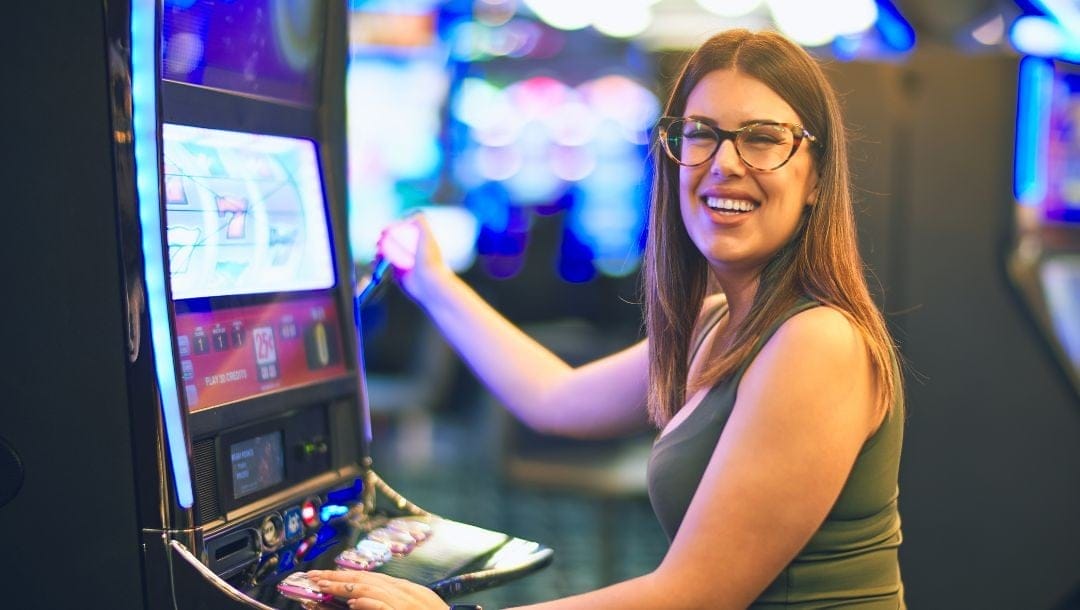 Gambling should be seen as entertainment and not a way to make money. Set realistic expectations and don't rely on gambling as a source of income. If you find that you're struggling to control your gambling habits or spending more than you can afford, seek help from a support organization or helpline, such as 1-800-GAMBLER.
Tip the Dealers
Tipping the dealer is not only a kindness — it's expected in many US casinos. It's a good idea to tip a dealer approximately $5 per hour, but don't hesitate to give more if you happen to win big at the table.
Along with the dealers and croupiers, it's also commonplace to tip cocktail waiters, slot attendants and coat checkers. A few dollars go a long way!
Play Online Casino Games at BetMGM
You now know how to play at a casino, but don't forget about the many perks of online gambling! For example, there's no dress code when you play online — you're free to enjoy casino classics from the comfort of your home.
At BetMGM, our menu features online slots, live dealer casino games, casino table games and much more.
Register when you're ready to get started — and be sure to browse our blog further for more insightful casino tips!