Released in February 2023, Thunder Cash Candelas De Los Muertos Señor Muerte pays homage to the Day of the Dead — translated in Spanish as Día de Muertos. Deriving from Mexico and dating back to the early 1500s, the annual tradition on November 2nd honors the dead and believes all souls return to the living world on that day. You may have seen a glimpse of it in the opening scene of "James Bond: Spectre," where James Bond, starred by Daniel Craig, is running through the colorful and skull-influenced celebrations on the hunt for a fugitive.
If you've never heard of it, don't worry; now's the chance to immerse yourself in Latin culture. Packed with fruitful symbols, exciting multipliers, and mega jackpots, this online slot has all the features to be a timeless classic. Read on to discover more about Novomatic's latest slot, Thunder Cash Candelas De Los Muertos Señor Muerte, from how to play to its graphics, bonuses, and jackpots.
Game Overview
Played on 5 reels, 3 rows, and 25 paylines, the slot boasts a return to player (RTP) percentage of 96.99%. It includes two progressive and two static jackpots, a mystery trigger, and a lock and spin feature round.
Created by renowned developers Novomatic, a studio known for its unique jackpot slots, and also developers of Stars Inferno, Thunder Cash Candelas De Los Muertos Señor Muerte is a wonderful example of a modern slot incorporating stunning visuals and thrilling gameplay mechanics. 
Regarding the symbols, you can expect anything from Senor Muertos, dancers, and butterflies to musicians and the coveted sugar skull wild symbols, which can provide players with lucrative multipliers. For further excitement, the game's maximum multiplier is 5,000x. 
How To Play
After loading the game, your first step is placing a stake. The minimum bet allowed is $0.25, while the maximum is $2, making it an excellent choice for low-budget players and online gambling novices as it eradicates the possibilities of losing a big bet and then, unfortunately, tilting. 
Once you've finalized your stake, you only need to press the "Spin" button and watch the spectacle of fiery and skull-inspired symbols lighting up your screen. 
Graphics
Alongside offering multiple opportunities for unlocking a substantial slots bonus, the game is enhanced by its dazzling graphics and beautifully designed symbols, creating a visual experience that few online casino slots can replicate. 
From the background and reels to the icons, each element has been meticulously designed to coincide with its Day of the Dead theme. 
Features
You'll need to go through the lock and spin feature to unlock one of the game's four jackpots — grand, major, minor, and mini. To activate this, you'll need to land six flame symbols across the reels, which, when unlocked, will grant you three free spins and the possibility of winning a jackpot prize. 
But be ready for the mystery trigger, which any flame symbol can spontaneously activate. When this occurs, the game will lock in the current flame symbols, each showcasing various cash prizes or jackpots, and hunt for new ones. You'll be awarded three extra goes if an additional symbol lands within the three spins. 
After the final re-spin, the game will accumulate each prize and jackpot to determine your total winnings. 
Reading online slot reviews is a great way for beginners to become acquainted with the game's features, jackpots, and bonuses, allowing you to be better prepared and more engaged. Few things are more tedious than playing a game and not knowing what's happening. If you're looking for reviews of other games, great examples are Puebla Parade and Lord of the Ocean. 
Bonuses and Jackpots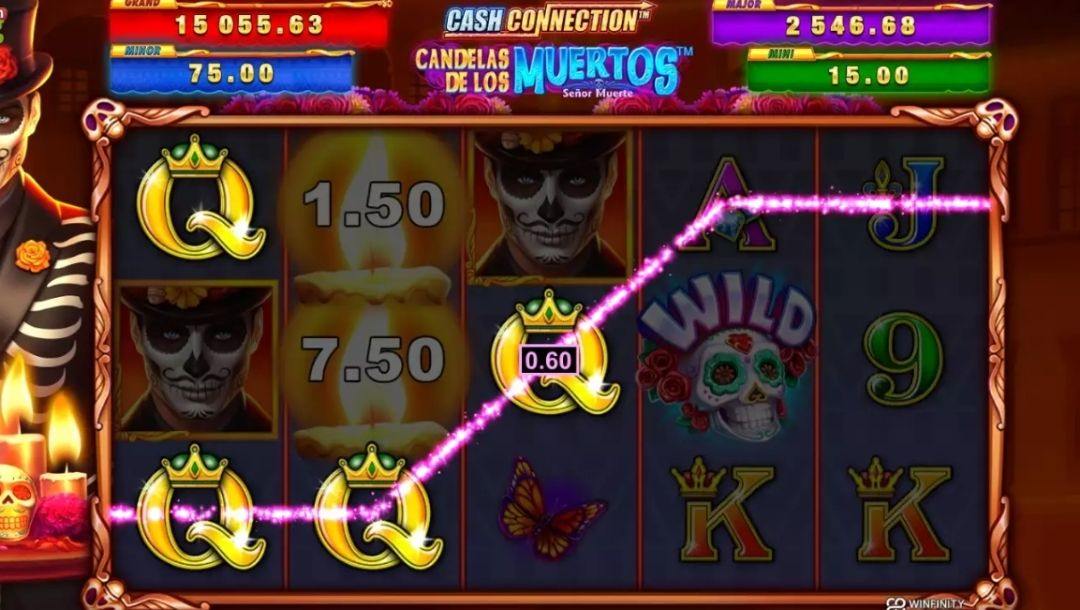 While its 5,000x maximum multiplier might draw most of the attention, there are other avenues for big wins. For instance, if you land five death symbols on a payline, your stake will be multiplied by 200x. Other fruitful five-of-a-kind combinations include musicians (30x), dancers (30x), and flowers (10x). 
The four slot jackpots — grand, major, minor, and mini — are valued at $15,000, $500, $50, and $10. 
Similar Games
You may be surprised to learn that there are many Day of the Dead-themed slots available. Here are some of the most popular: 
Esqueleto Explosivo

(Thunderkick)

Pumpkin Smash

(Yggdrasil)

Day of Dead

(Pragmatic Play)

Calavera Explosivas

(Habenero)

Muerto en Mictlãn

(Play'n GO)
Play Online Slots at BetMGM
Looking to play casino online games? With an extensive selection of traditional and themed slots, including Thunder Cash Candelas De Los Muertos Señor Muerte, BetMGM offers various games with excellent slot jackpot and bonus opportunities. Register today and get in on the action.
If you want to freshen things up with games of a different sort, explore the vast selection of casino games, including poker, craps, bingo, roulette, blackjack, and more.