Is there really such a thing as a professional gambler? Recreational gamblers who play online casino games for fun often find it hard to believe that there are people out there who've actually chosen gambling as a career. The idea of betting your money to make enough money to live from while growing your bankroll is simply too risky for most people to accept. However, professional gamblers do exist, and there are many different types, from casino gaming specialists to sports bettors and high-stakes poker players.
But professional gambling is completely different from the adventurous lifestyle of money, glamour, and thrills one sees in movies with a gambling theme, like "21," "Rounders," or "Casino Royale." It takes discipline, dedication, and hard work. Keep on reading to demystify the legend and find out what professional gamblers actually do.
Professional Gambling vs. Recreational Gambling
To understand what pro gamblers are all about, you must first understand the difference between recreational and professional gambling. A recreational gambler plays casino games online or in a brick-and-mortar establishment for one main purpose only: entertainment. Games such as blackjack, roulette, baccarat, and craps are enjoyable for many reasons. Players might enjoy the fun of taking a chance and possibly winning money, the suspense of the gameplay itself, or socializing with other players. Recreational gamblers are also responsible gamblers who play with a budget and quit playing when their bankroll runs out. Sometimes, they go home with more money than they left with, but on average, they spend more than they win, and that's okay — it's the cost of playing the game, much like any other hobby.
Pro gamblers, on the other hand, treat gambling as an everyday job. As a result, in addition to the skills required to master the specific games they play, they have to acquire a range of other essential skills. These include record keeping, money management, time management, analysis, and emotional control. It's not easy, but players who put the time and effort into going pro can bankroll their entire existence from gambling.
Going Pro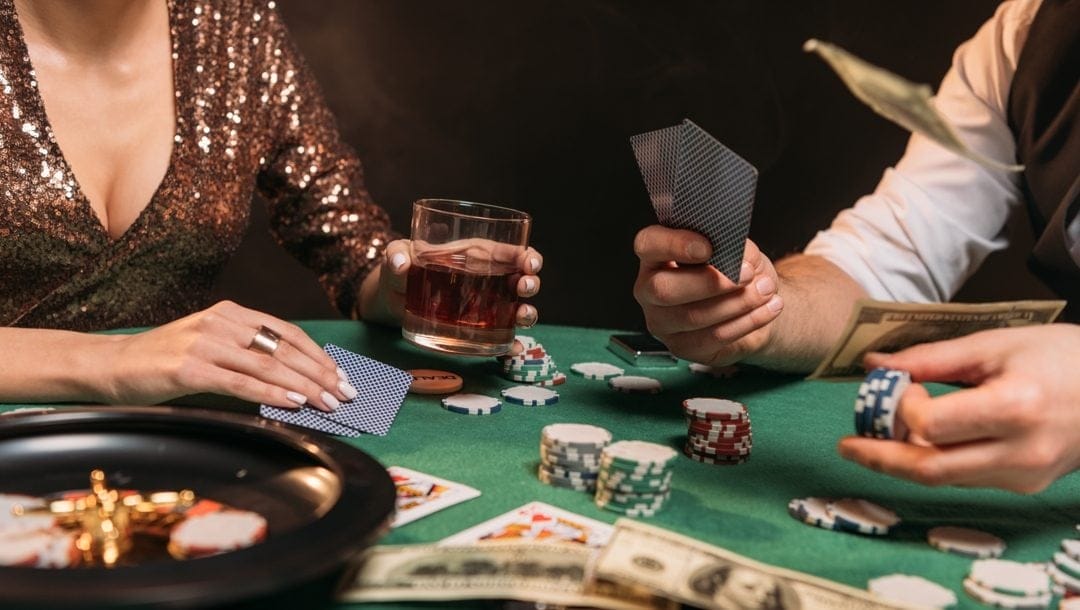 So, how do you become a professional gambler, exactly? There are several steps to follow if you want to do it the right way.
First, choose your specialty. It makes sense to go for games or sports you enjoy playing makes sense, but be careful. It's impossible to control the outcomes of purely chance-based games such as slots, craps, and roulette, so they're not the best choices. Skill plays an important role in games such as blackjack and poker, making them prime candidates for would-be pros to specialize in.
The second step is to become an expert in your specialty. Learn the rules and the odds by heart, and play as much as possible to improve your skills. Keep a detailed gambling journal of your wins and losses to track your progress over time. See what works and what doesn't as you refine your personal strategy.
Ultimately, to qualify as a professional gambler, you need to have a system that helps you win consistently. If you research famous gamblers, you'll find that many of them could afford to gamble huge sums of money because they started off rich. For instance, Australian tycoon Kerry Packer once won $20 million playing several games of $250,000-stake blackjack at once, but he also had a six-month losing streak that cost him $40 million. Was he a successful pro gambler? No, he was a recreational gambler who could afford to play for the highest stakes.
The most successful gamblers are those who can consistently show a profit over time, and they tend to specialize in poker. Players like Phil Hellmuth, Daniel Negreanu, and Phil Ivey have made millions at prestigious live events such as the World Series of Poker and frequently earn lucrative poker sponsorships. Younger-generation players include professional online gamblers like Justino Bonomo, with career earnings in excess of $60 million.
Money Management
It takes money to make money in pro gambling. Every gambler needs a sizable bankroll to start with. The recommended bankroll size for professional play varies from one game to the next. A pro blackjack bankroll could be 1,000 betting units (so $5,000 if you play at $5 tables), while poker pros should have at least 100 buy-ins for whatever limit they're playing.
This kind of money doesn't grow on trees. You have to put away money from your regular earnings into a dedicated gambling account until you have enough money to feel comfortable taking the calculated risks your specialty requires without risking ruin. Alternatively, many players will find backers who bankroll them in exchange for a percentage of their winnings.
While you're growing your bankroll, you can learn how to manage it. Start by defining a definite, realistic win target. You might say, "My goal is to win $100 in five hands," or, "I want to end the week on at least $1,000." Once you've achieved your goal, stop playing. This will enable you to keep building your bankroll patiently and maintain control.
The Mental Game
Every professional sport has a mental aspect, and pro gambling is no different. You have to develop the ability to focus exclusively on the game and nothing else while you're playing. Psychological toughness is another essential quality. Variance plays a role in all gambling games, and you have to be able to ride out the downswings that will inevitably come your way along with the ups. Some games require more tenacity than others. Poker, for instance, can be absolutely brutal. The higher the stakes, the more other players will use every trick to make you lose control of your emotions and tilt.
To survive under these conditions, you have to work on keeping your cool. As Phil Ivey says in his MasterClass video, "The Mental Game":
"It's very important to stay emotionally level when you play poker because you don't want to make decisions based off of emotion. You want to make all your decisions based off of logic and what you see around you and the information that the other players are giving you.
"A lot of things are out of your control at the table. Maybe somebody's winning a bunch of hands in a row against you. That's out of your control. I mean, what is in your control is what you have in front of you, the hands you play, being emotionally level, doing your best, staying present, and just putting your best foot forward. I mean, those are the things that are in your control at a table."
Enjoy Recreational Gambling Online at BetMGM
Whether you're a recreational gamer or a budding pro, you'll find what you need to raise your game at BetMGM. Register to play casino games online, from the latest online slots to real-time blackjack, roulette, and baccarat in a live dealer online casino. Interested in poker? Join in cash games with stakes to suit every player and sign up for daily, weekly, and monthly online poker tournaments. Get your game on at BetMGM.