What's not to love about blackjack? The game offers the best odds compared to other online casino games, with the house edge as low as 0.5%, depending on which casino or table you're playing at. Even with such favorable odds, casino gaming software giant Evolution has managed to make online blackjack even better… by adding a live dealer! Evolution's Live Infinite Blackjack is fast, packed with advanced features and optimized for the best experience on all your mobile devices. Now you can play this title in the BetMGM online casino. Here are some of the reasons why you should join a table. 
How Live Infinite Blackjack works
Just as it sounds, Live Infinite Blackjack is an infinitely scalable version of live dealer blackjack that comes with unlimited seats, low bet limits, the Six Card Charlie rule and four exciting optional side bets. In the main game, each of the players is dealt the same two-card hand. After that, they can choose to play that hand however they want. 
You might be worried that the hundreds of possible players might negatively impact your blackjack experience. They don't. Let's break down the gameplay into four easy steps to show you why. 
First, you'll log into your BetMGM account, enter the game and join a virtual blackjack table. You'll be greeted by your courteous, real-life dealer, who will ask you to place your bet when a new hand begins.




After the set betting window closes, the dealer will burn the top card and deal two cards to themselves. One will face up for the players to see and the other will be face down. Two cards will show up on your screen for you to start playing with.




Now the blackjack fun begins! A selection of buttons will appear on your screen, giving you the option to hit, stand or double down. You can also make side bets, which will be explained further below. 

If your hand has a total closer to 21 than the dealer, you win an amount based on your wager and bet. The game runs the same way that it would if it were just you and the dealer playing. 
In this infinite variation, you can expect all the standard rules of blackjack to apply. The aim of the game is to draw cards with a total closer to 21 than the dealer's hand. However, like in regular blackjack, they shouldn't exceed 21. Picture cards such as the jack, queen and king are worth 10, while the ace can count as one or 11. 
Reasons why Live Infinite Blackjack is so much fun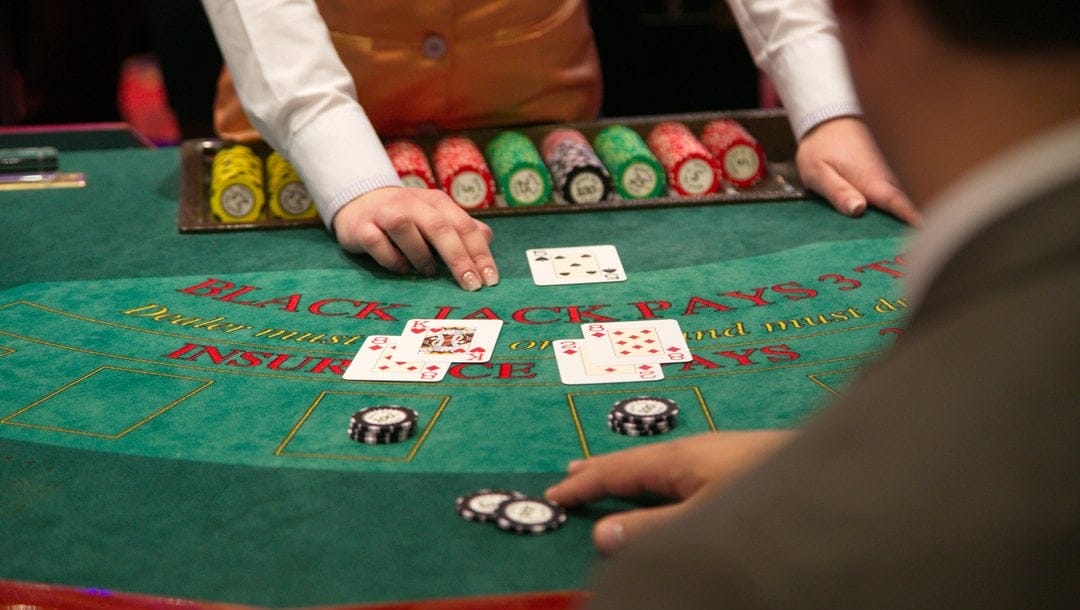 Exciting additional side bets
Even if you love playing blackjack at a casino, the game can get repetitive after a few rounds. Infinite Blackjack boasts four additional side bets, more than you'll find anywhere else. This makes for a more engaging game and increases the ways you can win. Here are the four side bets you can place before the cards are dealt:
Any Pair
In this side bet, you wager that the first two cards dealt to a player will be a pair. These bets pay 8x your stake if you win. If you get a suited pair (a pair with the same number and suit,) you'll win 25x your bet! 
21+3
This is the most common side bet in blackjack and offers the lowest house edge of the four in this game. To win, the first three cards, made up of your first two cards and the dealer's first (or up card,) must form a three-of-a-kind, a flush, a straight or a straight flush. If you want to "clean" the casino, you'll want three aces. This hand will win you 100x your bet. 
Hot 3
In the Hot 3 side bet, players again get to use their dealer's up card as a part of their blackjack hand. If your first two cards and the dealer's card make a total of 19, 20 or 21, you'll win. But what makes the Hot 3 even hotter is the lucky number seven. Three 7s win you a 100x payout. 
Bust It
Want to bet on the dealer going bust? Then this is your new favorite side bet. The more cards your dealer has in their hand when they go bust, the more you win. If it's three, you'll bag a 1:1 payout. If they go bust with eight cards, your winnings go up to the 250x jackpot. 
Playing alongside your opponents
Just because there could be hundreds of players doesn't mean you should play like a lone ranger. Live Infinite Blackjack lets you see what choices your fellow players made with your cards. This makes the game more entertaining and lets you "play against" other players by trying to make better decisions than they did. It also helps you compare gaming strategies! 
Six Card Charlie rule
The Six Card Charlie rule offers even more potential wins without an additional wager from players. It automatically applies to every hand in the game in your favor. If you manage to get a six-card hand under the value of 21, the Six Card Charlie rule entitles you to an instant 2:1 payout. 
Variety of bets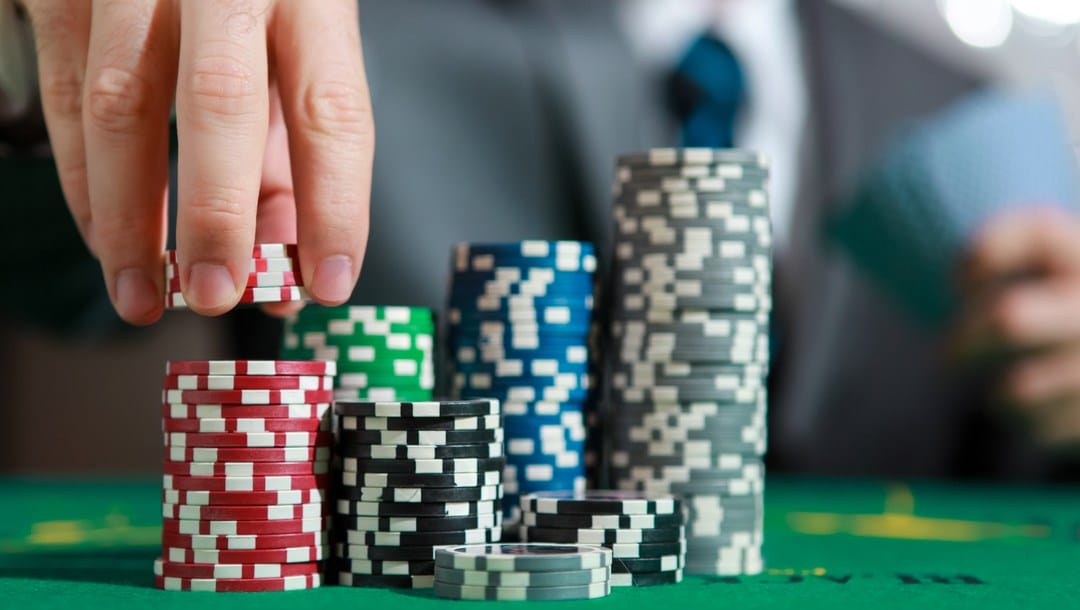 One of the exciting features of Live Infinite Blackjack is the wider variety of bets. Bets include Insurance, Double Down, Hit, Split and Stand. 
Wide betting range
Bets on Infinite Blackjack work for any budget and betting limit, although it's important to remember to play with a set bankroll and not wager money that you can't afford to lose. Having said that, you can bet anything from $1 to as much as $5,000 in this game. 
Chatting it up with your dealer
Evolution has equipped its live dealer blackjack game with a live chat option. This means you can chat to your dealer and discuss the game and strategy. You can also view statistics from recent games to inform your next move. 
No waiting for tables
There's always room for you at this blackjack table. All players get the same two starting cards and the number of players is unlimited. 
Fairness and authenticity
Live blackjack is not a pre-programmed game. As you play, you'll see real professional croupiers deal your cards. This adds to the title's authentic blackjack feel. If you're feeling grateful or generous, you can even leave your dealer a tip. Human hands also mean playing conditions are fair. 
Evolution and Live Infinite Blackjack are recognized by several regulatory bodies, such as the UK Gambling Commission and the Maltese Gaming Authority. This means you can trust it's a safe and secure gaming environment created by the top casino game provider.
HD video features and CGI
Games are streamed in full HD, so you get the full virtual casino experience, delivered straight to your screen. Interactive CG imagery gives players information on their stake amounts, username and total card values. 
Join a blackjack table at BetMGM for a streamlined gaming experience
Live Infinite Blackjack has all the things you love about good old blackjack, without any tricks or new rules to cheat you out of your winnings. In fact, the game has an incredible RTP (return to player) of 99.47%, which you won't easily find in any other casino table game or online slot. Sure, Evolution wasn't the first to create this type of game. But you can't deny that it's taken it to a whole new level with excellent quality, graphics and features. 
Would you like to play against the house? BetMGM's live dealer online casino offers a wide assortment of blackjack tables as well as other games. Trade up regular blackjack with Blackjack Stud Poker Pro, Blackjack Fortune Spinner Pro or even Evolution's Infinite Live Dealer Blackjack. Register to join BetMGM to visit our many blackjack tables and explore the other games you can play at our online casino!