Almost 50 years ago, Benny Binion established the Poker Hall of Fame at his Horseshoe Casino in Nevada, where the "grand old man of poker," Johnny Moss, was welcomed as the institution's very first initiate. Moss has since been joined by 60 other poker professionals including Binion, but has the singular honor of being the oldest World Series of Poker (WSOP) bracelet winner – quite an achievement considering how far the game has come since the days of the Wild, Wild West. 
Poker has advanced substantially in the decades that have followed Moss's days at the table; these days, of course, you can feel the thrill of the five-card flush and play poker online via BetMGM's web pages or mobile platform, whenever it suits you. You could even join the hallowed ranks of some of the best and luckiest poker tournament players across America – in fact, let's take a look at a handful of those plucky pros and uncover their poker success stories.
As luck would have it
Perhaps the luckiest poker player is Asher Conniff, who mistakenly entered a high-stakes poker tournament at the Borgata Hotel Casino & Spa in Atlantic City in 2015 and walked away with almost $1 million in his back pocket. Coming off the back of a $203,000 win at the Spring Poker Open, Conniff initially wanted to enter an online poker tournament but clicked the wrong button and found himself entered into a $1,600 qualifying tournament. It was the precursor to a $15,000 live poker game scheduled for the following day. 
Conniff tried as hard as he could to get out of it – he did have a family vacation to attend – but there was nothing for it and Conniff became part of a 239-person live tournament, held at the same venue. Surrounded by pro "pokeristas," Conniff put on his best poker face for five hours, finished victorious and claimed the $973,000 prize.
Jamie's berry nice brain food
During the 2006 WSOP Main Event, Jamie Gold ate blueberries by the dozen and claimed that this "brain food" was the reason he won that game. However, a more likely reason, and one he is perhaps best known for, was his ability to get his opponents to fold regardless of what he had in his hand at the time. 
According to Bluff magazine, Gold's tactics saw his opponents put their entire stake into the game, and then either "calling his bets when he had an unbeatable hand or folding to him when he was weak." He would often "let his opponents know" whether his hand was strong or weak, mix fact with fiction and successfully pull the wool over their eyes. 
The man, the myth that is Action Dan
Dan Harrington proved that there was more to a poker player than being able to play the odds. Known as "Action Dan," Harrington had a successful career in law and finance, and was also known for his mastery of backgammon and chess, which he also played competitively. 
Harrington's nickname is the result of his aggressive style of play. In counterpoint to that, during his winning 1995 WSOP game held at Binion's Horseshoe Casino, he advised that everyone should split the prize money, invest it wisely and live happily ever after. Luckily for Harrington, his fellow players disagreed, preferring to take their chances and play for the million-dollar pot, which Harrington eventually won. He went on to enjoy a 35-year "career" in poker and was inducted into the Poker Hall of Fame in 2010. 
The godfather of poker
Back in the day, the richest of poker games were run by members of organized crime and were often illegal. However, that didn't stop Doyle Brunson from perfecting his poker face and his game. Once he and his buddy, Dwayne Hamilton, had worked their way through Fort Worth, they hit the poker scene in Texas, Oklahoma and Louisiana, eventually teaming up with Amarillo Slim and Sailor Roberts. 
Another Hall of Fame inductee, Brunson was a professional poker player for 50 years, retiring in 2018 after entering the $10,000 2-7 Single Draw WSOP. After making it to the final table, he finished sixth place and took home $43,963. 
Real-life winnings in a digital world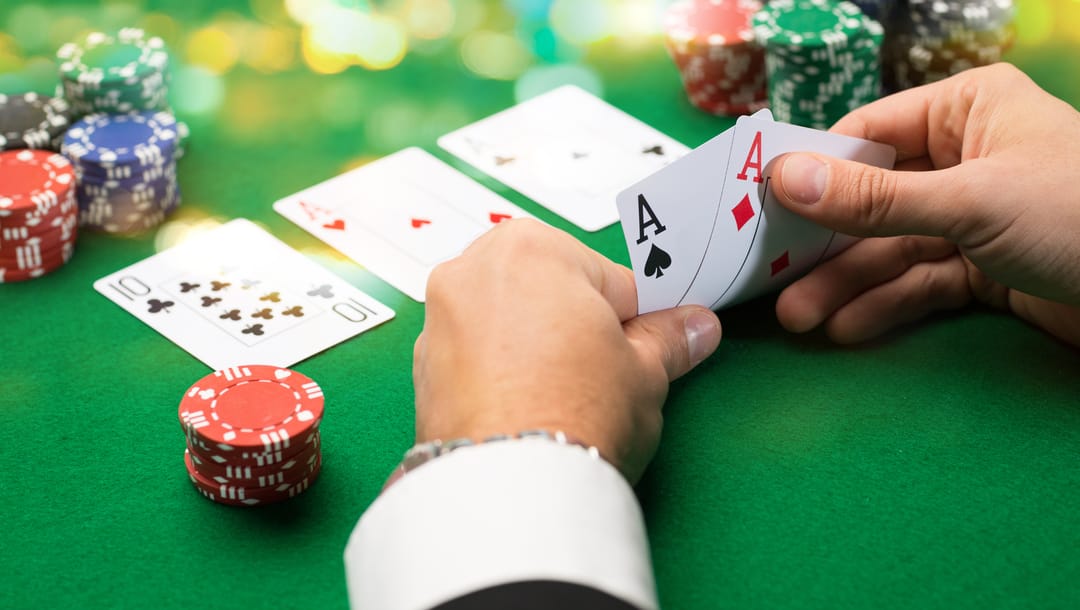 Playing poker online takes skills that are very different to those required when playing at the felt in person. One is being able to play several tables at once, which requires some practice. You also need to be able to judge your opponents and their hands, without really being in the same room as they are – no mean feat indeed. However, playing live poker online can be great fun, and the proverbial ante is upped every year. 
There are several international rising stars, with Sweden's Viktor Blom leading the charge. Only 31, Blom started playing at the age of 15 and amassed $275,000, which he also lost. He's rebuilt his stake over the years and by 2009 had participated in 10 of the world's biggest online poker pots against some of the best players ever – one of the true online poker success stories. 
With three final table appearances at the World Poker Tour (WPT), one WPT title under his belt and more than $12 million in live tournament winnings, Patrik Antonius is a well-known face in online and televised poker games. Hailing from Finland, Antonius is reported to have won more than $11 million online, played in games featuring some of the biggest payouts in history and at one time was a sponsored online pro. 
Another big name in online poker tournaments is Orson "Borchata" Young, who just last year took top honors at the WPT Online Borgata Poker Open. He closed out the opposition, took just under $200,000 home and had the honor of seeing his name on the Mike Sexton WPT Champions Cup. The 10-day tournament was played across three sites in New Jersey, Borgata Poker, BetMGM Poker and Partypoker, and guaranteed a payout of $1 million.
Try out your virtual poker face at BetMGM
While you may not have the money to finance yourself for big online poker tournaments or table games, you can become your own poker success story when you register with BetMGM and play some Texas Holdem poker, Five-Card Draw, Stud Poker or even the poker slot machines.
That's right! At BetMGM, you can play online poker from anywhere, anytime – and the best thing about it is you can take things at your own pace.