Before the world's first online casino was launched in 1996, anyone who wanted to indulge in casino games had to get dressed up and make their way to their nearest brick-and-mortar casino. 
Technology determines a lot about how we live our lives and how we interact with others – and it's why we're now able to enjoy our favorite casino dice games, online slots and casino table games at home or on the go! Thanks to many technological advancements, today, access to online casino games is right at your fingertips. 
There's no doubt that new technology within the gaming and streaming realms has changed how people around the globe experience the gambling industry. Read on to find out more about the various innovations responsible for transforming the ever-popular gambling pastime, including a closer look at mobile gambling, in particular.
The Evolution of the Gambling Industry
The gambling industry has always had to embrace technological developments to remain relevant and accessible to its clients. Everybody is online these days and so, naturally, the gambling industry has had to adapt. New technologies allow us to experience casinos in ways that get us as close to the experience of being in a land-based casino without actually having to be there. Virtual reality (VR) casinos, live casinos and augmented reality all play a part in creating an immersive, fun and safe environment for players to get lost in.
Today, remote gambling is available on your phone or any mobile device you carry around with you (just ensure that your smartphone or tablet is well-equipped to support online slots and live dealer casino games.) This means that you can gamble wherever and whenever you want. If you want to have a quick game of online poker or blackjack during your commute to work, just open your casino games app of choice and get started.
Technology is constantly changing – and so is the online gambling industry. We've come a long way already, with plenty of even bigger and better casino technology upgrades coming our way in the near future. In short, there's a lot to be – and get – excited about! Here's what you need to know about the tech that's shaping the latest casino industry trends.
Mobile Gaming
When the first online casinos opened to the public, the only way to play the casino games of your choice was to do so on a desktop computer. But since the introduction of the smartphone and other handheld devices, all of that has changed. 
According to a recent study, almost half of all Americans believe they couldn't "survive" a day without their mobile phone. In fact, most Americans are said to check their smartphones just short of 100 times a day! With these jaw-dropping statistics in mind, it's unsurprising to discover that, nowadays, the focus among respected gaming developers is more on mobile gaming than ever before, with most existing online slots titles and live casino table games being adapted to ensure streamlined gameplay on any and every device. Newer game releases automatically come with a mobile equivalent and some releases are, in fact, exclusive to mobile gamblers. 
Luckily, technology has made mobile gambling fun and effortless. In most cases, you simply have to download a casino app, granting you access to hundreds of titles and many different types of casino games. As long as you have the right hardware working in your favor, you'll enjoy a gambling experience of the same caliber as if you were playing on a larger screen. 
Virtual Reality
For the last 20 years, VR technology has slowly been working its way into the mainstream of online gambling and gaming. Today, this technology is much more advanced and is capable of creating entire worlds in which players can be truly and fully immersed. VR casinos are already available online and many digital gambling platforms make use of this unique technology. With the right equipment, you could sit down on your couch, put your headset on and instantly be transported to a seat at a poker table with other players around you. You can share the experience with other players at the table, chat and try to read their "tells" – which obviously isn't possible when playing conventional online casino games. Plus, you're not limited to just one game. You might get tired of being at the poker table, get up, take a walk around the casino and look for a slot machine that catches your eye.
The possibilities are virtually endless with VR. With headsets that can be produced and sold at a reasonable price, you could visit some of the most popular and populated casinos online with all your friends whenever you want to, all from the comfort of your own home.
Augmented Reality
Augmented reality (AR) has been creeping up behind virtual reality over the last decade or so. AR's big break finally came when it made it big in the mainstream with a mobile game called Pokémon GO. AR has become one of the biggest new technologies that casinos now use to create fresh ways of experiencing casino games. It has changed how players experience games by evoking real emotions through player-to-player interaction.
AR visually alters the real world to provide additional information by displaying a captured image through an overlay. It's a fancy way of saying that AR adds to what your camera shows you in the real world by adding images and interactivity to whatever is in front of you. 
One of the best examples of a casino game that AR can transform is bingo, just one of the online casino games that have been influenced by technology. AR bingo can be played on any device with a camera, which everyone has in their phones. The portability of smart devices means that you can play AR bingo wherever you are at any time. The AR display in your mobile casino app can guide you to other players in the real world who are located around you and are hosting or looking for a game of bingo. The app could then project a bingo card onto any surface you point your camera at. Add in software that draws numbers and you've got yourself a mobile AR bingo game that you can carry around in your pocket.
Artificial Intelligence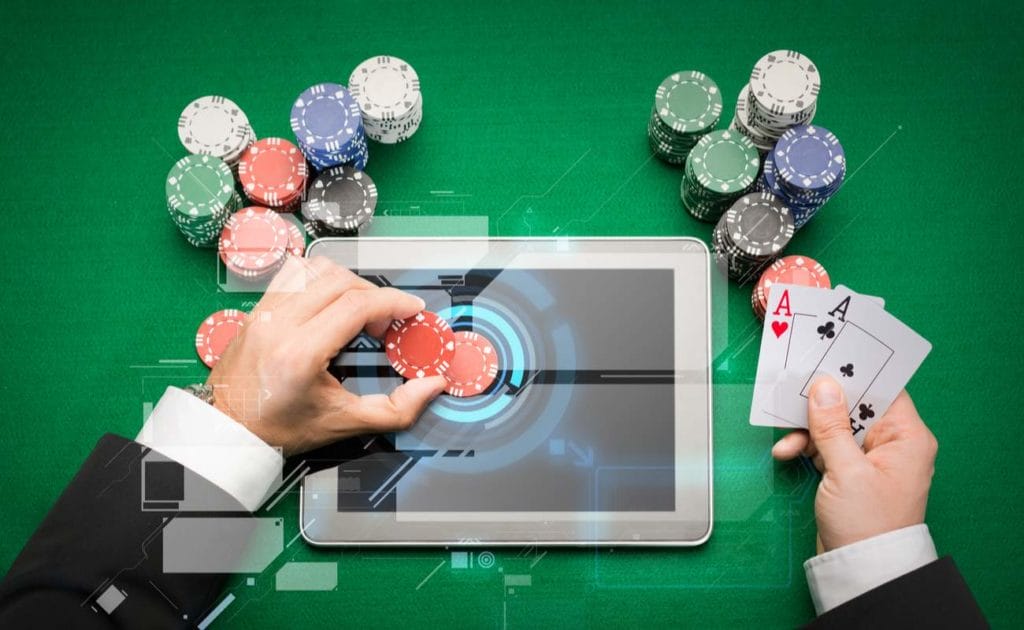 These days, Artificial Intelligence (AI) is one of the first things people tend to think of when speaking about developments in technology. AI is becoming increasingly mainstream and more common in our daily lives. Sophisticated AI software is being implemented in the online gambling industry in several ways, including your experience and interaction with casino games online.
Some casinos use AI to streamline your experience while using their site. They analyze your activity, tailor your experience and suggest games that align with your tastes. An AI can analyze the types of games you play, how long you play them and what kinds of bets you typically make. Based on that information, it can suggest new casino games you might enjoy.
Live dealer casino games are becoming incredibly popular online, with the AI dealer not far behind. The levels of immersion are greatly increased when your online dealer knows your name, remembers the last time you played and the topics of the conversations you had. AI is a learning machine that constantly develops and trains itself while interacting with you.
Cloud Gaming Technology
Cloud computing is another one of the hugely influential technologies that has had an impact on the gambling industry. Cloud gaming technology allows users to access their favorite games, ratings, reviews, casino offers, content and more anywhere using different devices. It also means that they no longer have to invest in huge storage devices and technology to save games and progress.
So, online casino games no longer have to be downloaded and can be accessed wherever there's an internet connection. This technology has enabled access to games regardless of location, device and storage abilities, which has completely transformed the online casino experience.
BetMGM is Always Keeping Up With the Times
Technology is always changing, which means the world around us has to change along with it. As new technologies are introduced, they will affect our lives and how we interact with others. Online casinos, like BetMGM, will continue to innovate and work with new technologies to create better and more immersive experiences for their players. It also means casino games will change and become more engaging.
Just think, in a few years, we may even see VR and AR as archaic technologies that can't hold a candle to the new and exciting ways we have come to interact with games and each other! You can bet that BetMGM will be working hard to find ways to put that new technology to use and create the most entertaining environment possible for you to play in. 
If you are excited about the future of casinos and technology, why not get online and try out some of our new casino games at BetMGM? Play slots online, learn how to play poker in a casino online and even take part in live games. It's true that our ever-growing menu of live dealer casino games, casino table games like online roulette and online slots is one of the most extensive in the US. Feel free to register when you're ready to dive in!