Roulette is one of the oldest casino table games in existence, yet its popularity is undiminished. The reasons aren't hard to find, given how easy it is to learn how to play online roulette.
There's also a broad range of betting options with varying degrees of risk. This makes for a satisfying game with a low barrier to entry. Some say that roulette is the casino game with the best odds (provided you stick to certain outside bets). 
Sometimes, though, you may be in the mood for a different formula. Fortunately, roulette casino games lend themselves to innovation, especially in the online casino space. 
Concepts such as multipliers and bonus rounds can add an extra layer of suspense while changing the number of pockets in the roulette wheel can make a big difference to the odds. Applying these ideas produces entertaining variations that are surely worth a whirl. Let's take a look at how to play some of the most popular roulette game spin-offs.
Luck o' the Roulette
Many RNG roulette online casino games try to simulate the sophisticated environment of a classic land-based casino, complete with hyper-realistic graphics and authentic background noises. Luck o' the Roulette isn't like that at all. 
This sprightly Irish-themed RNG roulette spin-off is much more like something you'd expect to encounter while playing slots online. The roulette wheel is set against a lovely Irish landscape on a cool, misty day, with a leprechaun chuckling outside the front door of his burrow on the left. 
If you look at the betting layout below the wheel itself, you'll notice that there's an extra betting space and it's marked with a pot of gold. Examine the wheel itself and you'll notice an extra pocket for the ball to land in, also with a pot of gold. You'll also see a number of multipliers around the edge of the wheel, ranging from 15x to 60x as well as a 100x multiplier in the shape of a pot of gold.
All these extras are designed to provide you with more chances to win than you can expect from a traditional roulette casino game. In addition to the standard roulette bets, you can bet on the pot of gold. If the ball lands on the pot of gold bonus pocket, it triggers a bonus feature. That's where the multipliers come in. A randomly chosen multiplier is applied to your bet for a maximum payout of 100x your stake! Luck o' the Roulette is definitely a fun twist on this classic casino table game.
101 Roulette
Roulette odds are a function of how many pockets the roulette wheel has for the ball to land in. European and French roulette have 37 pockets (1–36 and 0), while American roulette has 38 (with an extra 00 pocket). In both cases, the maximum payout for a straight-up win is 35:1. Considering the extremely low odds of winning a straight-up bet, that may not seem particularly generous. 
One way to increase the range of roulette payouts is to increase the number of pockets on the wheel. That's the approach the developers of 101 Roulette adopted. This roulette wheel comes with 105 pockets: numbers 0 to 100 as well as heart, diamond, spade and club. Place your chip on your number, color or suit of choice for chances to win up to 100x your stake. For added options, the game's "lucky number" and "quick bet" features will automatically place chips around the number you select.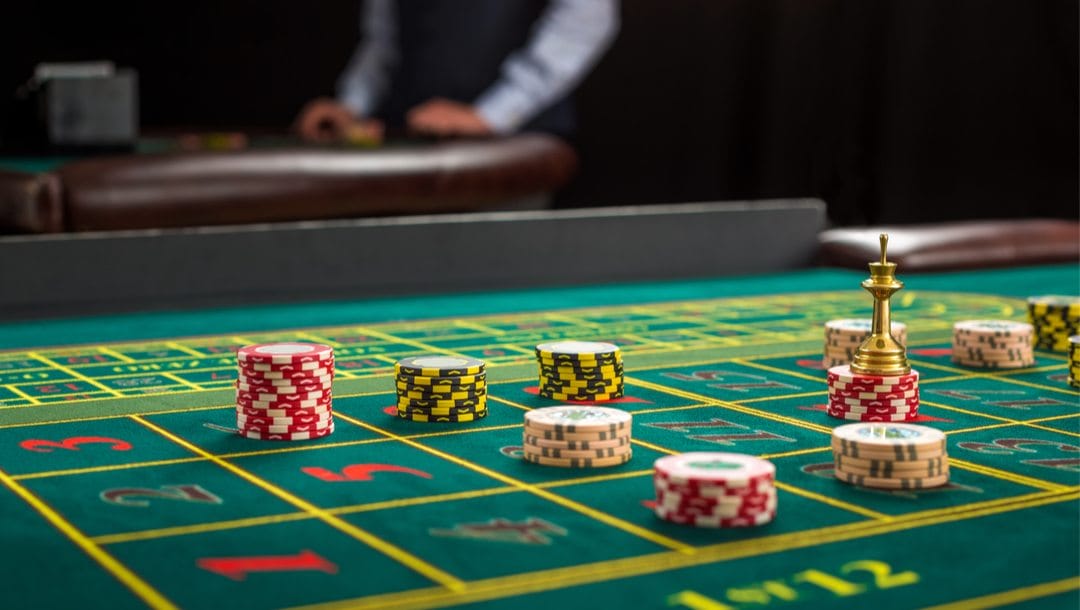 Double Ball Roulette
The phenomenon of live dealer games has done a lot to shake up the online live roulette scene in recent years. Live roulette takes you to a gaming table in a casino studio, where a living, breathing dealer spins a real roulette wheel. Instead of a random number generator, it's chance that determines which pocket the ball drops into. 
Most of the live casino variants of roulette you'll encounter are the traditional French, European and American variants, but there's also a roulette game spin-off that pushes the entertainment envelope a little further. Also found in land-based casinos, Double Ball Roulette does exactly what it says on the box. The dealer uses a special device to shoot not one but two roulette balls onto the spinning wheel. Naturally, this makes for a much broader range of betting options for double the roulette fun!
Lightning Roulette
Every once in a while, a game comes along that sends a shockwave through the gaming community. Multiple award-winning Lightning Roulette is one such game. It plays out in a visually stunning game show environment with a professional live host to keep you entertained while the wheel spins. 
Standard roulette bets apply, but with a twist. Every round, one to five randomly generated numbers are struck by lightning! (It's incredible how realistic it looks, too.) Straight-up bets on those lucky numbers are awarded payouts multiplied by between 50x and 500x your stake. It all adds up to a truly electrifying experience. No wonder Lightning Roulette has received several awards for the best casino game of the year.
Rapid or video roulette
Rapid or video roulette is a kind of hybrid game that combines real live table roulette with the online experience through a video feed similar to the double ball mentioned earlier. This variant relies on the low house edge high player volume model used by the slot machine industry. 
What makes this so much more engaging is that payouts are instant, allowing you to keep play going quicker and for longer periods of time without waiting on other bettors as you would in a traditional table setup, hence the name rapid roulette. 
Mini roulette
This is just a simplified and smaller version of the usual game where all the usual game rules apply. The wheel is reduced to only 13 numbers (as opposed to 36 or 38 number wheels in European and American roulette, respectively). This means higher odds of winning, and even better is the fact that landing on zero only halves your winnings if your bet didn't cover zero. 
Multi-wheel roulette
As the name suggests, multi-wheel roulette allows you to bet on eight wheels at the same time. This, of course, increases your odds of winning significantly. One rule to remember is that you don't place a different bet per table but rather place a single bet on all the active wheels. 
Of course, the number of active wheels increases the cost of the bet, so you do have the option to choose how many wheels you want to spin per round. As you may imagine, multi-wheel roulette is an online innovation and is unlikely to be found in land-based casinos. 
Put a new spin on casino gaming at BetMGM
So how does roulette work? Find out roulette rules and brush up on your roulette terminology when you register with BetMGM. Watch the best variations and spin-offs of roulette, blackjack, poker and baccarat come to life on your mobile or desktop device. Alternatively, enjoy virtual and live dealer games on your couch or on the go; it's up to you. Take in our world-class range of jackpot slots while you're at it. One thing's for sure: You've never played casino games like this before!