Many of us dream of reaching the heights of the poker greats. As we dip our toes in the river of online poker tournaments and other casino games in a desperate attempt to swim among them, it can be difficult to stay motivated. It's in these moments that we look to the influencers we follow on platforms such as Twitch and Twitter for inspiration. 
Here are 10 of the top US poker influencers you should be following to keep you on the path to poker stardom.
1. Daniel Negreanu (204k Followers)
Daniel Negreanu, aka 'Kid Poker' tops the list. He's a rockstar in the world of professional poker and is widely recognized as one of the best players out there. Born on July 26, 1974, in Toronto, Canada (now living in Vegas,) this guy has achieved some incredible feats in his poker career. 
He's won multiple World Series of Poker bracelets and has dominated high-stakes tournaments with total live earnings of $50,728,306 – which places him 3rd on the all-time-earnings list. 
But it's not just his skills that make him stand out; it's his personality. Daniel's got magnetic charm, great communication skills and an uncanny ability to read people's tells at the poker table. 
He's adored by fans and players alike, and his philanthropy and love for the game make him even more admirable. Daniel Negreanu is a true poker legend and a force to be reckoned with!
2. Phil Ivey (186k Followers)
Phil Ivey is a modern poker legend. Born on February 1, 1976, in Riverside, California, Ivey is considered to have a unique aura about him, always mysterious yet composed. He has a collection of World Series of Poker bracelets that would be the envy of any poker player and total live earnings of $38,281,867 – which places him at 11th place in the all-time-earnings list. 
Known for his razor-sharp instincts and remarkable poker skills, he's conquered both in-person and online poker scenes. His strategic genius and unmatched talent have cemented his status as one of the true legends of the game.
3. Samantha Abernathy (180k Followers)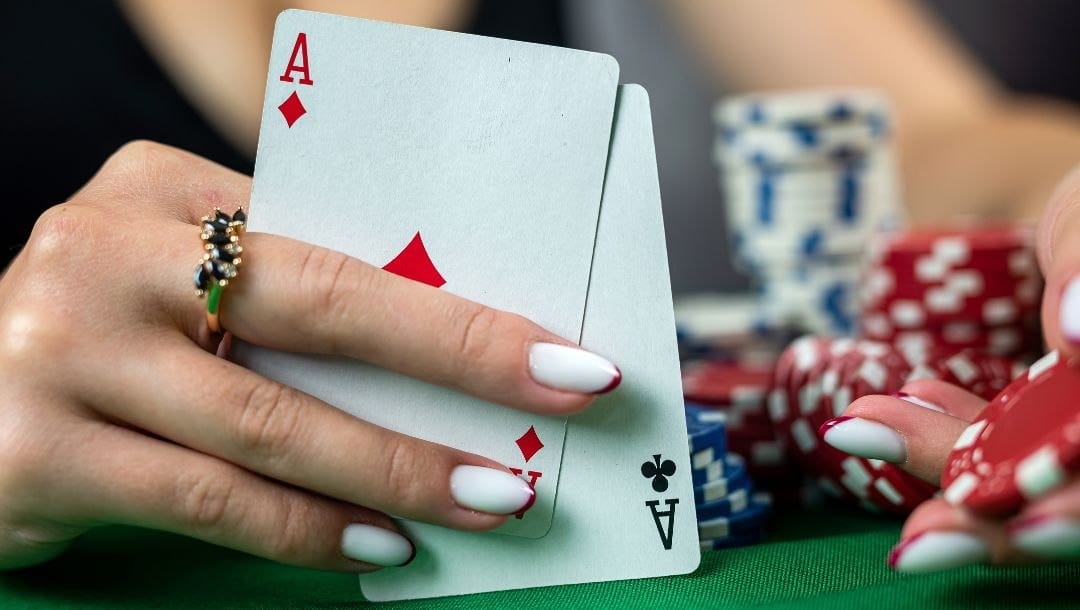 Samantha Abernathy is a rising star in the world of poker with a massive online following. Born on July 11, 1986, Abernathy is an American professional poker player known for her competitive spirit and vibrant personality. 
She may not be at the top of the earnings list ($598,379) yet but her captivating presence, strategic prowess and fearless approach to the game have earned her notable finishes and respect from her peers at the tables. She hit the radar when she came 3rd at the 2016 Aussie Millions Poker Championship, Melbourne and brought home $ 437,543. 
Abernathy is an advocate for women in poker and a philanthropist, using her platform to make a positive impact. 
4. Phil Hellmuth Jr (179k Followers)
Born on July 16, 1964, in Madison, Wisconsin, Phil Hellmuth Jr. has made a significant mark in the poker world. Known for his brash and competitive nature, he holds the record for the most World Series of Poker bracelets won. With a whopping $28,768,794 in total live earnings, you'll find Hellmuth at 22nd on the all-time-money list. 
With his extravagant entrances and infamous 'Poker Brat' persona, Hellmuth has become an iconic figure in the game. His skills and ability to read opponents have earned him respect, while his animated table antics have entertained fans worldwide. 
5. Antonio Esfandiari (172k Followers)
Antonio Esfandiari, aka 'The Magician' was born on December 8, 1978, in Tehran, Iran, but is now a US citizen living in Vegas. He's not only a poker pro but also a former professional magician. 
Antonio's charm and skills at the poker table have made him a household name in the poker world. In 2004, he made history by winning a jaw-dropping $1.4 million at the World Poker Tour (WPT.) Since then, he's continued to dominate the game, racking up multiple tournament wins and three World Series of Poker bracelets. A total of $27,810,802 in live earnings places him 23rd on the all-time-winning list. 
But he's not just about winning big – he's also involved in charitable poker events, using his fame to make a positive impact. 
6. Erik Seidel (138k Followers)
Erik Seidel, Born on November 6, 1959, in the heart of New York City, has become one of the most revered and successful players in the game.
His poker journey started way back in the late 80s, and he quickly made a name for himself with his exceptional skills. With his calm and cool demeanor, Seidel has consistently proven his expertise and knack for making the right moves in high-pressure situations.
Seidel has won an impressive eight World Series of Poker bracelets, including a coveted Main Event victory. He's also taken down several titles on the World Poker Tour and has earned $42,939,400 in prize money along the way. He currently sits 6th on the all-time-earnings list. 
Seidel is also highly respected for his sportsmanship and fair play and is particularly known for mentoring and sharing his wisdom with aspiring poker pros. His impact on the poker world is immense. His stellar results, cool-headedness and genuine character have solidified his status as a true icon in the game.
7. Doyle Brunson (132k Followers)
Doyle Brunson is another true icon in the world of poker. Born on August 10, 1933, in Texas, Brunson has made an immeasurable impact on the game and is considered one of the greatest players of all time.
You may have heard him referred to as 'Texas Dolly,' and for good reason. He's won an incredible ten World Series of Poker bracelets, including two consecutive Main Event victories in 1976 and 1977, with total live earnings of $6,176,737. His official ranking is 241 on the all-time list but he's probably top when you convert his winnings to today's value. 
His contributions don't stop there. Brunson penned the famous book Super/System, which has become a bit of a poker bible for enthusiasts. It's filled with wisdom and strategies that have stood the test of time.
Beyond his achievements, Brunson is known for his calm and composed demeanor at the table. His ability to read opponents and adapt to different situations has earned him respect from his fellow players.
Doyle Brunson's impact on the poker world is undeniable. He's a trailblazer who helped popularize Texas Hold'em and has inspired countless players. 
8. Daniel Colman (130k Followers)
Daniel Colman is another rising star in the world of poker. At just 32, Colman was born on July 11, 1990, in Massachusetts and has made quite an impression with his exceptional skills and noteworthy achievements.
He first burst onto the scene with a bang, winning a staggering $15.3 million in the 2014 World Series of Poker Big One for One Drop event. This victory instantly propelled him to the forefront of the poker world and solidified his status as a top player. To date, he has accumulated $28,925,058 in live earnings and is 21st on the all-time-money list.  
Known for his analytical mindset and focused approach, Colman has continued to shine in both live and online tournaments. His introspective nature and insightful perspective on the game have also garnered attention. He's admired for his unwavering commitment to improving as a player and his passion for the game. As he continues to evolve and compete at the highest level, the poker community and his followers eagerly await his future endeavors.
9. Justin Bonomo (129k Followers)
Justin Bonomo is the winningest poker player of all time and is possibly the best poker player alive today. Born on September 30, 1985, in Virginia, Bonomo has emerged as one of the most accomplished and respected players in the game.
His journey in poker started early, and he quickly proved his mettle with his exceptional skills and unwavering determination. Renowned for his strategic prowess and ability to make calculated moves, Bonomo hit the pinnacle moment of his career in 2018. 
He triumphed in the prestigious World Series of Poker Big One for One Drop event, claiming an astonishing $10 million prize. This monumental win solidified his position among the elite players in the poker world. He's the number one live earner at $61,210,452 and the number one all-time-money earner. 
Moreover, Bonomo's philanthropic endeavors and commitment to giving back are truly commendable. He actively supports charitable causes, utilizing his platform to make a positive impact on society.
10. Tom Dwan (126k Followers)
Tom Dwan gained prominence during the mid-2000s poker boom when he made a name for himself as an online poker phenom. Known by his alias 'durrrr,' he played fearless poker online and became renowned for his aggressive and unpredictable style.
Considered by many a prodigy, Dwan was born on July 30, 1986, in Edison, New Jersey, and took the best online poker sites by storm. The young player's fearless nature carried over into live tournaments as well where he participated in high-stakes cash games and elite tournaments, capturing the attention of the poker community with his audacious bluffs and unconventional plays. 
While Dwan has achieved considerable success ($6,450,104 in live earnings and 219th in the all-time-money list,) including multiple World Series of Poker cashes and a victory in the 2010 Aussie Millions Main Event, he's also experienced notable ups and downs in his career, which is why he's one of the most followed players in US poker. 
Join the Poker Train with BetMGM
Register with BetMGM and begin your online casino journey to poker fame. Among the many online casino games available, playing live dealer online casino poker tournaments is a sure way to hone your skills and show off your skills to your own online follower base. Whatever your game, BetMGM has it in spades.