Imagine a croupier or dealer who never got tired, never made a mistake, was always pleasant with customers, could explain how to play a casino card game or dice game to newbies and could detect cheating? While it may be impossible to expect this of a human being, a robot croupier or dealer could do all these things and more without ever needing a break, getting sick or needing a raise. 
This idea is driving the development of robotic croupiers in the casino industry and has seen the launch of prototypes like Min, a prototype robot croupier from Hong Kong technology company Paradise Entertainment. Unveiled in December 2015, Min was capable of dealing cards but little else. This prototype later made its way into some casinos in Macau and the US.
Paradise Entertainment may claim to have produced the first 'human-like' robotic dealer, but there are some doubts about whether specific markets were ready for Min. While some people may prefer to be left alone to play a game quietly, others may want to chat with the dealer while they play, which is something Min was sadly unable to do.
As we all know, technology does not stand still and in 2017, another robotic croupier was revealed at an entrepreneurial event called Slush. This croupier was adapted from the open-source InMoov robot by the Spice Program at Futurice. 
The robot interacted with a digital blackjack table and delivered a smooth experience, according to Minja Axelsson, a co-creator of the project. This robot was sadly still unable to communicate with players, except through pre-recorded voice lines at specific points in the game. The developers who worked on this InMoov prototype understood that the robot was limited but recognized that this was just the first step towards developing a more social robot.
Another advanced robot croupier was announced in November 2019 by LT Game, a subsidiary of Paradise Gaming. This robot was announced at the Macau Gaming Show and features AI (Artificial Intelligence,) a high-definition screen and atmospheric music. While the robot can undoubtedly do the job of dealing cards (and maybe even play some catchy tunes) there was no indication in reports that this robot had the social skills that the earlier robotic croupiers lacked.
Even if the technology isn't quite there yet, there's no doubt that robots are growing more and more advanced. For the highly competitive casino industry, robotic croupiers could be a solution to the growing financial challenges they face.
Other robots in the casino industry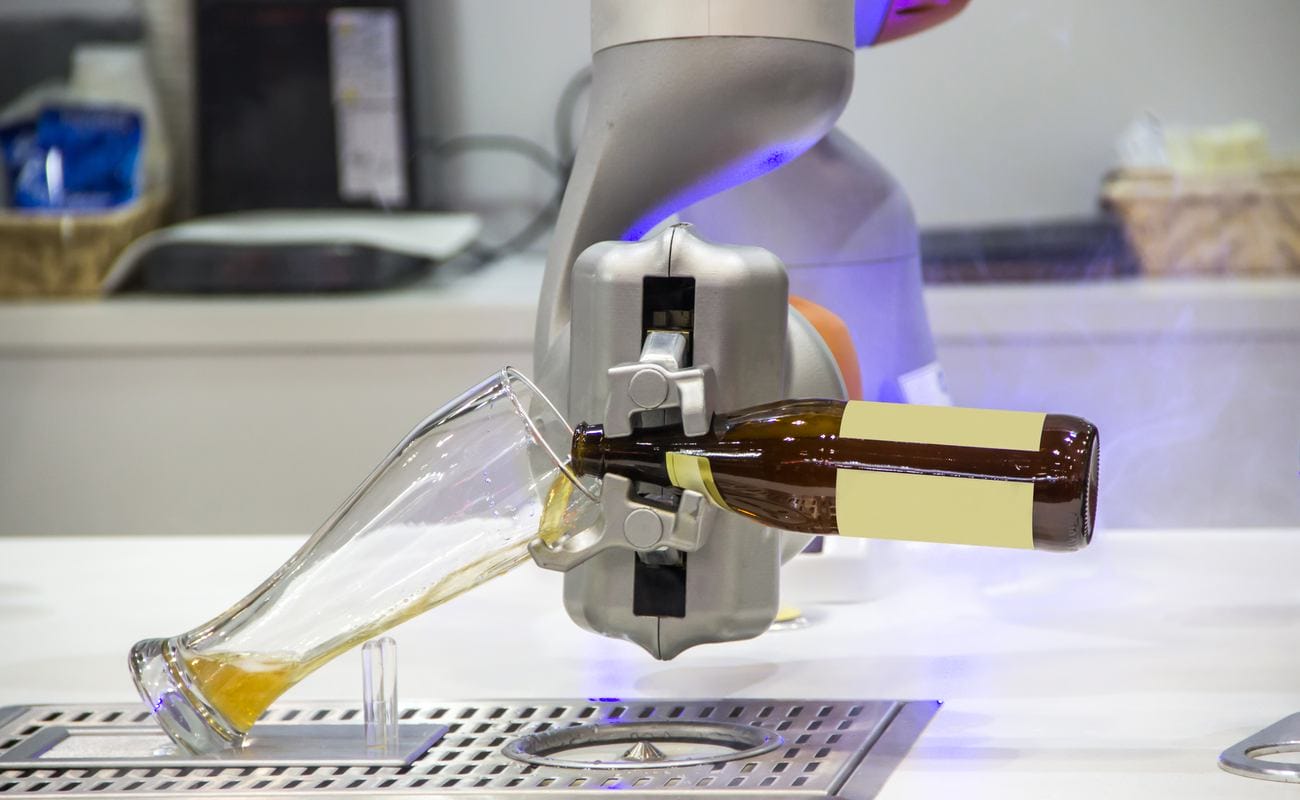 Even if a robot croupier is years away from matching the experience a human croupier offers, it's important to highlight that there are already robots working in casinos today. And it's not just robotic technology infiltrating casinos across the globe. Technology on the casino floor has certainly evolved in leaps and bounds, particularly over the past two decades. Here are a few ways robots and other technologies are currently operating in casinos:
Faster bartending
Casinos worldwide are turning to robots to help eliminate the bottlenecks for one of their most important services: The bar. Whether it's servers who need drinks for clients on the casino floor or patrons getting impatient at the actual bar, peak periods usually cause delays. Thankfully, technology has stepped in to help fill the gap with robotic arms that can pour you the perfect drink.
Delivery
Need something from the hotel's café or restaurant but don't have time to go down and get it yourself? Place your order on a tablet in your room and go about your business while the staff prep your items for delivery by robotic assistants, who'll arrive at your door and give you a ring to let you know your order has arrived. 'Jett' and 'Fetch' are two examples of this system at work; even though they operate only out of the MGM-owned Vdara Hotel & Spa, it shouldn't be long before similar services make their way directly onto the casino floor.
Security
Casinos are already known for their tight security, but one establishment has an additional layer of robotic assistance to ensure that casino patrons are safe and secure at all times. These robots are designed to capture video, be on the lookout for suspicious behavior and flag any unattended items. They're also equipped with sensors that scan for heat in case of a fire or another potentially dangerous heat source. 
Radio Frequency Identification technology
This tech makes it possible for a casino to keep track of its chips. The benefit of this is twofold. Firstly, the casino is always aware of its chips' location and can deactivate them if someone tries to move them from the premises. Secondly, casinos can track data associated with how the chips are used. That is, how often players are betting, how much they're betting and in which games. Data tracking provides insights into gambler behavior, which could heavily influence future decisions regarding casino games and a casino's operations.
Facial recognition
Facial recognition scanners allow casinos to stay one step ahead of organized casino crime and cheating. These useful scanners can identify known troublemakers within seconds of being seated at a casino table, allowing the security team to step in before they can get up to any mischief. Facial recognition can also be used to identify regular players and VIPs.
Smart camera safety systems
These systems often come with built-in facial recognition. They're also equipped to scan license plates – if placed strategically in the parking lot – and to recognize certain cheating tactics like card switching.
 Why there will always be a place for a human croupier
Ultimately, no matter how advanced a robotic croupier is, it will never be able to greet a gambler with the same bright smile and heartfelt enthusiasm as a great human croupier. Moreover, it will never be able to deliver a multi-layered, humorous conversation in the same way. 
So, while the prospect of a robot-focused solution may sound impressive, there's a good chance that the novelty will quickly wear off. As such, it's unlikely that robotic croupiers will replace human croupiers altogether, even with the incredible advancements that are sure to follow. Instead, it's predicted that most casinos will strike a balance between robotic and human employees – the establishment itself and its gamblers benefiting from the best of both worlds as a result.  
Play casino games with BetMGM
Regardless of the role robots come to play in the casino, at BetMGM we understand that technology should be used to best serve our customers. 
This is why you'll enjoy a wide range of online casino games, including the latest online slots, live dealer casino games and casino table games at our online casino. 
Whether you play casino slot games and table games at our casino online on a computer or through our casino games app, you can rest assured that you'll enjoy the best casino odds and new casino games that the internet has to offer. To find out more about what we have to offer, register with BetMGM today.