Baccarat is one of the many casino card games known for its simplicity. While some people love how easy it is to understand, it may feel repetitive and stale to others. Side bets were introduced to bring a bit more flavor to the card game by adding more details, new rules and even more opportunities to win and have fun without veering away from the original game. 
Like most online casino games, odds in baccarat are an unchanging feature; however, specific rules and ways of playing can influence these numbers in a good or bad way. Before the game starts, players need to bet on either the banker, the player or a tie as the game's outcome. 
The house edge makes it more likely for the casino to win in baccarat. The house edge for every standard baccarat bet for the banker is 1.06%, while the player gets 1.24%. If the game ends with a tie, it's 14.36%.
It's important to note that all the possible wagers in baccarat possess different house edges, payout sizes and odds.
Baccarat Side Bets
Here is a list of some side bets and payouts and how the house edge is applied in baccarat. This will give you the necessary tools to approach advanced baccarat play at the casino or when playing casino games online.
Bellagio Match 
The Bellagio match is perhaps one of the most popular baccarat side bets. Here, the bet is on if the banker or player gets a hand containing a three-of-a-kind (meaning three cards of the same rank.) For a player's three-of-a-kind, the payout is 75:1 with a house edge of 5.27%. A banker's three-of-a-kind features a 68:1 payout at an 8.57% house edge.
All Red and All Black
While no side bet is available for a mixture of red and black cards, baccarat has a bet for All Red or All Black cards. The All Red side bet pays out when a player's hand only consists of red cards (diamonds and hearts.) If successful, an All Red bet pays out 22:1 
The All Black side bet, on the other hand, is on when a player has a hand of only black cards (clubs and spades) and has a payout of 24:1. This side bet is available to gamblers playing live at casino table games as well as online casino games.
Lucky 8, Unlucky 8 and Double 8
The Lucky 8 side bet is your chosen hand of either the player or banker, with a winning total of eight points. This side bet pays out at 4:1, which is a 13.65% house edge on the player, while the banker has a 16.60% house edge. 
The Unlucky 8 side bet means your chosen hand will be the losing one of either the player or banker, with a total of eight points. It pays out 8:1. 
The Double 8 is also based on a total of eight points; however, the bet is that both the player and the banker will end up with eight points. It has a payout of 15:1.
Double-Suited 3-Card 8 and Suited 3-Card 8
Like Lucky, Unlucky and Double 8 side bets, Double-suited 3-card 8 and Suited 3-card 8 side bets are based on a total of eight points. In Double-suited 3-card 8, both the player and the banker have a suited 3-card total of 8; however, the player's suit could be different from the banker's suit. The payout is 200:1. 
For a Suited 3-card side bet, your chosen hand of either the player or banker has a suited 3-card total of 8. This side bet has a payout of 25:1. Both baccarat side bets are available during in-person betting and while playing casino games online.
Combined Value Bets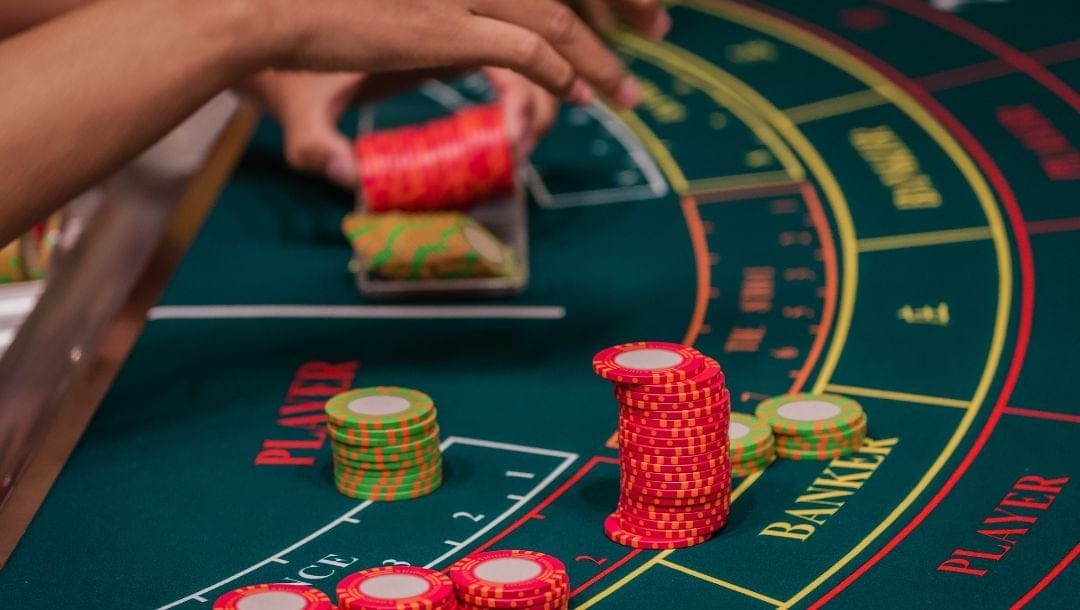 In baccarat, numerous side bets can be made on the combined value of the hands of the player and the banker. One of the more popular bets is on whether the combined value of two hands will be an even or an odd number. If the combined value is an odd number, it usually has a payout of 1.92:1, while an even value has a payout of 1.91:1. 
Another popular bet is whether both hands, when combined, will have a value of more than or below 9.5. If the bet is over 9.5, the payout is usually 1.66:1, while under 9.5 is 2.23:1. 
Quik is also a popular combined bet, where you wager on the combined value of the player and banker. The payout for 0 is 50:1, while 18 is 25:1. Furthermore, 1–3 and 15–17 have a payout of 1:1, while 4–14 is a loss. This side bet has an 8.155% house edge on the board.
Perfect Pair, Either Pair, Banker Pair and Player Pair
Depending on the player who possesses a pair with the same value, these side bets pay differently. Perfect pair, for instance, pays 25:1 or 250:1 if one or both players have a perfect pair. This side bet occurs when the first two cards of a player have similar values and suits. 
The Either Pair side bet pays if the first two cards of the banker or player form a pair. It features a payout of 5:1. 
The Banker or Player Pair bets win on the chance that their first two cards are a pair. The side bet pays 11:1. Gamblers who prefer online baccarat can also make these side bets.
Big and Small / 4-5-6
In this side bet, the big bet wins if the total player and banker cards on the board equal 5 or 6, meaning that at least one participant has a third card. A successful bet on 5 or 6 cards is usually followed with a payout of 2:1. Here, the probability of winning is around 61.1075%, while the house edge is placed at 4.35445%. 
The small bet, on the other hand, wins if neither the player nor the banker is with a third card and the table has only four cards in total. This usually has a payout of 3:2. The probability of winning these side bets is 37.8925%, with 5.2687% for the house edge. Players can access these side bets, whether playing live dealer casino games or gambling online.
A Winning Game Plan at BetMGM
Overall, baccarat remains a simple card game that can be enhanced with new bet types and extra rules. Now that you have a good idea of the kind of baccarat side bets you can play during casino online betting, you're probably ready to get in on the action and try your hand during your next game. 
Want to spice up your live dealer casino games, but you'd prefer to try side bets with blackjack? Or maybe you want advice on making deposits and withdrawing your winnings from online casinos? Learn this and more at BetMGM's handy blog. 
BetMGM has a large spread of online games, including jackpot slots, blackjack and online baccarat, for you to enjoy. Register now to gain access to these and a host of variety games.