While casino fashion has evolved dramatically over the decades, casino dealer attire remains relatively unchanged. The introduction of online casino games and a general relaxation of strict rules around what is acceptable as casino clothes mean that you're now more likely to see someone in a polo shirt and chinos than a tuxedo. The attire of casino floor staff, on the other hand, has remained the same, with a couple of small tweaks here and there.
So, what does a casino dealer's outfit look like these days? What has remained the same, and what has changed in the last few years? Take a look.
The Traditional Casino Dealer Uniform
Casino dealers and croupiers wear a dedicated uniform that is specified by the casino itself. Every casino will have a set standard of what they expect different staff members to wear while they're at work. 
It's straightforward when it comes to casino card dealers and croupiers, and the traditional uniform has remained relatively unchanged over many decades. Dealers in brick-and-mortar casinos are expected to adhere to a black-and-white dress code.
They'll usually wear black shoes, formal black trousers, and a white button-up shirt. Some casinos require dealers to wear a casino vest or waistcoat. It's unlikely that dealers will wear a suit jacket, as this can restrict their movement at the tables and make it difficult to differentiate them from more formal casino-goers. Some casinos may require their dealers to wear ties or bowties, too.
What Do Female Casino Dealers Wear?
The attire for a female casino dealer is similar to that of their male counterparts, but they have a little more scope when it comes to options. They'll also have to wear smart black shoes, a white shirt, and a vest (if it's required.) However, they're also given the option of wearing either smart black pants or a black pencil skirt. In rare cases, you might encounter a female casino dealer in a black cocktail dress.
What Do Online Casino Dealers Wear?
What about dealers at casinos online? Most online casino games are run by specialized technology, and while there's some vague possibility that robots could be croupiers of the future, there are also live dealer online games where the dealers will be expected to adhere to a dress code.
This dealer uniform will be similar to that of a brick-and-mortar establishment. However, there could be more leeway in some cases. Shoes are probably the biggest difference, given that you're unlikely to see the dealer's shoes at the poker table in a live online game. There's also less of an inclination for dealers to be stuck with the black-and-white theme, and it's common to see vests that are either red or blue. 
Personal Appearance
Of course, it's not just clothing that makes up the entire appearance, and dealers will also be expected to adhere to some other rules. 
Tattoos
Dealers with any visible tattoos would have been a big no-no in the past, but this rule has relaxed enormously in recent years. Nowadays, dealers can have visible tattoos if they're subtle and in good taste. 
Jewelry
Dealers are discouraged from wearing any form of flashy jewelry or anything that could be suspected of being able to hide a chip, such as a watch.
Piercings
Piercings are treated much like tattoos. They're generally tolerated as long as dealers wear classy, simple earrings. That said, nose piercings, eyebrow rings, and tongue piercings are generally not allowed. 
Hair
Again, this is differently interpreted by different casinos. Generally, hairstyles need to be neat and tidy and not too "out there." Hairstyles such as mullets or mohawks are not acceptable. 
Why Do Casino Dealers Need To Look Smart?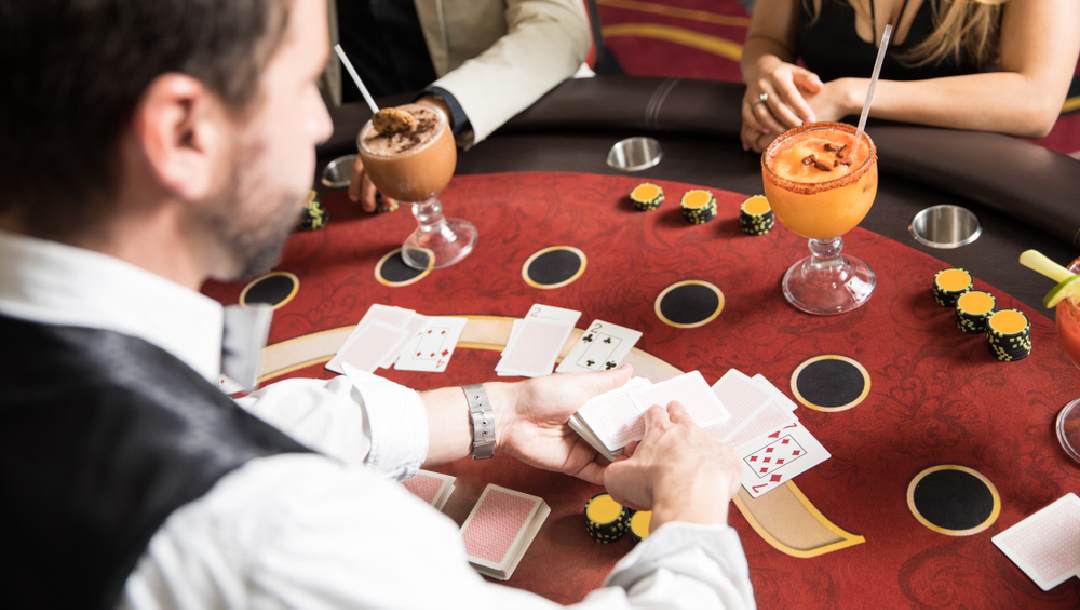 Casinos change dealers regularly throughout the day and night, and one of these reasons is so that they can look their best. Dealers play one of the most important roles in any casino and they don't just need to look good; they need to feel comfortable, too. They're there to ensure that players have a good time, as well as doing their jobs at the tables. Dealers are the main point of player contact with the casino, and they need to look smart because they represent the casino brand. Despite the loosening of patron dress codes, people still expect to have a relatively glamorous experience at the casino, and the way dealers dress goes a long way in achieving this.
Experience Live Dealers and In-Person Dealers With BetMGM
BetMGM is an exceptional casino in both the online and brick-and-mortar industry, and the professional dealers working at both are a proud face of the company. Whether you want to play online games, read interesting information on our blog, such as the AI vs. live dealer games, or you want to head out and play at a poker table near you, you'll get the best experience with BetMGM.
Register with BetMGM and play your favorite casino games.