Of all the casino favorites you should try, two of the most well-known gambling variety games are blackjack and slot machines. Blackjack is a classic table game that's loved by many, but when it comes to dominating both brick-and-mortar and the online casino scene, slot games take the crown. While blackjack is a staple in every casino worldwide, it just can't compete with the excitement and popularity of slot machines.
Blackjack and slot machine games offer very different gaming experiences. Slots are purely based on luck and chance. There is no strategy involved, and the player cannot influence the outcome of the game. Blackjack involves much more skill and strategy, and every hand calls for a decision from the player based on the cards they and the dealer are dealt.
Slots vs. Blackjack: Why Are Slots More Popular Than Blackjack?
While both varieties of games are exciting, there are a few reasons why gamblers flock to slots over blackjack. Here are some differences between playing blackjack, slot machines, and online slots, and you can explore some of the reasons why slots are favored over blackjack.
Easy Gameplay
When you play slot games, you don't have to focus too much, and if you're so inclined, sometimes you don't really have to think at all. You can chat with neighboring players, text your friends, or even post on social media while you're at it. You just put your money in, place your bets, and hit "spin." Online slots even let you set a specified number of spins, so you won't need to waste your energy clicking as often.
Lower Skill Requirements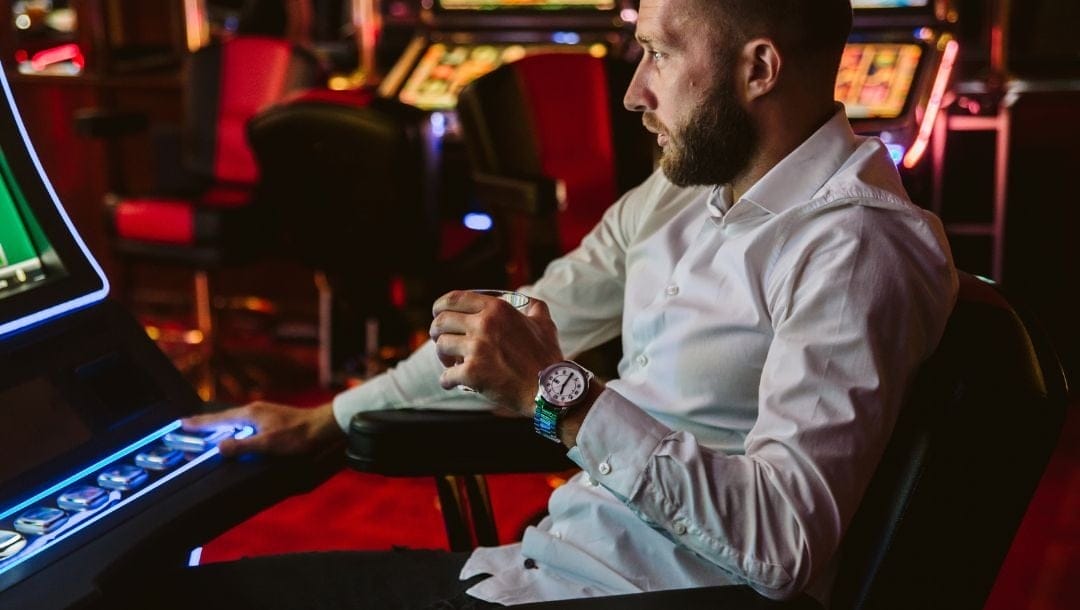 Slot games are very easy to understand and don't require any previous experience or intricate strategies, which makes it a popular choice among gamblers who are looking for a fun and easy variety game. You simply have to choose how many lines to bet and what to bet on them, and off you go. Blackjack can be a more complicated variety of games, especially for gambling beginners who are not familiar with the rules and strategies. Knowing when to stand or hit, double down, or split are all important if you want to reduce the house edge as much as possible. All of these variables can be intimidating for some players.
More Seats Available
Looking at slots vs. blackjack in casinos, you may have noticed that full blackjack tables have become all too common, causing frustration and leaving you with the choice of squeezing into a cramped spot or waiting indefinitely. When slots are your variety of games, you know it's rare to find all the machines in a casino occupied. Sure, if you have very specific tastes in slot games, you might need to wait your turn, but it's highly unlikely that you won't find plenty of open seats at various other machines.
Visual and Audio Entertainment
If you're looking for a variety in gaming experience packed with audio and visual excitement, then slots are the way to go. Unlike blackjack, slot machine games are packed with themed graphics, animations, and sound effects that ramp up the fun factor to a whole new level. You won't be able to resist the thrill of winning a jackpot on slots.
More Variety in Games and Themes
Blackjack tends to follow the same rules no matter where you play. Unlike blackjack, slot machines offer endless options for fun and excitement. With thousands of different machines to choose from, slots offer way more variety in games and themes. Each variety of the game has its own unique theme and features, and they all come with many different ways to win a slots bonus, jackpots, and other top prizes. You're sure to find a slot game that suits your interests and preferences. Why settle for playing the same game when you have so many new options with slots?
Progressive Jackpots
When playing blackjack over slot machines, the maximum payout for a single hand is typically one and a half times your initial wager. If you choose to double down or split your hand and win both, you'll receive a payout of two times your initial bet, but you'll also need to double your wager. That seems like a lot of math to hold in your head while you're trying to win.
Slot games offer the opportunity to win progressive jackpots, which increase in value as more players play the game. This gives you the potential to win a huge amount of money with a single spin. Progressive jackpot slots can have wins of over a million dollars, while some machines offer top prizes of at least $10,000.
Betting Flexibility
When playing live dealer blackjack, the minimum bet per hand can become pricey. In certain casinos, if you want to play a table with better rules, it may cost you a minimum of $10 or $20 per hand. Slots offer way more betting flexibility than blackjack. Most slots also allow a variety of game tactics and let you choose the number of paylines to activate and the amount to bet per payline. This allows you to customize your bets according to your preferences and budget.
You also get to set your pace and play as fast or as slow as you like. With blackjack, the dealer usually sets the pace, which can become annoying if you need time to think about your decisions or you're in the game to enjoy it longer. The lower minimum bets in slot games allow you to extend your bankroll and play for longer when combined with slower-paced gameplay.
Slot Bonuses and Promotions
Blackjack tables typically have a set buy-in and follow a strict set of rules. The rules may change per table, and it can become complicated to keep track of the game you're playing. Unlike blackjack, slot machine games come with various features and slot bonuses that are easy to understand and offer exciting gameplay. Cascading reels, cluster pays, and expanding wilds are just some of the features that make slots that much more entertaining. Once you've found the features you like, you can spin away without worrying about sudden changes.
Many online casinos offer slot bonuses, free spins, and no-deposit bonuses for new players. They also provide deposit bonuses, where players receive a percentage match of their deposit, and players can also earn loyalty points or participate in jackpot slots tournaments to win big rewards.
Slots vs. Blackjack: What Will You Choose?
While blackjack is a classic game with a huge following, slots offer a different type of gaming experience that many players find more enjoyable. Lower wager requirements for slot bonuses, setting the pace of gameplay to your liking, and big potential for payouts with progressive jackpots are just a few notable reasons why slot games continue to dominate the casino lifestyle. Whether you're a seasoned gambler or a beginner, slots offer a fun and exciting experience that's hard to resist. So why not give them a try? Register with BetMGM now and see what all the excitement is about.